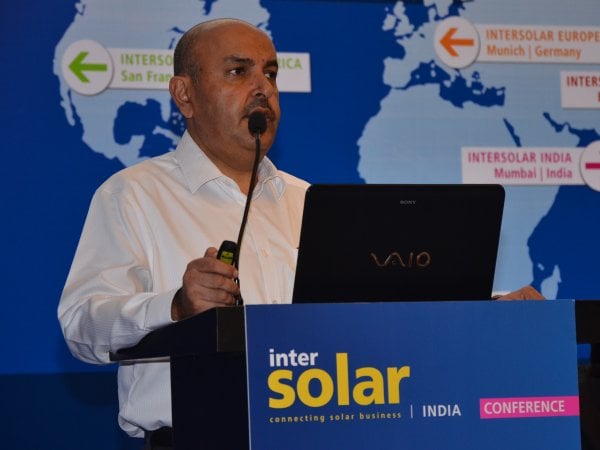 The financial woes of US developer SunEdison would only have a small impact on India's overall solar deployment targets and any incomplete PV projects would be retendered immediately, Tarun Kapoor, joint secretary of India's Ministry of New and Renewable Energy (MNRE) has told PV Tech.
Embattled SunEdison has hit headlines of late after its yieldco subsidiary Terraform Global claimed that SunEdison is close to seeking bankruptcy protection. Terraform Global also sued SunEdison over alleged misappropriation of US$231 million funding that had been earmarked to complete solar projects in India.
A source familiar with the matter told PV Tech that much of SunEdison's solar pipeline in India is expected to go ahead as financing has been closed, however, the 500MW project in Andhra Pradesh and the 150MW project in Jharkhand, both won since last November, would be affected if SunEdison's financial woes continued.
Kapoor said that if another company takes over SunEdison or it is able to raise money, then it could complete the projects, however, its well-publicised financial problems suggest that it will struggle to get lending from banks and reach financial closure for the projects.
Meanwhile, prospects for the 500MW Andhra Pradesh project may be hampered by it being won with an aggressively low tariff of INR4.63/kWh (US$0.07).
Earlier this week, however, reports emerged that Indian conglomerate Adani Group is considering buying SunEdison's Indian assets.
When asked whether MNRE could be flexible in its solar auction rules, which mandate the original bidders to complete the projects themselves, Kapoor explained that MNRE already had some provisions for bank guarantees and for checking the networks of organisations looking to enter bids.
He added: "In this case, this organisation had a good network, but now it has gone down. These kinds of things cannot be foreseen and they do happen and, in case they are not able to build the project, then immediately we will retender, but they will lose their bank guarantee.
"We have some targets and we want the projects to come up. That is our challenge at the moment."
Kapoor also said that were SunEdison to fail to complete its Indian projects, it would only be a "slight setback" on India's overall solar pipeline explaining that MNRE tends to bid out slightly more capacity than its targets, to account for any doubtful projects. Meanwhile, MNRE itself will not lose any money and it will only be the developer that sees a financial loss.
Kapoor added: "We will ensure that it doesn't create too much trouble for us as far as our targets are concerned."
According to the 'India Solar Map 2015' from consultancy firm Bridge to India, as of last September, SunEdison had more than 700MW of Indian solar projects commissioned or in its pipeline. The Andhra Pradesh and Jharkhand projects have since been added.
This article has been revised to include comment from a source familiar with the matter.