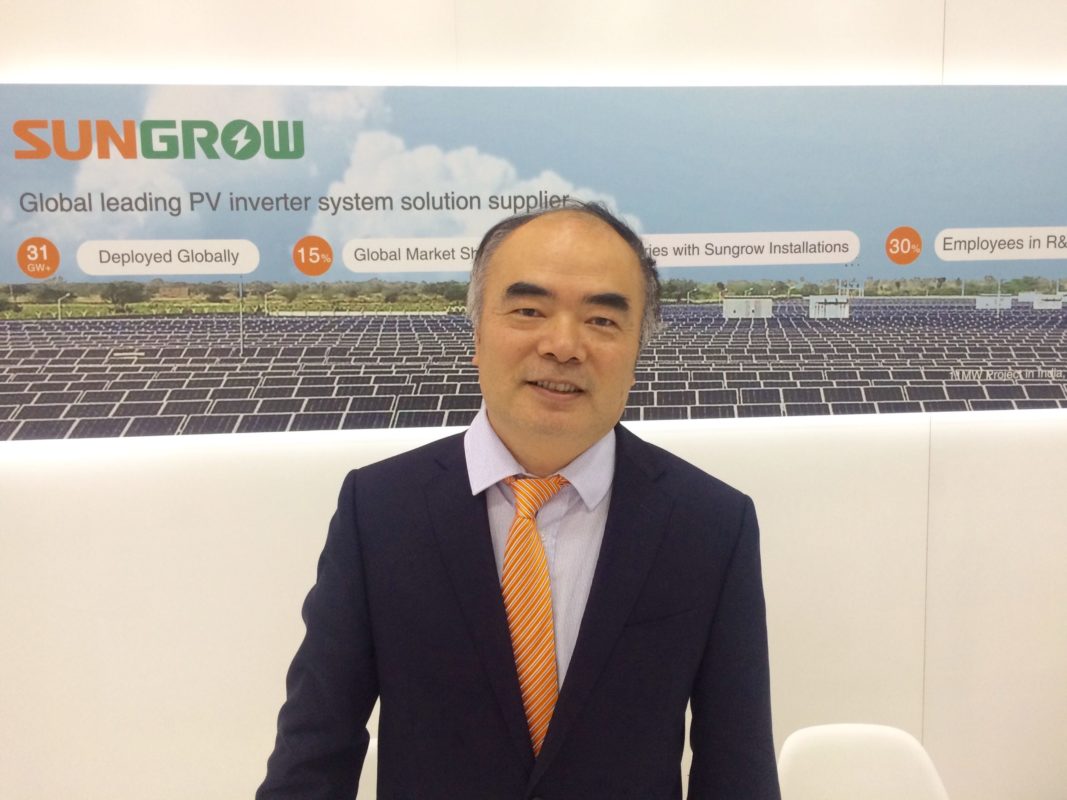 Major PV inverter manufacturer Sungrow Power Supply Co is building a 150MW floating solar plant in China in close proximity to its recently completed 40MW floating PV project – currently the world's largest.
Cao Renxian, chairman and president at Sungrow, spoke to PV Tech at Intersolar Europe in Munich today about the new project, which is expected to be complete by the end of this year.
He said the plant would again be situated on a former flooded coal-mining region in Huainan, south Anhui province. It will also use central inverters, as was the case with the 40MW plant, which was the first large-scale floating PV project ever to use central inverters.
Sungrow is the owner and developer of both plants, while modules have been and will be supplied by various major manufacturers from across China, said Renxian.
Referring to both plants, he added: "A lot of the equipment in this PV plant including the central inverters and transformers are all actually floating above the water, so not only the module set that everyone can see but most of the core equipment."
Obtaining permits was relatively easy as the land was already environmentally damaged during the previous mining process. Energy will be sold to utility State Grid Corporation of China (SGCC).
Renxian added: "The banks are willing to provide us financial support because even though the ROI of these floating plants can be a little bit lower than the other ground-mounted PV plants, this kind of plant doesn't have a real estate problem."
While getting equipment to the plant should be relatively easy as the location is not too remote, the logistics of actually getting the equipment on the water without getting damaged is a major challenge and requires innovations at many levels.
The effects of humidity and Potential Induced Degradation (PID) are major considerations given the proximity to water. However, the water does keep the system cooler, therefore limiting the solar panels' exposure to the 'temperature coefficient' that results in performance degradation as ambient temperatures increase.
The floating systems will be kept in place by multiple anchors. At present, the depth of the lake area is 5-10 metres, but it is sinking as a result of the mines and will soon reach up to 15 metres. Cleaning the plant will also be simplified by the proximity of water, although robotics will also be used for much of the cleaning process.
Renxian added: "The whole point of this plant is to take high advantage of the mining ground which is already destroyed – and to help the environment."
Sungrow is also hoping to supply its complete floating PV solutions worldwide having learned key lessons from its initial projects. It already has interest from customers in Japan and Southeast Asia.
The next print edition of PV Tech Power later this year will include a full project briefing about Sungrow's completed 40MW floating solar plant and a more detailed look ahead at the forthcoming 150MW plant.