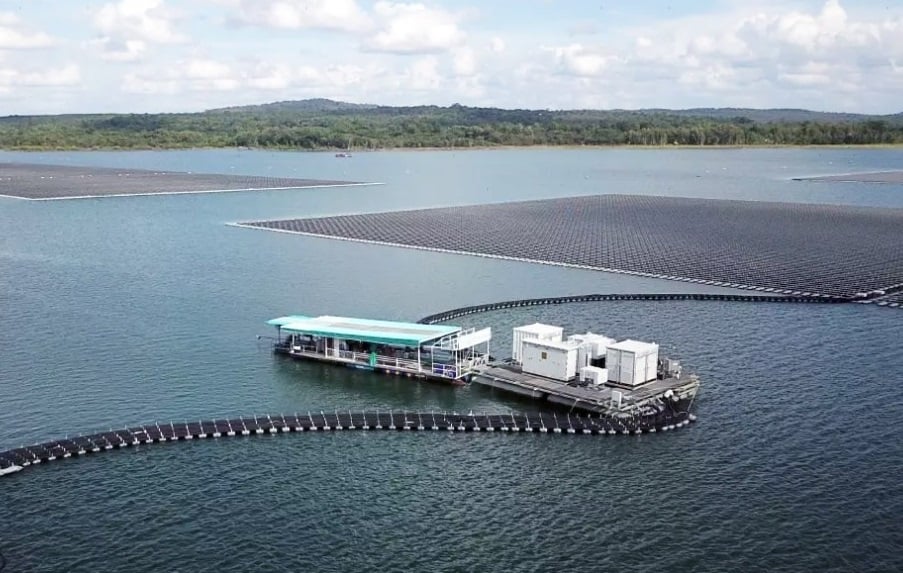 Floating PV (FPV) developer Sungrow FPV will supply floating systems to a 192MW project in Indonesia, which it has said will be the largest floating installation in the country.
Sungrow FPV provides the hardware, platforms and anchoring systems to facilitate floating PV modules atop bodies of water. With the greatest depth, water fluctuation and underwater elevation difference of any project in Indonesia, the company said that the Cirata project offers unique challenges.
Testing has been conducted in hydrodynamic water tanks to find solutions for the stress concentration created by anchoring such a large project to an undulating surface, and Sungrow said that the delivery of the system began early this year.
PV Tech Premium recently explored the breakthroughs and new methods in floating PV construction as the sector grows and begins to see more diversity in projects.
Indonesia has a target of seeing 23% of its energy usage fulfilled by renewables by 2025, and 31% by 2030. FPV is particularly concentrated in Asia, and Southeast Asia in particular, and a report from Fitch Solutions last March posited that the sector is set to grow considerably in the next decade.
The report also highlighted the potential benefits that floating PV can have for pairing solar with hydropower plants, which could unlock greater renewable energy possibilities for Indonesia's Electricity Infrastructure Acceleration Programme.
In November, Saudi renewables developer ACWA Power announced a 110MWac portfolio of FPV projects to be developed in Indonesia.