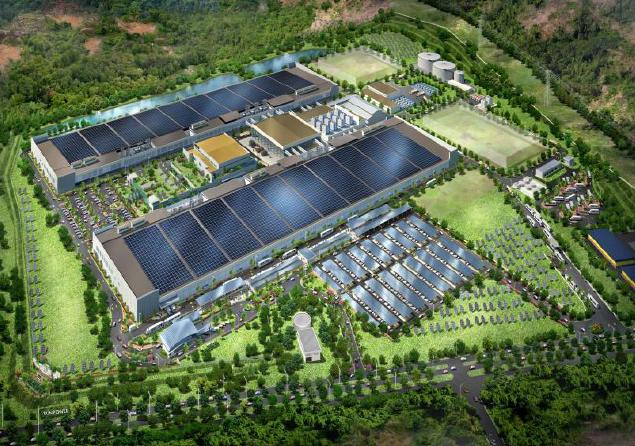 Updated: High-efficiency PV module producer and project developer SunPower is to takeover its joint venture (JV) solar cell manufacturing operations in Malaysia from Taiwan-based partner AUO, a subsidiary of AU Optronics Corporation at a cost of US$170 million, payable over the next four years.
The JV, known as AUOSP was formed in mid-2010 and the 800MW solar cell facility known as Fab 3A is SunPower's single largest cell production plant. SunPower said that it would buy out AUO from AUOSP via a stock purchase agreement.
According to a SunPower SEC filing, the company would pay US$109 million in the next few days on closing of the purchase agreement. No payment would be made in 2017 and only US$1.1 million paid in 2018.
The next major payments happen in 2019, when SunPower will pay AUO US$30 million and a further US$30 million in 2020.
However, SunPower has also signed a module supply agreement with AUO for 100MW of SunPower's E-series solar panels and AUO would also remain a wafer supplier to the company. The supply of modules AUO was said to be on 'commercial terms' rather than on a 'cost plus' basis as was the agreement with solar cell production in the JV. According to and SEC filing AUO Taiwan would prepay SunPower in full for the modules.
The buyout agreement resolves a dispute between the partners in 2015 over claims by SunPower that AUO, via its solar brand, Ben Q (recently dropped and rebranded AUO) had violated restrictions on which countries AUO could sell Ben Q modules made with SunPower's high-efficiency IBC solar cells.
Sunpower was seeking US$23.0 million in damages as well as the right to purchase AUO's shares in SunPower Technology Ltd, the named partner in the JV at 70% of its 'fair market value' determined as provided under the JV agreement.
Arbitration was started at the ICC International Court of Arbitration in April, 2015 with AUO filing counter claims in June, 2015 seeking US$20.0 million in lost profits and US$48.0 million in 'disgorgement' from the SunPower, which related to AUO claims that SunPower had conducted improper use of the AUO Group's proprietary manufacturing expertise.
The agreement with AUO was said to lead to the termination of the ICC arbitration process.
Fab 3A future plans
Free of the JV, SunPower said that it would make technology upgrades and expand capacity sometime in the future.
"The solar industry expects continued growth for the foreseeable future, as solar power becomes increasingly cost effective in many countries," said Tom Werner, SunPower President and CEO. "Acquiring AUO's stake in the Malaysian joint venture gives us sole control over our highest performing solar cell fab and will allow for technology upgrades and further expansion of our high efficiency solar cell technology as market conditions warrant."
Although Fab 3A had an initial nameplate capacity of 800MW, the JV had plans to expand capacity at the facility to 1,400MW in the future. The expansion at Fab 3A was never undertaken.
In 2012, SunPower and AUO decided to postpone construction of a second manufacturing facility (Fab 3B) that was originally contemplated under the AUOSP JV.
In November, 2014 SunPower announced plans to go ahead with the construction of Fab 5, which it first mulled back in early February, 2014. However, the solar cell plant plans that were touted to be "at least twice as big as Fab 4" by CEO, Thomas Werner have since been mothballed and no indication of the plants location has been given.
As such, SunPower has remained capacity constrained with its IBC modules.