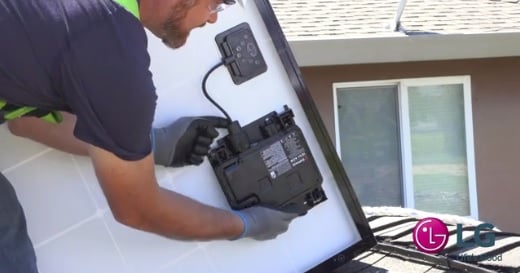 US-headquartered high-efficiency PV module producer SunPower Corp has announced a definitive agreement for leading microinverter firm, Enphase Energy to acquire SunPower's microinverter business (formerly SolarBridge Technologies) in a staggered cash and share deal.
SunPower acquired SolarBridge Technologies, a US-based small-cap microinverter firm for an undisclosed sum in November, 2014 and its product since became a key component within its AC module system and 'Equinox' turnkey home solar system, included in over 80% of SunPower's residential sales at the end of the first quarter of 2018.
The deal agreed will see Enphase pay US$25 million in cash for SunPower's microinverter business, which includes US$15 million paid when the deal is expected to close at the end of the third quarter of 2018. A further US$10 million would be due at the end of 2018. Enphase will also issue SunPower 7.5 million shares in the company when the deal closes.
Importantly, Enphase will become the exclusive supplier of microinverters to SunPower, scrapping development of the former SolarBridge Technologies products. Instead, Enphase has developed a version of its latest platform technology for SunPower's AC modules.
"We are pleased to become the microinverter supplier for SunPower's AC Modules," said Badri Kothandaraman, president and CEO of Enphase Energy. "The IQ 7XS 320W AC microinverter in an ACM strongly complements SunPower's high efficiency solar cells, communication and racking to create a high performance, high quality and easy-to-use Equinox Home Solar System, providing exceptional value to homeowners, dealers and architects."
IQ 7 is Enphase's seventh-generation microinverter platform and the IQ 7XS microinverter was said to offer 97.5% CEC efficiency and is designed specifically for the SunPower's X Series 96-cell PV modules.
Although microinverters offer a number of installation and PV system performance benefits, R&D spending is relatively high, compared to conventional string inverter technology.
SunPower has been making incrementally larger losses since 2015, culminating in over an US$850 million balance sheet loss in 2017. The company has been restructuring its operations for over two years in an effort to return to profitability.
Enphase has also been struggling financially for several years and has undertaken a series of restructuring activities. The company reported a net loss of US$45 million in 2017.
The company hopes that the deal with SunPower will generate an extra US$60 million to US$70 million in annual revenue in second half of 2019, improving margins to the range of 33% to 35%, compared to 19% in 2017. Enphase reported revenue in 2017 of US$286 million.
Enphase's AC module customers include key high-efficiency module rivals to SunPower in the US residential market, notably LG electronics.