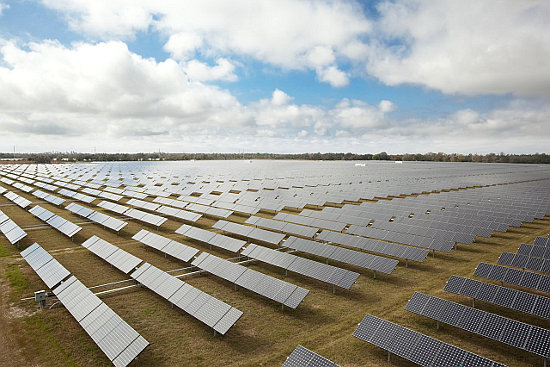 The 50MW Hooper solar PV plant, designed and constructed by renewables firm SunPower, has begun commercial operations in Colorado's San Luis Valley.
Utility Xcel Energy is purchasing power from the plant under a PPA with SunPower. Xcel estimates that the plant will generate electricity for the equivalent of 13,500 Colorado households.
SunPower is also responsible for operations and maintenance of the plant, and monitoring power production from the company's remote operations control center in Austin, Texas.
On the 130-hectare Colorado site, SunPower installed it SunPower Oasis power plant technology, which is an integrated, modular solar power block used for rapid deployment of utility-scale solar and optimising land use.
The technology includes SunPower's robotic solar panel cleaning capability that it claims uses 75% less water than traditional cleaning methods and can help improve system performance by up to 15%.
More than 150 jobs were created at the project site during peak construction.
David Eves, president of Public Service of Colorado, an Xcel Energy company, said: "This expansion of our renewable portfolio in Colorado is yet another example of how Xcel Energy brings solar power to its customers. We are adding large-scale solar that competes with and surpasses other forms of generation alternatives, in terms of price, over the life of the project. This benefits all of our customers – both environmentally and economically."
Jorg Heinemann, SunPower executive vice president, global power plants, customer operations and EPC, said: "Xcel Energy is providing leadership in the promotion of large scale solar power development, and demonstrating how renewable technologies are part of the solution to ensure the health of our economy and our environment. SunPower's high-efficiency solar PV technology is competitively priced for power plant applications, fast to install and reliably delivers clean power, particularly during peak demand hours."