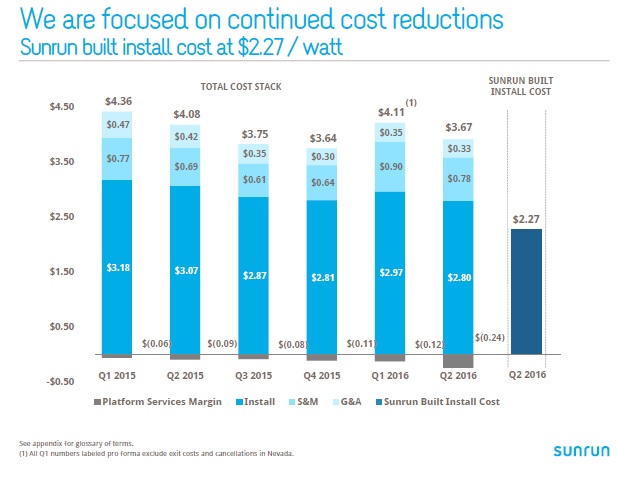 Sunrun reported revenue of US$122.5 million in the second quarter of 2016, up US$49.8 million, or 69% from the second quarter of 2015 and up from US$98.7 million in the first quarter of 2016.
Total deployments in the quarter were 65MW, an increase of 54% year-over-year. Sunrun-built deployments grew 128% year-over-year and cumulative MW deployed reached 721MW at the end of the quarter.
Lynn Jurich, Sunrun's chief executive officer said, "We deployed 65MW in Q2 while improving creation costs over 10% compared to the first quarter and delivering $51 million of NPV. We believe we are well positioned to continue to build growth and customer value that will differentiate us as the leader in bringing local clean energy direct to consumers."
However, growth rates are slowing as the company has grown rapidly in the last few years. Softening of demand was partly due to lower prospect conversions, due to the ITC extension and cancellation of orders due to its exit from the Nevada market.
The company expects to benefit from lower PV module and inverter ASPs in the second half of the year, which could lead to becoming cash flow positive in 2016.
Guidance
Sunrun guided third quarter deployments of 72MW but slightly reduced full-year guidance from 285MW to a range of 270MW to 280MW.