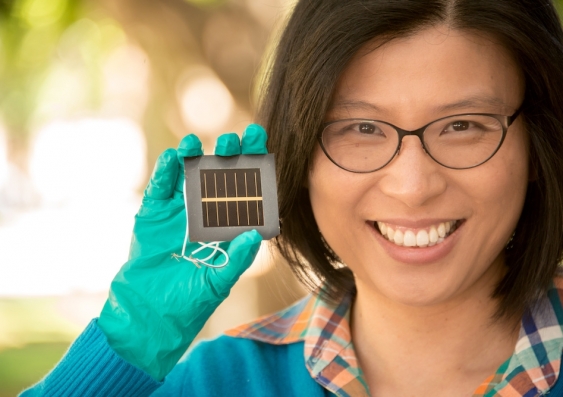 Research at the Australian Centre for Advanced Photovoltaics (ACAP), based at The University of New South Wales (UNSW) has reported a 12.1% efficiency rating for a 16 cm2 perovskite solar cell, partially funded by Suntech and Trina Solar and AUD$3.6 million in funding through the Australian Renewable Energy Agency's (ARENA).
Although mush higher conversion efficiencies have been reported for perovskite solar cells, the results are the highest achieved on a larger glass substrate and were independently confirmed by Newport Corp.
Anita Ho-Baillie, a Senior Research Fellow at ACAP said, "This is a very hot area of research, with many teams competing to advance photovoltaic design. Perovskites came out of nowhere in 2009, with an efficiency rating of 3.8%, and have since grown in leaps and bounds. These results place UNSW among the best groups in the world producing state-of-the-art high performance perovskite solar cells. And I think we can get to 24% within a year or so."
"We will capitalise on the advantages of perovskites and continue to tackle issues important for commercialisation, like scaling to larger areas and improving cell durability," added Martin Green, Director of the ACAP and Ho-Baillie's mentor. The project's goal is to lift perovskite solar cell efficiency to 26%.
Commercialisation is a key element where similar durability and low degradation rates similar to conventional c-Si solar cells will be required. However, sacrificing of high efficiency for durability to work as a tandem layer with conventional cells could be the fasted route to commercialisation.
The UNSW noted that the ACAP perovskite research was funded by an annual grant from ARENA, and partners included Arizona State University and potential commercial partners, Suntech and Trina Solar.
Recently, UK-based Oxford Photovoltaics signed a joint development agreement (JDA) with an unidentified global manufacturer of solar cells and modules. The company has also purchased the former Bosch Solar CIS thin-film production site in Brandenburg an der Havel, Germany to provide potential customers with batches of tandem cells for evaluation as part of its IP licensing business model.