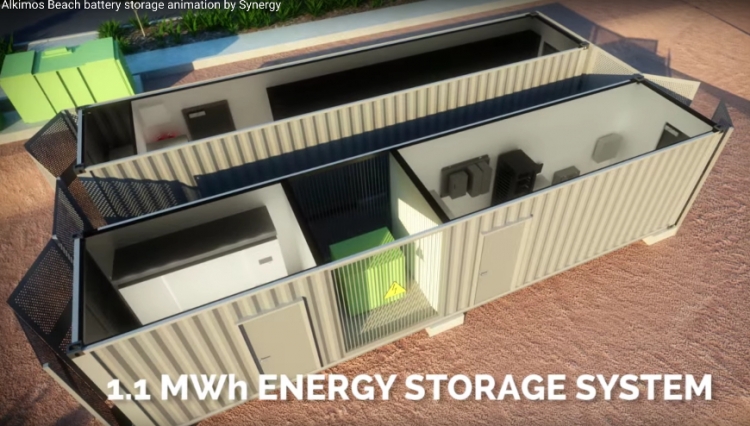 A trial project using 1.1MWh of lithium-ion battery storage in two centralised containers to harness power from more than 100 rooftop solar systems has been installed in the Western Australia suburb of Alkimos.
Western Australia utility Synergy, alongside property and infrastructure solutions providers Lendlease and infrastructure developer LandCorp were responsible for the batteries, which are located in two shipping containers to store electricity generated by more the PV systems.
Last December, Synergy was embroiled in a spat with solar campaigners and solar homeowners after it proposed charging solar rooftop owners an extra fixed fee. At the time the utility claimed that there was a flaw in the fixed charges element of electricity tariffs, which resulted in many standard electricity consumers paying far more for their power than they should be. Solar industry groups and homeowners with PV systems branded the proposals a "sun tax" and claimed they were unfair.
The new storage trial aims to reduce Alkimos Beach's demand for electricity from the grid, lower residents' energy bills and cut grid-connection costs for any future developments. If successful, the trial will pave the way for follow-on projects with a view to establishing similar installations as a standard practice for new residential developments in Australia. Other trials of residential storage paired with solar have focused on smaller-scale batteries distributed at household level, in some cases connecting or aggregating those systems together to form 'virtual power plants'.
Referring to the Synergy trial project, ARENA chief executive Ivor Frischknecht said: "Combining community-scale battery storage and rooftop solar presents a win-win for energy retailers, developers and consumers and can provide households with the benefits of storage without on-site installation and maintenance."
"There is also a need to better understand how solar and community-scale storage can operate within traditional networks. For example, right now there are no tariffs that allow community energy storage to discharge onto electricity networks."
Frischknecht said it was not yet clear which model would work better, placing batteries in individual households or centrally and that at present both options should be explored.
"There is not good data yet to say which model is better or which circumstances which model works in. You could have the same sort of impact on both the Network and people's home energy costs by having lots of little batteries spread around all of these houses," he told a press conference.
The latest AU$6.7 million (US$5.16 million) trial will run until 2020, having been supported with AU$3.3 million funding from the Australian Renewable Energy Agency (ARENA),
Environment minister Greg Hunt's recent redirecting of AU$1.3 billion of ARENA funding into an innovation fund caused much controversy after industry commentators described it as a "disguised stripping" of the Agency's renewable energy budget.
ARENA is providing AU$17 million funding for nine renewable energy research and development projects looking at energy storage and solar PV among other technologies, but again questions have been raised about the long-term prospects of such R&D funding in Austrlia.
In related news, Western Australia's feed-in-tariff (FiT) comes to an end in 2021 and commentators have said that this represents a "perfect marketing opportunity" for energy storage retailers.