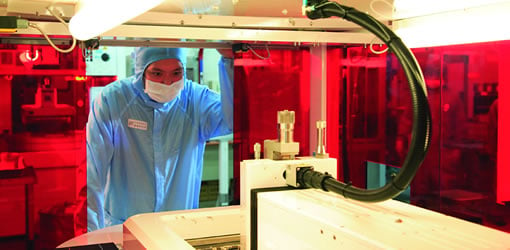 Taiwan-based solar cell and wafer producers are being impacted by slowing demand from China and unfolding overcapacity that has resulted in ASP declines hitting monthly revenue figures since June.
Neo Solar Power
Major solar cell producer Neo Solar Power (NSP) reported July revenue of NT$1,308 million (US$41.78 million), down from NT$1,257 million in June 2016. The 26.11% decline seen in June from May was primarily due to decreased shipment volume as the company started relocating cell and module production equipment to a new facility in Vietnam.
The company had noted that ASP declines continued and strong demand would not return until the fourth quarter of 2016, while the ramp of relocated equipment would start near the end of the third quarter.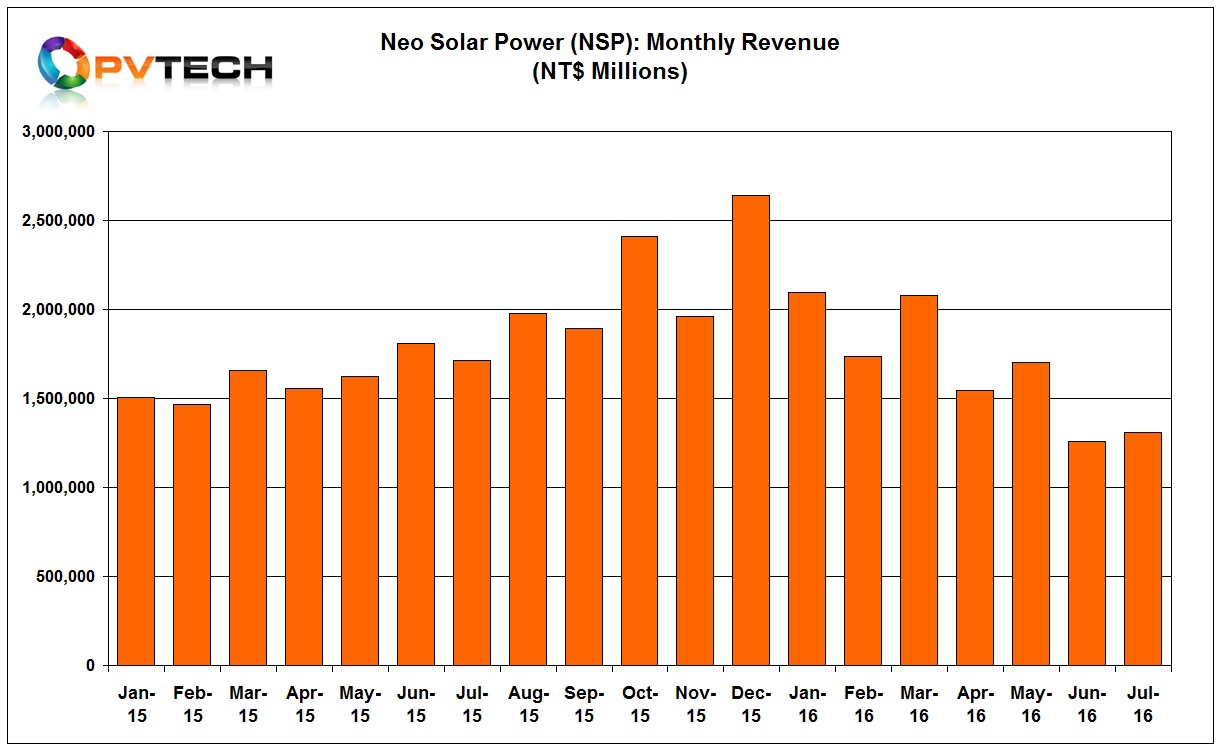 Motech Industries
Major Taiwanese PV manufacturer Motech Industries has reported second quarter 2016 revenue of NT$8.844 billion (US$282.5 million). Sales in June were NT$2,825 million (US$90.2 million), a 4.81% decline from the previous month and the third consecutive month of declines. Motech reported second quarter gross margin of 9.69%.
The company also reported a sales decline in July of 30.75% from the previous month on revenue of NT$1.956 billion (US$62.4 million).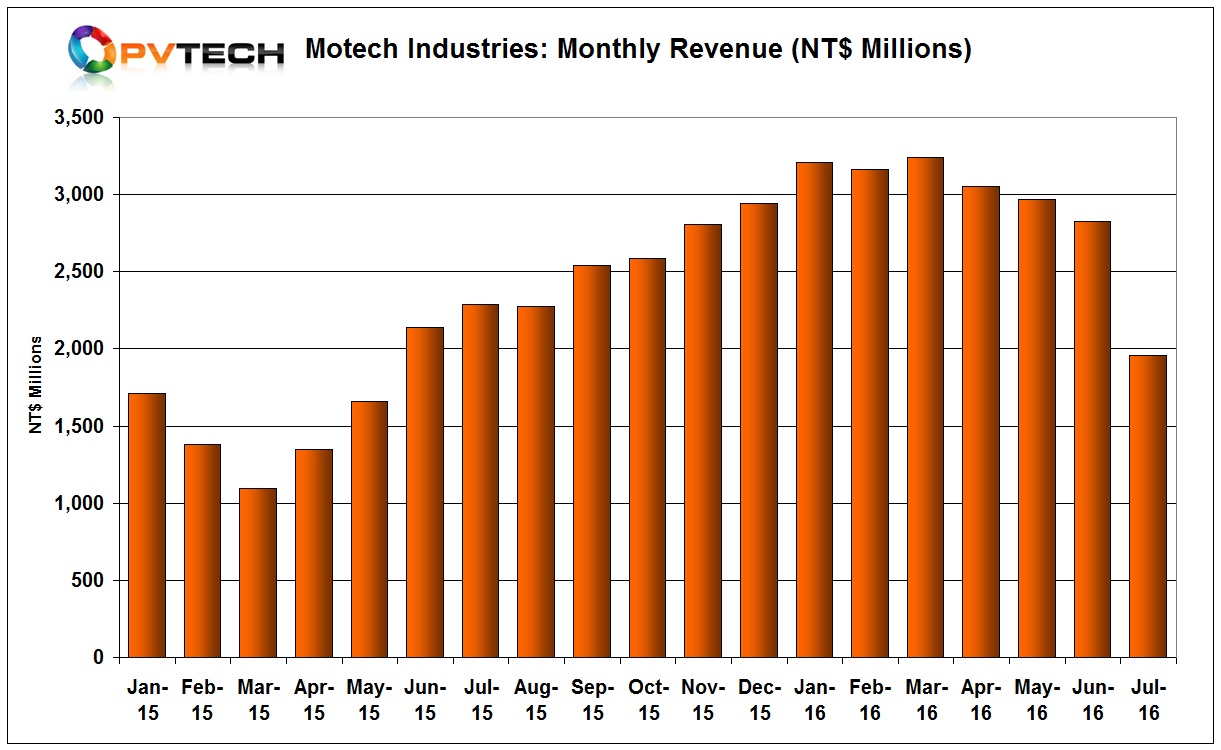 Gintech Energy
Merchant solar cell maker Gintech Energy also reported a large 40.93% drop in sales in July. The company had July revenue of NT$847 million (US$27 million), compared to NT$1,434 million (US$45.8 million) in the previous month.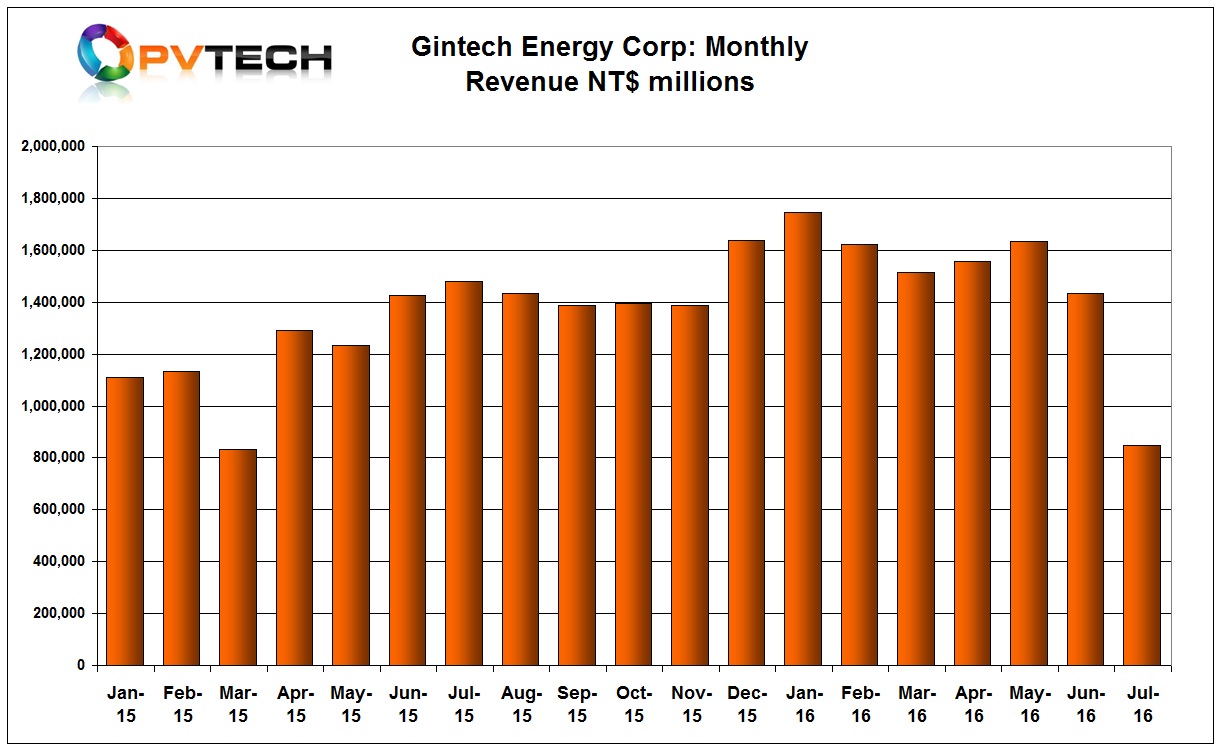 Solartech Energy
Merchant solar cell producer Solartech Energy Corp has reported July sales down 34.8% to NT$664 million (US$21.2 million), compared to around US$32 million in the previous quarter. The declines were driven by weak demand from China-based module producers and lower ASPs of more than 10% in the last few months.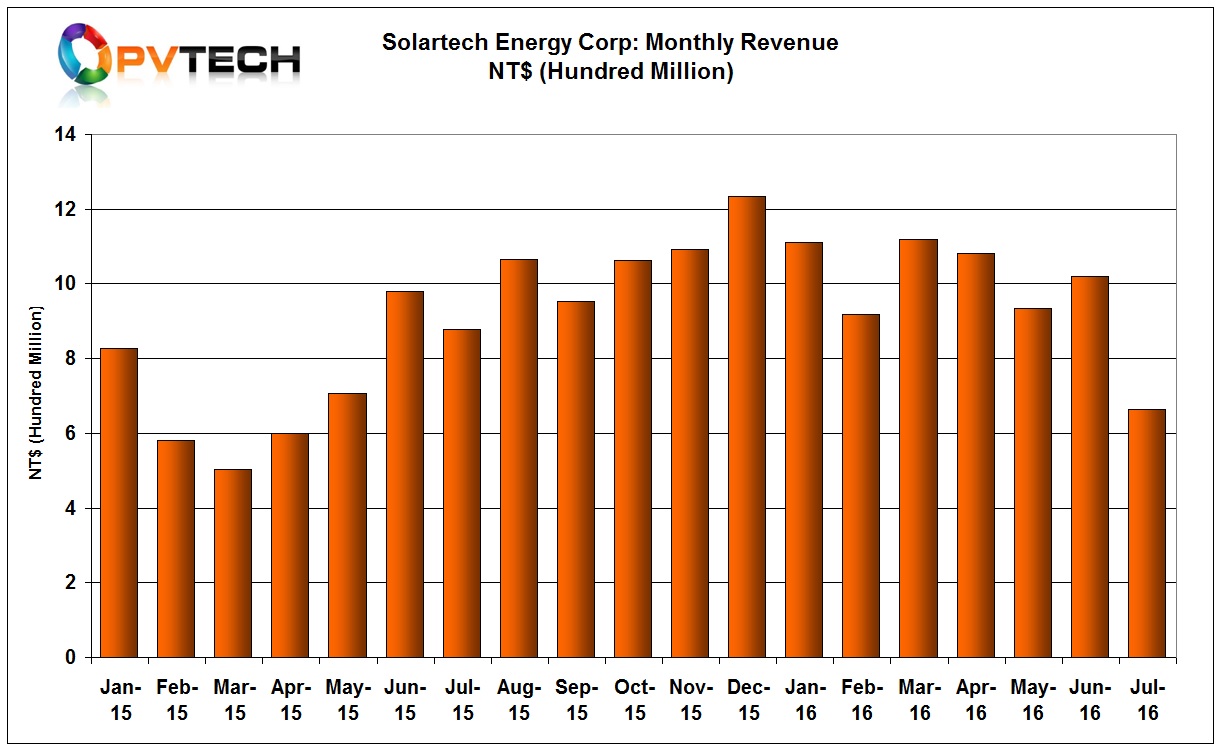 Green Energy Technology
Multicrystalline wafer producer Green Energy Technology (GET) reported a 5.1% decline in sales in July. Revenue was NT$1,208 million (US$38.6 million), compared to NT$1,273 million in the previous month.
The company noted it would further increase wafer product efficiency and reduce costs to combat falling ASPs.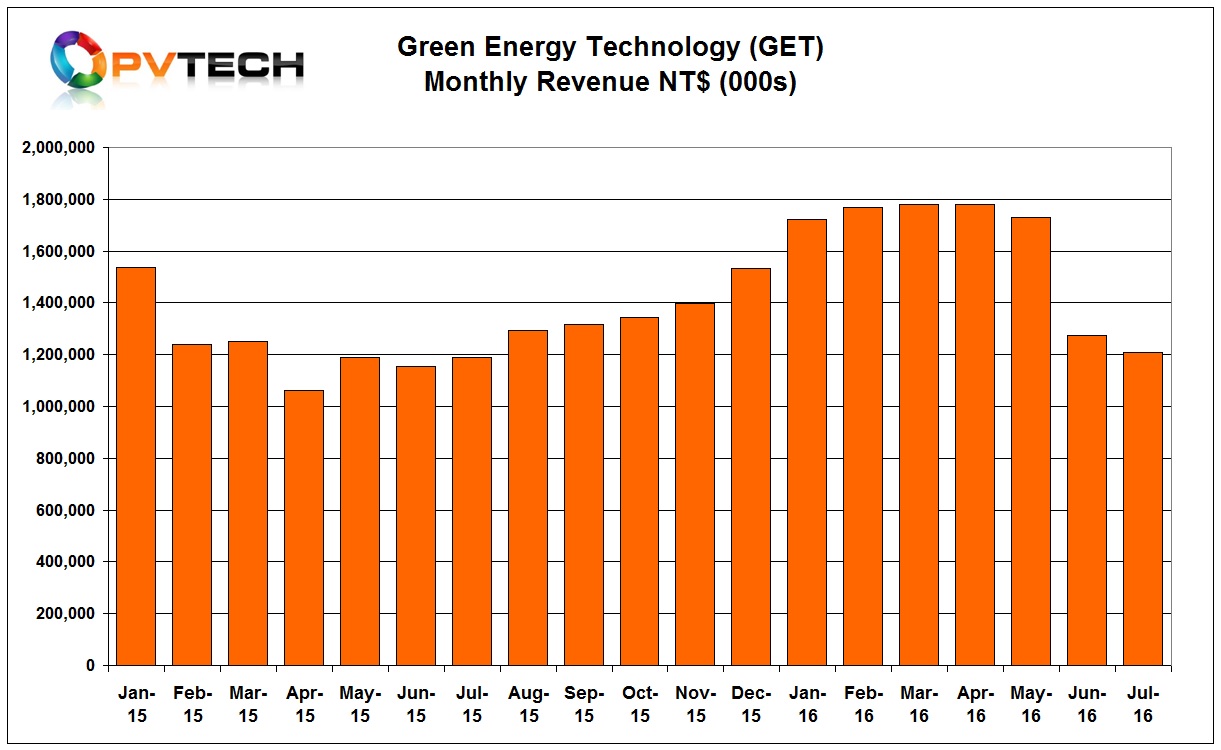 Sino-American Silicon
Mono and multicrystalline wafer producer Sino-American Silicon Products Inc (SAS) reported only a 4.7% decline in sales in July after sales jumped over 10% in June. SAS reported July revenue of NT$2,635 million (US$84.2 million), compared to NT$2,765 million in June, 2016.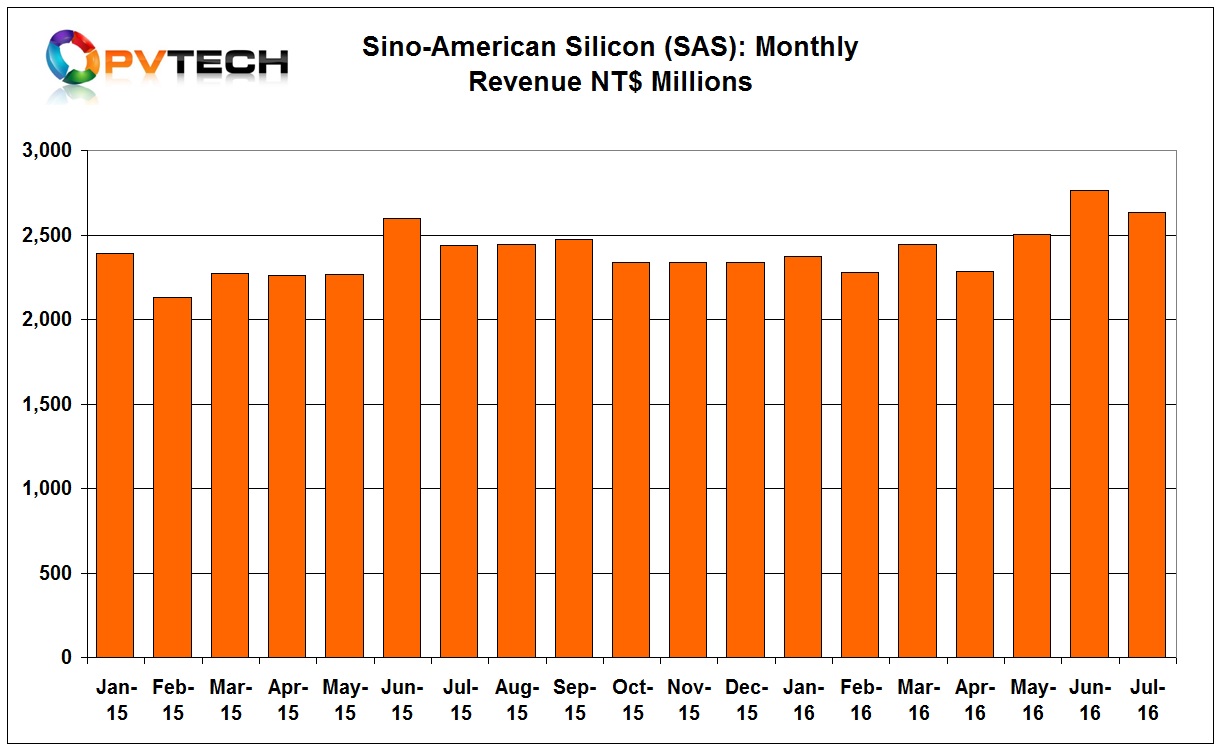 E-Ton Solar
Mono and multicrystalline solar cell producer E-Ton Solar reported July sales of NT$307.2 million (US$9.8 million), down from NT$418.9 million in June, a 26.5% decline.