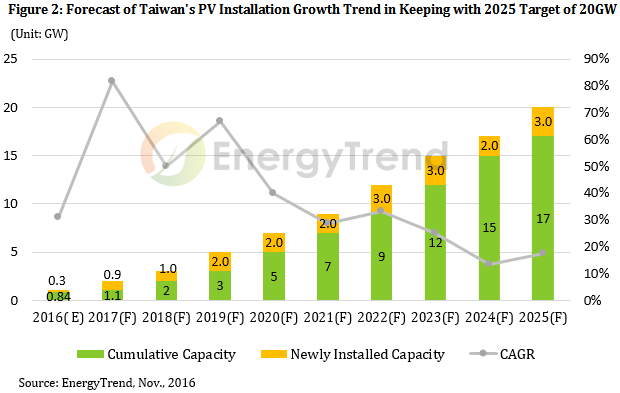 Taiwan looks set to break into the top 10 solar markets in terms of capacity additions around the world in 2017, according to EnergyTrend, a division of TrendForce.
The island plans to add 1.52GW over two years between mid-2016 and July 2018, which if carried out successfully, will help it to join Thailand in the top 10 with an annual demand of 900MW. Of this 1.52GW, around 910MW is expected to come from rooftop systems and 610MW from ground-mount.
As a result of this growth, EnergyTrend said Taiwan represents a major opportunity for solar developers since global PV demand will be close to flat next year.
PV Tech published a blog today looking in depth at Taiwan's wider 20GW by 2025 target, going behind the numbers and discussing the challenges of land scarcity, typhoons, transmission and population density, as well as the massive opportunity that the island presents to the PV industry.
Taiwan's cumulative capacity was 980MW at the end of August, with monthly installations averaging just 20MW over the last 18 months, according to EnergyTrend. While these numbers are expected to increase dramatically, there are challenges around land acquisition and financing, as well as limitations to local power grids. However, the Ministry of Economic Affairs has made the expansion of transmission lines and related infrastructures a priority before accelerating the installation of PV systems.
Even so, EnergyTrend analyst Celeste Tsai said achieving the 2025 target of 20GW will be "an enormous challenge" adding: "Even if the two-year target has been achieved on schedule, Taiwan will still need to expand its installed PV capacity by a CAGR of about 30%, or 2-3GW annually, from 2018 to 2025 in order have a cumulative capacity of 20GW. The government will have to dramatically step up its efforts as the island only increased its installed capacity by 220MW annually on average from 2014 to 2015."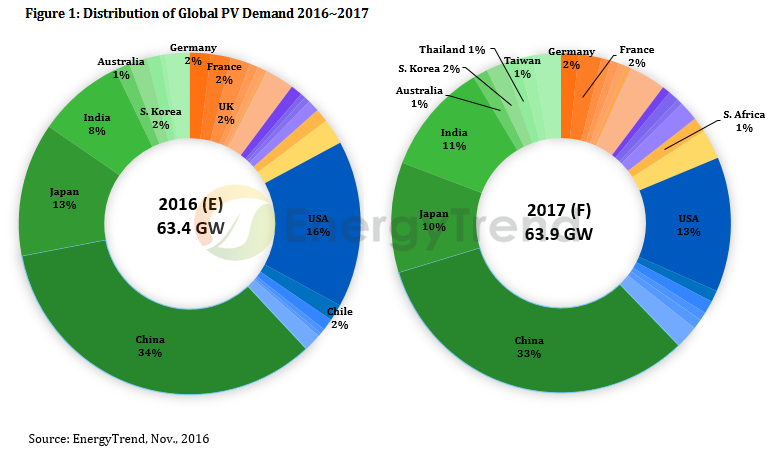 EnergyTrend also cited the new Feed-in-Tariffs (FiTs) from the Bureau of Energy, which in 2017 will be 3-6% lower than 2016, but will also include a 6% bonus to projects involving higher efficiency modules. As a result, projects that deploy high-efficiency modules will see their 2017 FiT rates matching or exceeding the rates of the prior year.
In areas where installations for distributed PV systems are fairly low, including northern Taiwan and offshore islands, the bonus goes up to 15%. EnergyTrend forecasts that this policy will boost rooftop installations over the next two years.
Tsai said: "Taiwan's production capacity for PV modules is around 1.8GW and will be able to fulfill domestic demand for the short term. Furthermore, domestic manufacturers have the PERC technology that supply cells for high-efficiency modules. Therefore, they are going to be the main beneficiaries of the FiT rate bonuses."
Delegates at the recent PV Taiwan exhibition also told PV Tech that global PERC capacity could double next year.