Dual function residential roof tiles or shingles that incorporate solar PV (photovoltaic) cells into an integrated PV system for new build and retrofit homes have already received the 'hype' from Tesla's Elon Musk but a new kid on the blog is set to go head to head with Tesla for this niche US market both from a manufacturing and installation perspective.

The hype surrounding Tesla's solar roof system seems to be very much US-centric, not least because the product may take many years to travel across the Atlantic and gain a foothold in Europe, or Tesla may simply not bother as solar roof tile technology from a number of European companies has been around many years in Europe and remains a cool but niche product.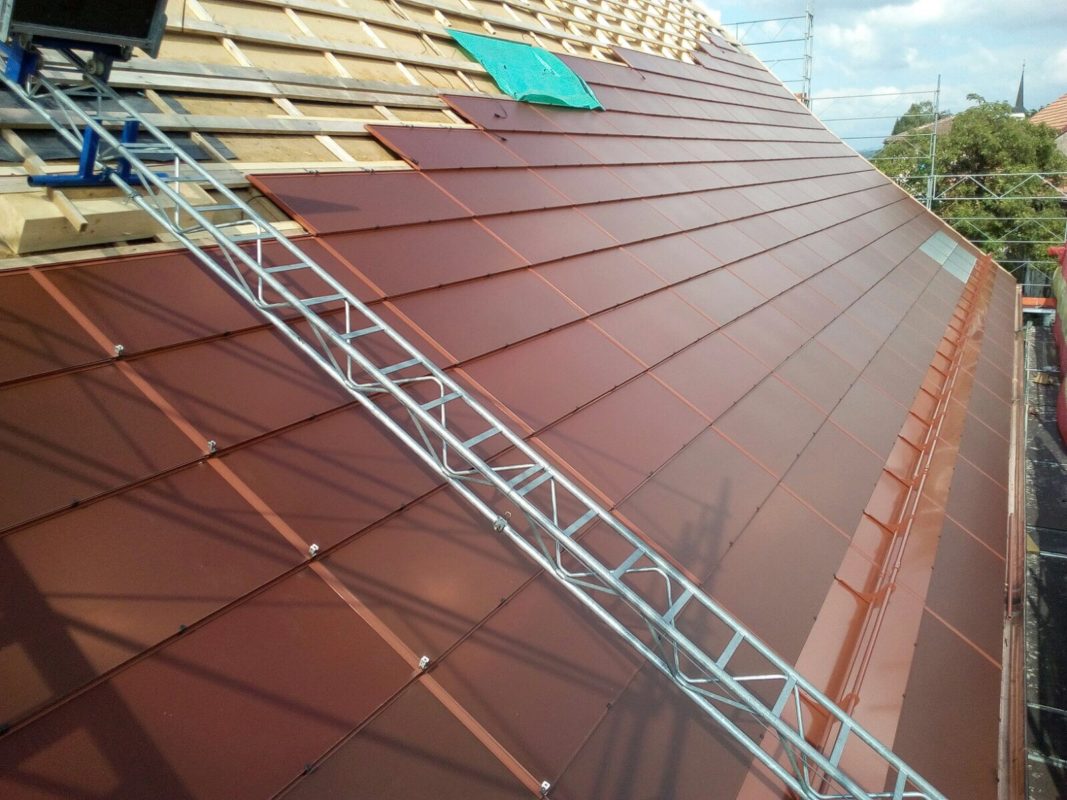 PV Tech recently highlighted that Tesla's solar roof tile product offering was still undergoing design iterations ahead of a volume manufacturing ramp at its Gigafactory 2 facility in Buffalo, New York state.
Having had false volume manufacturing starts in the past, Tesla expects the volume production ramp at Gigafactory 2 is expected to occur in the first half of 2019, compared to the previous expectations that the ramp would happen 'near the end of 2018'.
It should be noted that Gigafactory 2, which is operated by partner Panasonic is already ramping conventional PV panel production for Tesla branded panels using Panasonic's HIT (Heterojunction with Intrinsic Thin layer) solar cells and as PV Tech recently reported have been used in 70% of Tesla's residential rooftop installations in California.
Tesla's solar roof tiles have also adopted Panasonic's HIT technology, not least because of the cells have some of the highest conversion efficiencies but in a building integrated PV (BIPV) system such as the roof tile system, they also have very low temperature coefficient of -0.258%/°C.
In basic terms, when the temperature of the cell increases, the conversion efficiency degrades.
In a BIPV application, cells can operate for longer periods at higher ambient temperatures than cells in a conventional retrofit rooftop solar panel system, which enables airflow beneath the panels, helping to reduce the temperature related performance degradation, something of an engineering challenge for BIPV applications using crystalline silicon solar cells.
Rival RGS Energy
Many people may not be aware of RGS Energy (Real Goods Solar Inc.), otherwise then known previously as RGS Solar, which is listed on NASDAQ (NASDAQ:RGSE) and was a 'small cap' residential and commercial solar installer based in Denver Colorado.
To put the 'small cap' into perspective, RGS had annual revenue in 2017 of a smidge over US$14 million.
However, on September 29, 2017, RGS entered into an exclusive deal with Dow Chemical to exclusively produce and sell a third generation (3.0) solar shingle technology under the 'POWERHOUSE' brand using conventional high-efficiency crystalline silicon solar cells rather than the original CIGS (Copper, Indium, Gallium, Selenide) thin-film substrates that were developed by Dow but the business was never successful and closed-down.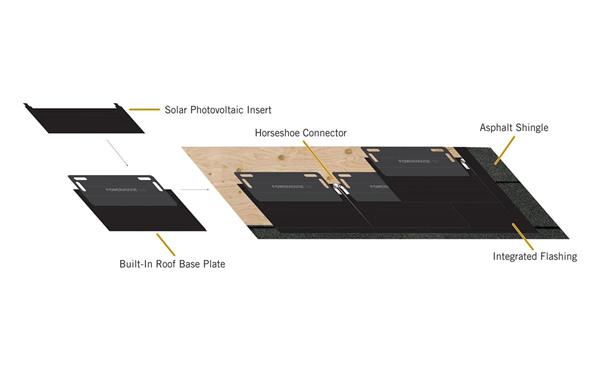 Dow Chemical only deployed around 1,000 POWERHOUSE installations across 18 US states, since its initial launch back in 2009.
RGS Energy is following the 'fabless' route by offloading all materials, manufacturing and assembly to subcontractors.
Major China-based PV manufacturer, Risen Energy is a key supplier with the solar cells and wire harness connectors for the next step of encapsulation into what RGS describes as a solar laminate.
At the end of 2017, Risen Energy had 6.6GW of solar panel assembly capacity at facilities primarily in China (Ningbo, Zhejiang, Luoyang, Henan, Wuhai, Inner Mongolia, Jiujiang and Jiangxi) but also in Mexico. The company is also an EVA encapsulant manufacturer with an annual production capacity of 230 million square meters, certified by TUV, VDE, CQC, JET and SGS as well as a track record in flexible component lamination processing.
Risen Energy completed a 2GW high-efficiency P-type monocrystalline solar cell plant in the first half of 2018, bringing total solar cell capacity to around 3.5GW.
The company reported revenue (operating income) of around US$1.8 billion in 2017 and had R&D expenditure of over US$56 million last year, the sixth highest spender according to PV Tech's annual R&D spending analysis of 20 public listed PV manufacturers.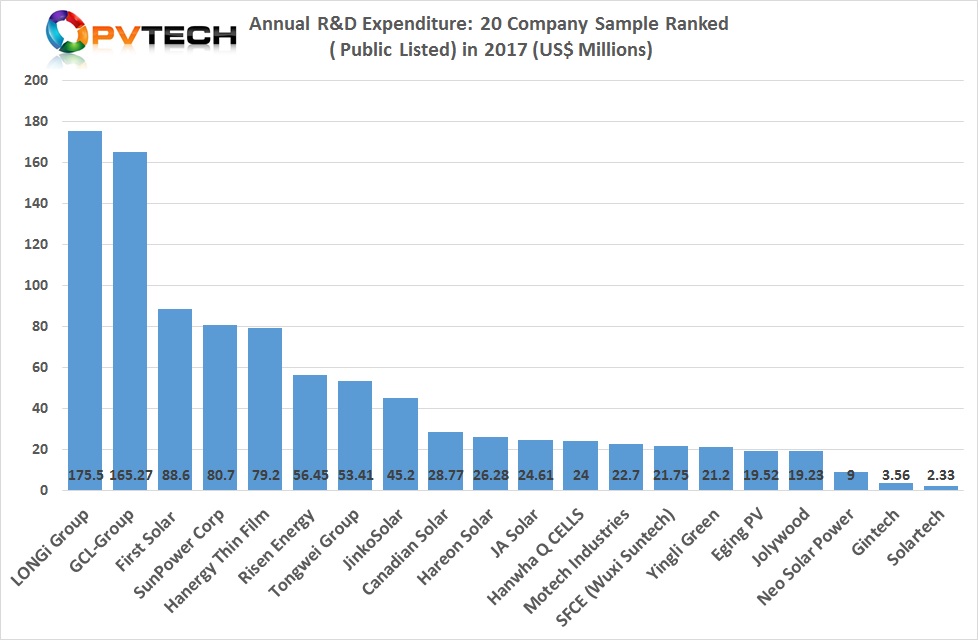 On the manufacturing front, Panasonic in comparison (to the best of our understanding) had a combined total cell and module capacity that is located in Japan, Malaysia and US of close to 1GW.
General Polymers Thermoplastic Materials, a multi-national thermoplastic resin distributor serving custom injection moulder's in North America is to supply the polypropylene plastic resin for the base assembly of the RGS solar shingles.
Creative Liquid Coatings, which was a previous supplier to Dow is to provide moulded polymer components fully assembled, with all solar components, wire harnesses and other parts required to deliver a finished solar shingle product.
Later, in June 2018, RGS announced that it had entered into a manufacturing agreement with Revere Plastic Systems, LLC, another injection moulding manufacturer, to bolster its supply chain to meet up to US$138 million in estimated annual POWERHOUSE revenue (more on that further down below).
At the beginning of August 2018, RGS appointed Venture Global Solutions (VGS), a third party logistic (3PL) division of Venture Logistics, for the nationwide rollout in 50 US states as well as Canada. VGS is to provide 3PL services for the solar shingle system, which includes network optimization, warehousing and final packaging, according to the company.
Technically, RGS could have been in production of its solar shingle system in 2018, but the new system needed UL (Underwriters Laboratory) testing and certification (UL 1703).
Initially, RGS was hoping to gain certification in the first quarter of 2018 but then announced within an hour of receiving the UL mark, on November 2. (It should be noted that UL testing can take an unspecified amount time and should not be seen as a poor reflection on the POWERHOUSE 3.0 product).
"Receiving UL certification allows us to apply the UL Mark to our POWERHOUSE Solar Shingle System," commented Dennis Lacey, RGS Energy's CEO. "We will immediately begin manufacturing and taking purchase orders for POWERHOUSE nationwide."
From prepared remarks in RGS' recent third quarter earnings conference call, first product shipments could land in the US before the end of 2018. However, 'volume' production and system availability is expected from the first quarter of 2019 onwards.
RGS noted in a recent press release that it actually expected revenue generation for the solar shingles in the first quarter of 2019.
"It is simply a matter of how quickly we can manufacture solar laminate, ship it from China, assemble it in the U.S. and then distribute POWERHOUSE kits over the remaining 50-plus days this year," noted Dennis Lacey, CEO of RGS Energy in the earnings call. "Our stated view has been consistent on this topic. For instance, we have said it will be bumpy as we start to manufacture and balance product demand with our manufacturing capability. It will take a quarter or so to achieve an equilibrium source, but a good problem for us to have as we expect to be profitable".

Written reservations
Since announcing the POWERHOUSE licencing agreement with Dow Chemical, RGS has reflected the interest in the product, primarily from US roofing contractors, using the term 'written reservations'.
These are not deposits, orders or guarantees of revenue generation, simply the interest from this sector but with the added factor of attributing a possible revenue generating figure from the written reservations the company has received before achieving UL certification.
On November 2 2018 RGS Energy announced that it had received a total of US$126 million in written reservations from a total of 87 roofers across 32 US states. To date, written reservations were said to have exceeded US$127 million in potential annual revenue, from 88 roofers across 32 US states.
The chart below is the number of statements RGS has made since May 2018 with the subsequent nominal revenue value of cumulative written reservations.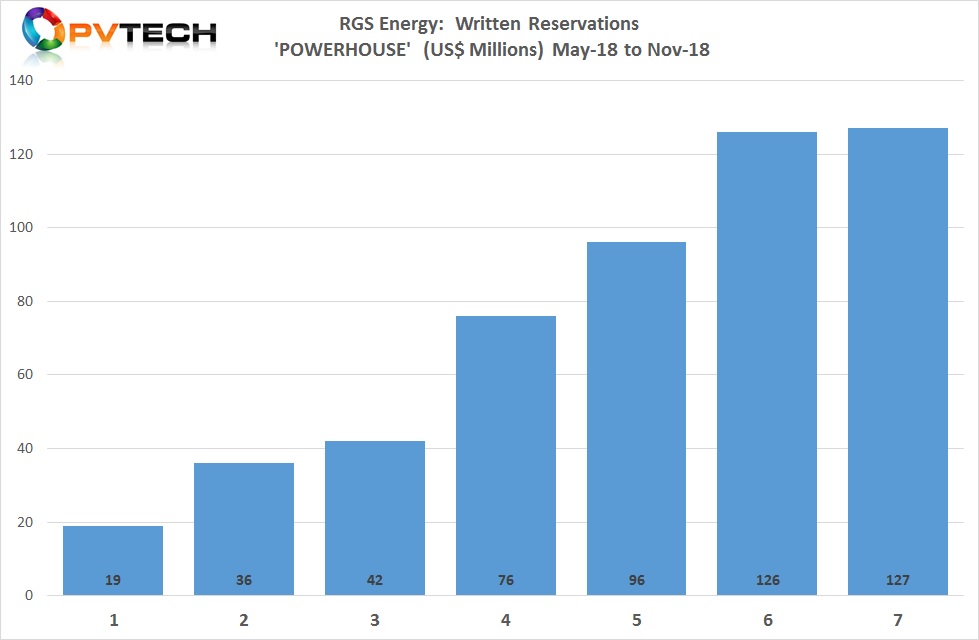 Battle begins
So the battle for solar tiles/shingles market share dominance in the US really kicks-off from the first quarter of 2019 as both Tesla and RGS start or get close to ramping to volume production.
Of course, there is potentially a 'no contest' call as Tesla's tiles are pegged at the luxury end of the housing market, due to technology, manufacturing and quality perceptions and costs, as well as the targeting of its existing customer base from the EV sector.
RGS, we suspect would not turn that market away or dissuade its roofer customer base from such business but clearly the initial market is addressing residential homeowners with asphalt rooftops, which represent about 85% of US homes, according to RGS.
Both markets are potentially problematic as conventional solar panels dominate all residential markets around the world. Both companies are therefore competing with the biggest solar installers and panel manufacturers.
That said, Tesla's hype over its system should not be underestimated even though it has been unwilling to disclose 'reservations' and 'deposits' unlike the pre-launch of its Model 3 electric vehicle.

Having two companies being public listed with two competing products in one country should make things more interesting and hopefully transparent. We could all soon be watching the birth of a new mainstream solar market or the trial and tribulations of a niche play.