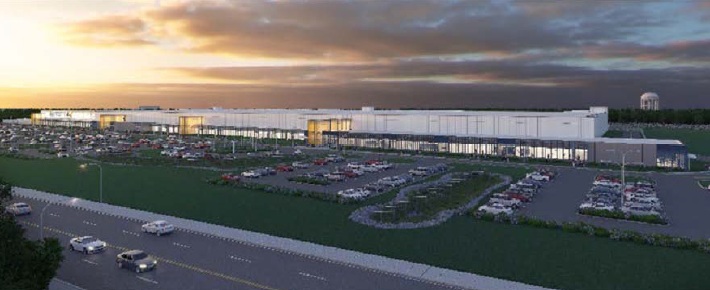 Updated: In an unexpected development of the planned merger of Tesla and SolarCity, the electric car manufacturer has said that it had tentatively agreed with Japanese electronics firm, Panasonic to begin solar cell and module production at SolarCity's Riverbend production plant in Buffalo, New York state in 2017.
JB Straubel, Chief Technical Officer and Co-founder of Tesla, said "We are excited to expand our partnership with Panasonic as we move towards a combined Tesla and SolarCity. By working together on solar, we will be able to accelerate production of high-efficiency, extremely reliable solar cells and modules at the best cost."
Shuuji Okayama, Vice-president, Eco Solutions Company of Panasonic, added, "Panasonic PV cells and modules boast industry-leading power generation performance, and achieve high quality and reliability. We expect that the collaboration talks will lead to growth of the Tesla and Panasonic relationship."
Panasonic is the main partner of Tesla in relation to its battery technology and production at its Gigafactory in Nevada.
Panasonic also has solar cell and module assembly plants in Japan and its major facility in Malaysia producing high-efficiency monocrystalline-based 'HIT' (Heterojunction with Intrinsic Thin layer) solar cells.
Tesla noted that it intended to provide a long-term purchase commitment for solar cells from Panasonic, contingent upon shareholders' approval of Tesla's acquisition of SolarCity.
Tesla expects to use the cells and modules in a complete solar energy system that would be deployed with Tesla's Powerwall and Powerpack, energy storage products, according to the company.
What happens next?
The move by Tesla to team with Panasonic for PV modules raises significant doubts over SolarCity and its subsidiary, Silevo's ability to execute on ramping the 1GW Riverbend facility in 2017.
Former start-up, Silevo was acquired by SolarCity for its low-cost, high-efficiency cell technology and was expected to be driving the eventual ramp at the Riverbend facility. SolarCity had relocated Silevo's pilot production line from China to Silicon Valley and the former production facility of CIGS thin-film failure, Solyndra.
The move was designed to facilitate its aim of producing a significant percentage of its PV module needs internally in the US.
However, it remains unclear if Panasonic would produce its HIT cells or takeover production of Silevo's cell technology. Either way, delays in ramping the facility could be expected.
The Riverbend facility was established by New York State, which had agreed to put US$750 million into building the Buffalo facility and supporting infrastructure and manufacturing equipment.
This would be fed through the State University of New York's College of Nanoscale Science and Engineering and would be responsible for and own the buildings and equipment.
It was understood at the time that SolarCity would lease the facility for ten years and over that period invest US$5 billion into running the facility. SolarCity would be leasing the manufacturing facilities for US$1.0 per year plus the cost of utilities for an initial 10 year period.
At this time of publication, SolarCity and New York officials have yet to make any public statement on the significant change to the previous plans.
NY state Governor Cuomo cool with the Panasonic partnership
New York state Governor Andrew Cuomo and Empire State Development CEO Howard Zemsky have thrown their support behind Panasonic's manufacturing role in SolarCity's Riverbend plant.
Governor Cuomo said in a statement: "Buffalo's economic renaissance continues with Tesla and Panasonic's agreement to collaborate on the manufacturing of photovoltaic cells and modules – a central plank of SolarCity's solar panel production. After more than 50 years of stagnation and decline, we have seen the trajectory of Western New York trending upward, with transformational momentum across a range of industries. Our investments across the region continue to bear fruit, and this agreement further cements Western New York's position as a national leader in clean power technology and cutting-edge innovation."
"By bringing Tesla and Panasonic together, this innovative partnership will transform Buffalo into a national leader in the production of affordable, reliable clean energy. This is a far-reaching agreement that will keep the momentum moving forward in Western New York for years to come," added Zemsky.
Not surprisingly, the statement reiterated the key obligations SolarCity originally agreed to in the state funding for the majority of the facilities and production equipment, which was well paid jobs. From that perspective support for Panasonic's involvement was somewhat of a foregone conclusion.
However, as already highlighted, Tesla plans to sign supply contracts for PV modules with Panasonic, which would potentially negate any obligations Panasonic would be liable for in relation to the deal are still in place between SolarCity and New York state.
SolarCity is still required to achieve specific operational milestones during the first 10-year term of the US$1.0 annual lease, the company is also required to spend or incur approximately US$5 billion in further capital expenditures, operational expenses and other costs that include attracting the long-term infrastructure and jobs to also expand production.