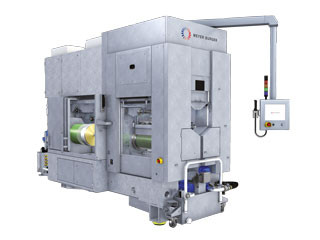 Updated: Leading PV manufacturing equipment supplier Meyer Burger Technology is to supply its DW 288 Series 3 diamond wire cutting saws to an existing European customer.
The tool order was said to be worth around CHF 8 million (US$7.9 million) with delivery and commissioning of the equipment scheduled to start in the second quarter of 2017.
Predominantly to date, diamond wire cutting tools have been used to reduce monocrystalline wafer production costs but in 2016 several major PV manufacturers such a 'Silicon Module Super League' (SMSL) member, Canadian Solar will use diamond wire with multicrystalline wafers and black silicon processing.
Meyer Burger also noted that the order included service support and on-site training for the DW 288 Series 3 diamond wire cutting platform.
The company recently announced new orders for its PERC (Passivated Emitter Rear Contact) cell technology, valued at around US$19.6 million.
In a separate press release, German integrated PV manufacturer, SolarWorld confirmed that it was the Meyer Burger customer that had ordered the diamond wire cutting saw systems.
SolarWorld noted that the tools were ordered for its c-Si wafer operations in Freiberg, Germany that would handle around 500MW of annual wafer output.
Dr.-Ing. E. h. Frank Asbeck, CEO of SolarWorld said, "The higher the quality and efficiency of a solar power system, the lower the levelized cost of electricity per kilowatt hour. That's why we are further focusing on highest quality and efficiency with the new diamond wire technology, our monocrystalline PERC solar cells and extremely durable glass-glass modules. This makes every SolarWorld system a profitable investment for our customers."