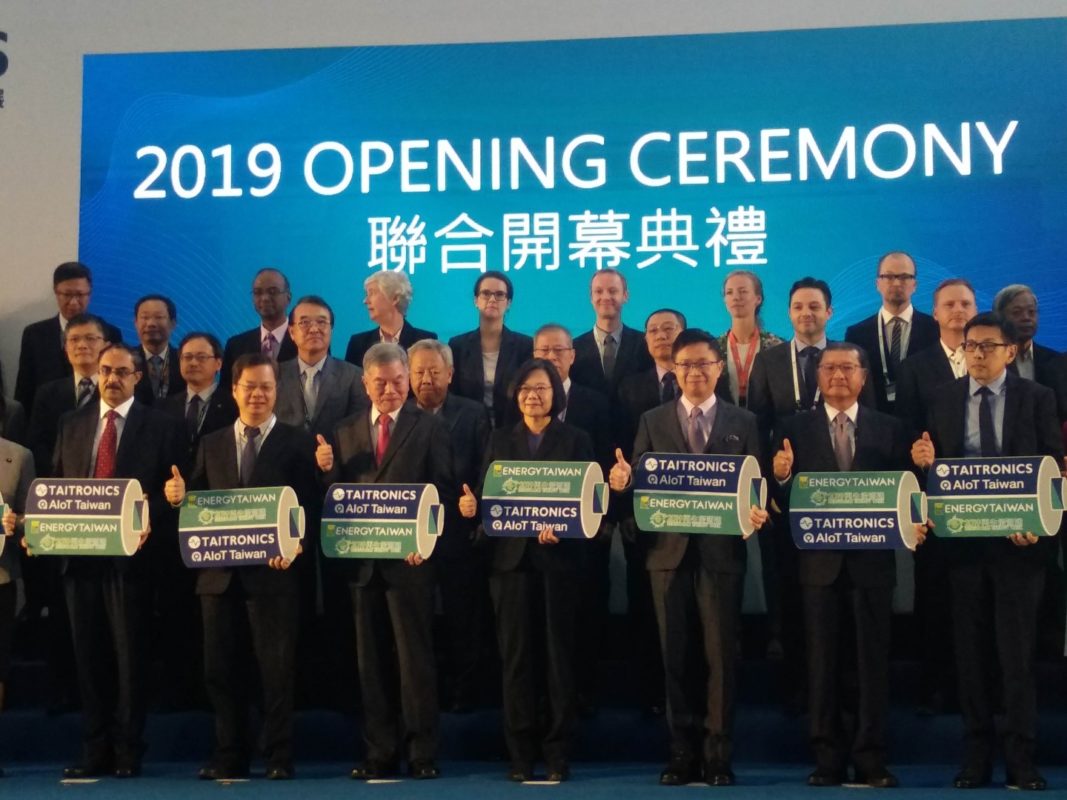 Taiwan will try and use its leverage as a global electronic and manufacturing hotspot to engineer a multi-gigawatt clean energy boom, government figures have said as they kickstarted this year's edition of Energy Taiwan.
President Tsai Ing-wen and Economic Affairs minister Shen Jong-Chin were among the top officials talking up Taiwan's renewable credentials as they helped launch the conference in capital Taipei, attended by PV Tech.
In his address, minister Jong-Chin reiterated his government's commitment to Taiwan's 20%-by-2025 renewable target. The plan assigns solar a central role, setting out installed capacity goalposts for 2020 (6.5GW) and 2025 (20GW, or two-thirds of the renewable fleet that year.)
"This is a wonderful platform for global buyers to understand Taiwan's industries," the minister added, as the first attendee crowds started milling through the rows of exhibitor stands at the Taipei Nangang Exhibition Center.
Speaking after him, president Tsai Ing-wen anticipated what she termed "one trillion investment" ambitions on Taiwan's part. The funding will unlock a shift in energy consumption that could create 30,000 jobs, said Tsai, who became Taiwan's first female president after her election in May 2016.
The head of state underscored Taiwan's "very favourable conditions" for clean energy developments and had words for solar's increasingly central role. "This year, especially in the summer time, we've actually seen a big contribution from PV to our power supply," Tsai remarked.
Taiwan eyes energy storage after taking PV to maturity
The linking of Taiwan's renewable fortunes with its broader economic ambitions was apparent throughout the conference's opening session. Tsai explicitly associated the two as she labelled green energy a "very important vector" for the island as it eyes the next phase of economic growth.
The president and some of her fellow co-speakers used the Taiwan summit launch to trumpet the position of the island – predicted to become this year the fastest growing of the so-called Asian Tigers, overtaking South Korea, Hong Kong and Singapore – as a manufacturing and electronics hub.
Economic Affairs minister Shen Jong-Chin conveyed hopes that technology firms – including Microsoft, Facebook and Amazon – will be relocating to Taiwan in greater numbers, while Tsai boasted of the current "strengths" of the island's semiconductor and Internet of Things ecosystems.
Terry Tsao, president of semiconductor association SEMI Taiwan, spoke afterwards of Taiwan's PV milestones to date. The island enjoys today a "complete PV supply chain", he said, noting that "many bottlenecks" have been overcome since SEMI Taiwan set up a first PV-dedicated committee in 208.
Tsao, who is also chief commercial officer at the trade body, said Taiwan must next set sights on nurturing an "integrated renewable market". The island should follow its success building a "mature" PV ecosystem by creating supply chains for energy storage and wind power, he said.
New segments aside, teamwork will be central to Taiwan's clean energy campaign, Tsao said. "The government, the public and private sectors, the research community, we all need to work hand in hand," he remarked. "Such a collaboration is conducive to the future development of the industry."
Upstream players adjust to era of Chinese dominance
The ultimate success of Taiwan's clean energy ambitions remains uncertain. Home to 3.3GW of installed PV capacity in May 2019, the island appears keen to boost its downstream solar ecosystem, in hopes that the move will foster a local market for its struggling manufacturers.
The government's campaign to breathe new life into the sector – battered after years of competition against rivals in mainland Asia – was explored at length by a recent PV Tech Power Feature, which asked upstream players to spell out how their strategy has shifted after years of downturns.
Some, including the Taiwan Solar Energy Corporation (TSEC), told this publication they have adapted by moving away from one of Taiwan's hitherto trademark PV specialisms – cell making – and onto the production of modules, targeting Taiwanese downstream buyers.
Approached on the sidelines of Energy Taiwan 2019 today, PV manufacturers detailed how they had adjusted to Chinese dominance. For instance, AUO SOLAR explained it had shifted from pure-play module-making to become a fully integrated player, from wafer to actual project development.
The upstream talk came as some at the event wondered whether the downstream PV goals will be hindered by certain of Taiwan's structural weaknesses, chiefly land scarcity – the country is among the world's most densely populated – and low power prices.
In analysis released two weeks ago, consultancy Fitch Solutions appeared optimistic. According to the firm, Taiwan's recent feed-in tariff downsizing will not stop the island from becoming one of the world's fastest growing PV markets, with roll out of at least 2GW expected next year.
Stories exploring the views of Energy Taiwan 2020 attendees about Taiwan's upstream and downstream PV prospects will be published over the next few days.
The feature examining Taiwan's strengths and shortcomings as a solar market was part of PV Tech Power's Volume 20, which you can subscribe to here
This story is the first of a series exploring the key takeaways from the Energy Taiwan 2019 conference in Taipei on 16-18 October 2019, attended by PV Tech.
See here for a second article exploring views on Taiwan's downstream PV ambitions and here for a third article examining how upstream players have weathered competition from China.