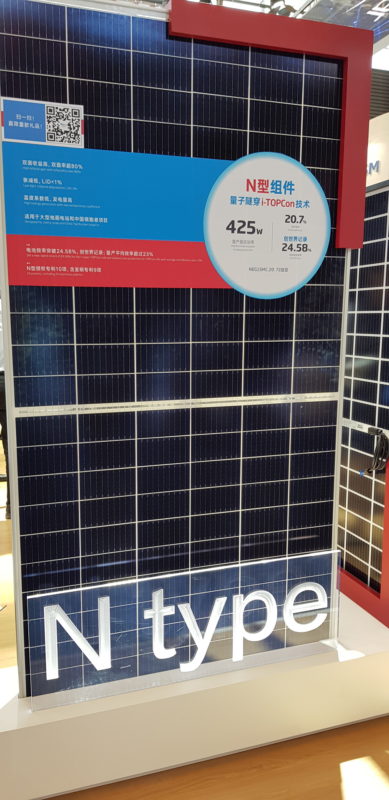 Trina Solar has launched a new high-performance module series using large-area n-Type monocrystalline TOPCon (Tunnel Oxide Passivated Contact) cell technology in both half-cut 144 (72-cell) and 120 half-cut (60-cell) configurations. The i-TOPCon double-glass bifacial modules can achieve performance of 425Wp with a 20.7% conversion efficiency.
Problem
High-performance modules are required in a post FIT (Feed in Tariff), grid parity environment to reduce the LCOE (Levelized Cost of Electricity). Bifacial modules offer greater overall power output, while n-Type mono cell technology offers lower degradation and higher reliability.
Solution
The new i-TOPCon double glass PV modules integrate N-type bifacial i-(Industrial) TOPCon cells with at least 80% bifaciality. The modules come with multi-busbar (MBB) design, full square large-area n-Type monocrystalline cells, dual-sided and half-cut technologies. The highly efficient modules feature a lower temperature coefficient and low light induced degradation (LID), which is less than 1%, according to the company. The modules also provide an extra 5% to 30% power generation from the rear side, and feature a 30-year linear power warranty. The half-cut 144 (72-cell) layout includes module dimensions of 2031 x 1011 x 30mm and weighs 26.4kg. The 120 half-cut (60-cell) configuration has module dimensions of 1705 x 1011 x 30mm and weighs 22.0kg.
Applications
The half-cut 144 (72-cell) glass/glass module is designed for ground-mounted utility-scale PV power plants as well as agro-photovoltaics and expressway sound barrier projects. The 120 half-cut (60-cell) configuration module can be used in utility-scale PV power plants using tracker systems.
Platform
The world record efficiency of 25.8% on small-area, single side TOPCon cell was developed by Fraunhofer ISE and has driven research and development of passivated contact solar cells by multiple institutes and PV manufacturers. In 2015, the State Key Laboratory of Photovoltaic Science and Technology (SKL PVST) of Trina Solar started research on a large-area bifacial TOPCon cell that was aimed at industrial mass production. In 2019, Trina Solar achieved a front side median efficiency over 23% for i-TOPCon cells. The i-TOPCon cell has a front boron emitter and a rear full-area passivating contact. After its development by the SKL PVST, it was transferred into full-scale mass production in a workshop at Trina Solar's Changzhou factory. In May 2019, Trina Solar announced that its SKL PVST has set a new world record of 24.58% for such n-type mono-crystalline silicon (c-Si) i-TOPCon solar cells. This result was independently confirmed by the ISFH CalTeC in Germany with a full-area measurement (244 cm2) including busbars.
Availability
June 2019, onwards.