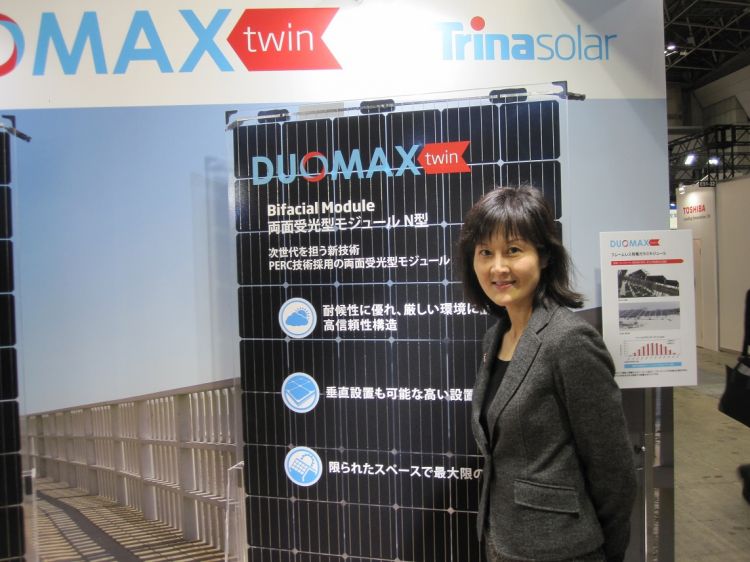 'Silicon Module Super League' (SMSL) member Trina Solar has secured the second largest order for bifacial modules, according to PV Tech's analysis. The shipment occurred in April 2017 and is Trina Solar's first order for its bifacial modules.
Trina Solar said that it had won a 20MW module supply contract for it's recently launched 'DUOMAX' bifacial module built with P-type mono-PERC (Passivated Emitter Rear Cell) technology using glass/glass encapsulation for a project located in Golmud, Qinghai, China.
According to PV Tech's analysis this is the second largest order for bifacial modules to date. Yingli Green previously supplied its bifacial modules for a 50MW PV power plant in China, the largest project to date for bifacial modules. US-headquartered heterojunction (HJ) cell manufacturer Sunpreme had supplied a project in the US with 13MW of HJ modules, previously making it the second largest order for bifacial modules, according to PV Tech's analysis.
Yin Rongfang, VP of Trina Solar, head of global sales & marketing, said: "It is DUOMAX twin's first order after its launch in the end of March and we'd like to thank our clients for their recognition. This year is the market rearing stage for DUOMAX twin and this number will continue to rise steadily. We are seeing more orders flowing in across the globe. In the future, we will remain committed to technological innovations and deliver even more real LCOE value to our strategic partners around the world."
Trina Solar noted that the project in Golmud was located in a sandy area with high diffuse reflection, ideal conditions for bifacial modules. The Project will also be equipped with a tracker system which will enable the DUOMAX twin module's back side to achieve more solar energy through movement via the tracker.
PV Tech recently highlighted that a key trend at the solar industry's largest exhibition (SNEC) in Shanghai, China was the growing proliferation of bifacial modules on display by module manufacturers.