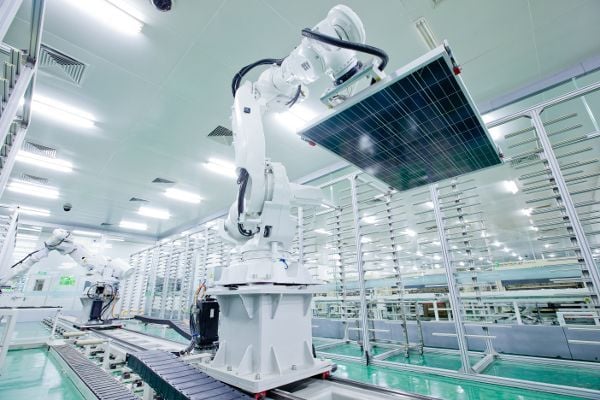 TUV Rheinland has hosted a delegation from China at its officials at the headquarters of TUV Rheinland Academy in Cologne, Germany that will support a strategic cooperation framework agreement for the Sino-German Industry 4.0 Demonstration and Training Center project.
The Sino-German Industry 4.0 Demonstration and Training Center aims to draw on the global network of TUV Rheinland to introduce the latest international technical resources and education system to the Shenzhen No. 3 Vocational School of Technology for the building of an advanced intelligent manufacturing demonstration production line and training center in Shenzhen, which is expected to be completed the end of 2019.
Although not specific to the PV industry, a growing number of Chinese PV manufacturers are adopting Industry 4.0 to reduce manufacturing costs and improve product quality and reliability.
Tongwei has a 200MW Industry 4.0 colar cell production line that has been the test bed for migrating all of its cell capacity to the smart manufacturing technology in the future.
JinkoSolar has been including Industry 4.0 systems and technology for its module assembly production lines in China and many others, such as LONGi and GCL Group are in various stages of smart manufacturing development.
Qiao Jiahua, Deputy Director of Standing Committee of the Shenzhen Municipal People's Congress and Chairman of Shenzhen Municipal Trade Union said, "In recent years, the goal of Shenzhen talent cultivation is to create a group of outstanding talents in the field of intelligent manufacturing by diversified international cooperation and continual introduction of advanced education systems and resources into Shenzhen. This time, the cooperation between No. 3 Vocational School and TUV Rheinland is following the trend of Industry 4.0, and is of profound significance for both parties in deepening talent cultivation in South China."
The TUV Rheinland Shenzhen Quality Control System Training Center has been offering 25 courses to more than a thousand enterprises in Shenzhen, and has trained over 12,000 high-level application technology talents so far.