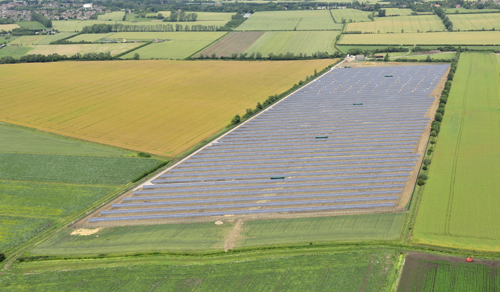 The UK's PV industry has just been through its latest annual rush to complete utility-scale solar farm projects and connect them to the grid before the deadline closed for their accredited level of financial support.
Britain, suddenly catapulted to status of the biggest PV market in Europe in terms of annual installs for the past couple of years, has traditionally seen the first quarter of the year dominated by a "mad rush" to connect projects before the support available under the Renewables Obligation Certificate (ROC) scheme closed to certain sized projects or reduced the level of support on offer.
Last year, one connection engineering firm told PV Tech's UK sister site Solar Power Portal that "significant risks" were taken to complete some projects in time, while this year, Solar Power Portal reported that as many as 250 people were working on one 50MW site in February.
While the figures are not yet in, several developers have reportedly connected significant amounts to beat the deadline. Baywa R.E. said it completed six farms totalling 130MWp, SolarCentury has said it completed 140MW during the year and Chinese firm ReneSola said it connected four projects totalling 20MW ahead of the cut-off. The country's largest developer, Lightsource, said it had completed 215MW from December 2015 onwards.
After the feed-in tariff (FiT) and renewable obligations schemes underwent a policy review which culminated in cuts to the small scale FiT of about 65% and an end to the RO. There remains a pipeline of projects already accredited under next year's lowered support levels. Going on from there, solar has been dropped from a proposed CfDs (contracts for difference) auction scheme and many are predicting that next year will constitute the last year of new utility-scale solar being built with support in the UK.
A January blog from Solar Intelligence analyst Finlay Colville for the UK site outlined many of the issues now facing the rooftop and ground mounted solar sectors respectively. Colville forecast the possibility that this year's first quarter may not have hit the heights of Q1 2015, when an all-time high of 2.53GW was installed. As well as compiling accurate figures for the latest deployments, Colville's Solar Intelligence team is now analysing the pipeline of around 950 registered but as-yet-unbuilt projects for next year, arguing that government figures are often several months out of date and that many databases often only list completed projects.