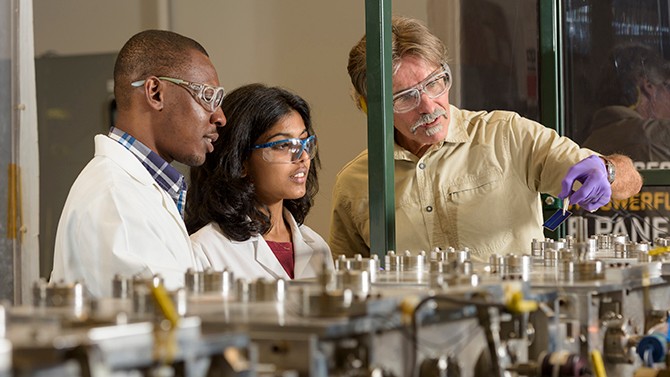 The University of Delaware's Institute of Energy Conversion (IEC) has been awarded US$2.1 million from the SunShot Initiative for two research projects aiming to improve the performance of interdigitated back contact (IBC) solar cells while reducing their production costs and new techniques for CIGS deposition.
Although IBC cells have provided the highest efficiencies in volume production via SunPower, production costs have remained higher due to difficulties in patterning and isolating the positive and negative electrodes on the back of the solar cell.
Senior scientist Steven Hegedus is said to lead a three-year, US$1.25 million project on cutting IBC solar cell production costs.
Hegedus and his team, including Ujjwal Das, associate scientist at IEC are to explore the use of advanced laser patterning techniques to overcome these challenges. The project team will include the Laser Manufacturing Laboratory at the University of Virginia and Silevo, owned by SolarCity at its pilot line facility in Fremont, California.
"IEC has worked on an advanced type of IBC cell, and we have optimized some of the processing technology," Hegedus said. "The complexity of the processing and its integration into manufacturing requires the multiple institutions we've assembled here."
Senior scientist William Shafarman will lead a project team exploring new techniques for making solar cells from a compound material using copper, indium, gallium and selenium (CIGS) applied to a glass surface to lower thin film processing cost below conventional silicon solar cells.
"We need to keep making solar cells better and cheaper," Shafarman said. "Our goal is to make higher-efficiency solar cells and to translate new materials and processing techniques into the large-scale manufacturing of photovoltaic modules."
The three-year, US$889,000 project will include Greg Hanket, associate scientist at IEC, and partners at the Molecular Foundry at the Lawrence Berkeley National Laboratory, who will assist with the advanced characterization of the materials used in the solar cells, and at Stion Corporation, which manufactures solar cells in California and in Mississippi.