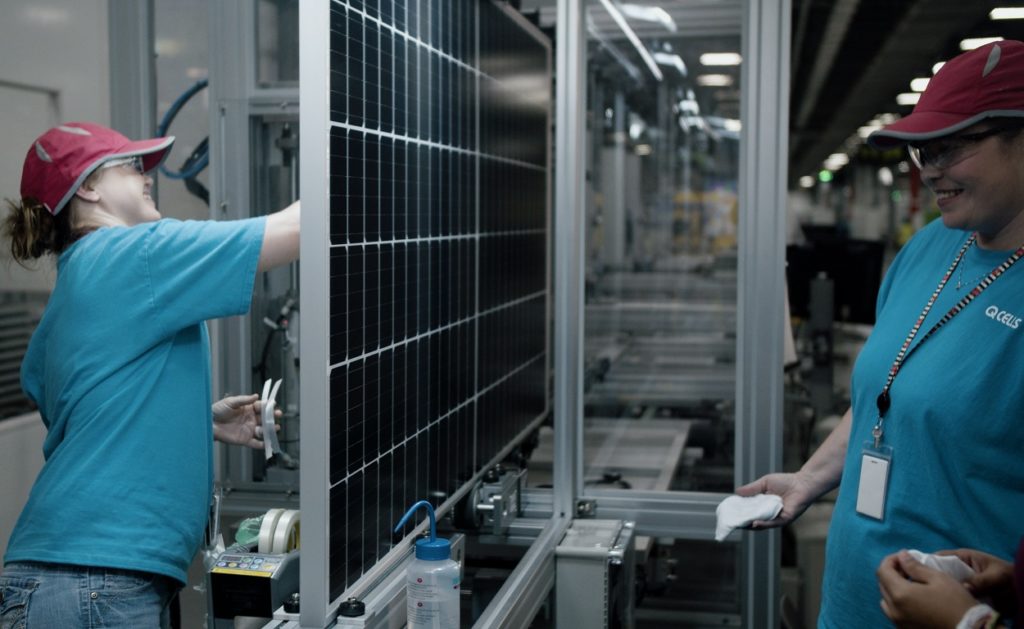 US solar manufacturers can compete with Chinese companies for US PV projects given additional import costs and modules making up less than half a project's costs, while also ensuring a secure supply to the US market, lowering the carbon intensity of products and exploiting strong market demand, says Michael Parr, executive director of the Ultra-Low Carbon Solar Alliance (ULCSA).
Module price rises, ongoing supply chain disruption and geopolitical tensions have all made the case for decentralising PV manufacturing even stronger over the past couple of years and Parr believes the world "needs to signal some changes" about how and where solar products are being produced.
The solar manufacturers of today are far more sophisticated than they were five years ago, are highly automated and are taking on expansion projects with much larger capacities, says Parr, allowing US companies to compete with China on price while also lowering the carbon intensity of the final product. Parr notes how modules made in China contain twice as much carbon as elsewhere given much of China's electricity in solar producing regions is derived from coal and other fossil fuels.
And despite cheap energy and substantial government subsidies, Chinese modules have been steadily rising in price for US consumers and now cost around US$0.33c/W for bifacial mono-PERC 440-450W modules, excluding any tax or shipping costs, according to data from PVInfoLink.
"On a straight manufacturing cost comparison US labour and other costs make it more expensive to produce things here versus China by some increment," says Parr. "But when you roll shipping costs, tariffs and related factors into the mix, and the fact that modules are only about 40% of project costs, projects with US produced modules are not significantly more expensive than projects with Chinese modules."
"You're competing against imports that have tariffs costs, shipping costs and other costs added on to those. You're not competing with manufacturing costs in China, you're competing with landed price," says Parr.
"And as shipping costs have gone up, the cost differentials have come down. So manufacturing in the US can be more expensive from a human resources perspective but the fact that we're about to double module manufacturing capacity in the US in the next 18 months shows that people believe they can compete."
"And competitiveness is more than just cost equivalence: there are other factors that are considered including quality, longevity, strength of warranty, sustainability and supply reliability that factor into a buying decision," says Parr.
Indeed, there has been much noise lately from the solar industry about trying to establish manufacturing bases for cells, wafers and modules outside of China, with several countries announcing policy support.
The US Biden Administration is under increasing pressure to support the country's PV manufacturing sector through legislation, including the Solar Energy Manufacturing for America (SEMA) Act, which Parr said would "turbocharge" manufacturing growth in the US and act as an effective scaling up incentive.
"Our take [on SEMA] is that the investment logic is there," says Parr. "We're seeing rapid growth today, although from a small-scale, but rapid growth in the US nonetheless. We think policy elements like SEMA would turbocharge that."
Meanwhile, Chinese companies with western customers are thinking seriously about how they could continue to serve those markets, says Parr. He notes how the likes of JinkoSolar, LONGi and Trina Solar are all talking about developing supply chains outside of China. Inside China, companies are increasingly investing in production centres to the East of the country – rather than the mainstays of Inner Mongolia and Xinjiang – that uses roughly 35% cleaner power due to its strong hydropower resources.
The carbon intensity of solar products has been in the spotlight lately and Parr says manufacturers should consider three areas when looking to reduce carbon in their products: the carbon intensity of the grid system in question; energy efficiency in the manufacturing process; and energy efficiency in the power procurement process.
On this last point, Parr says he knows of several US solar manufacturers who are now actively shifting their production schedules to off-peak times and on weekends when more, cheaper renewable power is available.
"You can tailor manufacturing capacity to the power curve," he explains, noting how this reduces costs and the carbon intensity of the final product.
"So, many of the factors that made manufacturing outside of China riskier five or 10 years ago, the industry has now grappled and dealt with," says Parr, adding that the "primary risk" to solar manufacturing in the US an "inconsistency of policy".
That said, solar is becoming less dependent on government policy support as it continues to rise in prominence as a vital source of power and a means of emissions reduction, says Parr.
The US already has 20GW of polysilicon capacity – set to be increased following the announcement that Hanwha Solution is to restart production at Moses Lake – about 8GW of module capacity as well as growing cell capacity, with Parr expecting a wafer announcement soon to complete the supply chain.
"US manufacturers have learnt how to be competitive with China," he says. "And, when you factor in the supply risks associated with the Chinese supply chain, we're in a different world than we were five years ago."