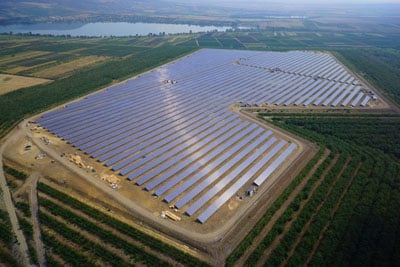 Big energy utilities such as Eon and innogy are "changing the appearance" of the European solar market as they wade into the sector, a panel of industry leaders has concluded.
Speaking at SolarPower Europe's ongoing Solar Power Summit in Brussels yesterday, First Solar senior director for Europe sales Stefan Degener said that European utilities were waking up to the potential for solar to make a meaningful contribution to their energy mix.
This, Degener said, had resulted in them "changing the appearance" of the European solar market and ultimately contributing to the market becoming "more professional".
Utilities are becoming prolific investors in European solar with the likes of Eon, RWE and Enel all either establishing or acquiring solar development arms.
Earlier this year RWE's clean energy unit innogy splashed the cash on developer Belectric in a bid to bolt on solar expertise.
Markus Hoehner, chief executive officer at EuPD Research, said that the more widespread adoption of solar by utilities was a result of them "running out of business" and that while it might have taken a few years, they were now "beginning to understand and review strategies".
Hoehner added that this would result in significant upside for solar manufacturers by creating a "strong sales channel" for them to tap into.