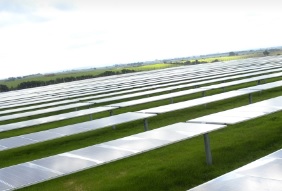 Valmont Industries has acquired a majority ownership in Convert Italia SpA, a designer and provider of engineered solar tracker solutions.
Headquartered in Rome, Convert Italia also boasts offices in Brazil and Argentina and has completed tracker projects in Europe, Latin America and Africa.
Stephen G. Kaniewski, president and CEO of Valmont, said: "The partnership with Convert Italia is an exciting advancement of our strategy to grow market adjacencies in our Utility Support Structures business. Combining their single access tracker technology with our global manufacturing capabilities and utility customer base, allows us to provide an integrated solar tracker solution to utility-scale customers around the world."
Giuseppe Moro, chief executive officer of Convert Italia, said: "The opportunity to partner with Valmont as an industry leader in the utility market has energized the Convert Italia team. Valmont's global footprint and strong relationships with utility customers support our leadership position in providing renewable energy solutions."
Valmont expects the deal to be slightly EPS accretive in fiscal 2018, and expects EPS accretion of approximately US$0.10 in fiscal 2019.
Convert Italia is just the latest PV tracker company to be acquired over the past few months, as Trina Solar completed the purchase of Spanish company Nclave back in May.