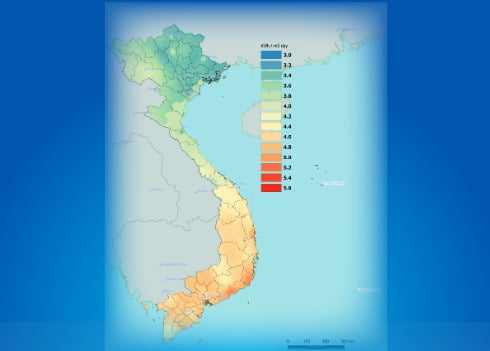 Solar PV is taking off in Vietnam with many international and domestic investors showing intention to develop projects in the central and south of the country, Hoa Vu Phuong, specialist, international relations department, Institute of Energy, Vietnam, has told PV Tech.
There are now more than 30 projects with capacities ranging from 20-300MW being developed at different stages. Construction has already started on one project of 19.2MW while a 30MW project has been granted an investment certificate, said Vu Phuong.
The figures follow on from last week's news that China-based integrated manufacturer JinkoSolar now plans a 40MW solar plant in Vietnam, having received investment approval from the Mekong Delta provincial government.
Even the country's monopoly-holding utility Electricity Vietnam (EVN), has shown intentions to invest in some large-scale PV projects. The first is a 200MW plant in Ninh Thuan province.
However, developers so far have shown less interest in northern Vietnam as the irradiation is not as high with drizzle and clouds hampering the winter and spring of this region, added Vu Phuong. The Spanish government has provided technical assistance to help Vietnam put together an irradiation map, seen here.
The north also has several big and small hydropower plants as well as big thermal power plants. Generation now exceeds local demand and electricity is transmitted to the South via 500kV lines.
Waiting for subsidies
Vu Phuong said: "Although the enthusiasm for solar PV in Vietnam seems to be high at the moment, I think what is most awaited for by all IPPs now is the official Feed-in-Tariff (FiT)."
The third and latest proposal from the Ministry of Industry and Trade (MOIT) puts the FiT for utility-scale grid-connected PV projects under or equal to 100MW capacity at US$0.112/kWh. The FiT for rooftop PV is proposed for around US$0.15/kWh. Vu Phuong says further clarification is needed from the government, but she expects the policy to be finalised next year.
Utility does solar
EVN, which will purchase all the power from solar projects receiving the FiT has worked with the provincial government of Ninh Thuan for its proposed 200MW solar project, which includes four sub-projects. The Central Power Corporation, under EVN, is also reported to be preparing a solar PV investment project of 150MW in Khanh Hoa Province. EVN is also reported to be considering two other projects.
Vietnam currently has just 5MW of solar deployments. However, under the latest revision of the National Power Development Masterplan (PDP VII), the country is targeting 850MW solar by 2020, 4GW by 2025, and 12GW by 2030. The electricity production from solar energy will take the following proportion in the total energy mix: 0.5% in 2020, 1.6% in 2025, and 3.3% in 2030.
Vu Phuong said: "This is very high target, and EVN – as the main player in Vietnam's power market – must of course contribute to achieving this plan."
As a state-run group owning more than 60% of the total installed capacity in the country's power system, EVN also has greater capability in accessing big capital for such large-scale solar.
However, EVN is not the only player looking at projects above 100MW. Vu Phuong said there are reports of some international investors showing intention to invest in large-scale solar PV in the country of up to 300MW, including Hanwha (Korea), Solar Park (Korea).
Hoa Vu Phuong will be speaking at Solar & Off-Grid Renewables Southeast Asia 2016 as it returns for a fourth year in November. This is the distinguished, must-attend event for solar PV companies looking to secure profitable business across the booming Southeast Asian market. Co-location with our established Solar Finance & Investment conference provides an additional day of bespoke content and offers a deeper dive into issues around clean energy financing and long term capital investments across the region. Click here for more information and to register.