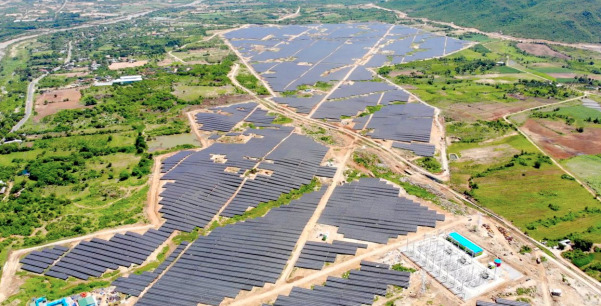 Vietnam's second-round solar feed-in tariff (FiT) could be cut short in favour of an auction model after the prime minister Nguyen Xuan Phuc issued an order highlighting shortcomings in the way the Ministry of Industry and Trade (MOIT) has handled the roll-out of solar power.
The shock move, which still needs to be released in the form of regulations by the Ministry of Industry and Trade (MOIT) to come into fruition, would remove FiTs for future solar projects unless they have already signed a power purchase agreement (PPA) and can become operational in 2020, according to the document seen by PV Tech.
As the original project completion deadline for the second FiT batch had been set at 31 December 2021, this move is likely to severely impact many projects under development.
For affected projects, the order states: "FiT tariff will no longer be applicable but bidding procedures should be in place for open, transparent and competitive bidding to reduce the price of electricity purchased from solar projects."
The special case province of Ninh Thuan, however, which has attracted a huge amount of interest from PV developers, has different rules that allow projects to receive a FiT until a cumulative capacity of 2GW in the province is reached or by the end of 2020, whichever comes first.
Gavin Smith, vice chairman of Eurocham's Green Growth Committee, told PV Tech that the major concern is how MOIT will deal with under-development projects in the other 63 provinces that have yet to sign a PPA, as well as the kind of auction or other process that is adopted in place of the FiT.
In terms of the proposed auctions, he added: "The key question is how comprehensively will Vietnam de-risk its auction? Will they make the standard PPA internationally bankable or not?"
Smith pointed to auctions in the United Arab Emirates (UAE) that are thoroughly de-risked to the point where developers only have to focus on the cost of equipment and installing and operating it in a desert environment. Vietnam, on the other hand, is very far away from de-risking at the same level as the UAE, said Smith, and even its Southeast Asian neighbour Cambodia is closer to such auction parameters. Cambodia's national solar park, for example, offers concessional money from the Asian Development Bank (ADB), provides land and confidence in guaranteed demand for power.
A note issued by law firm Baker Mckenzie on the order stated: "The instruction […] may have a significant impact on a number of developing or recently proposed solar projects not yet approved in the master plans, particularly those large-scale projects that were proposed, or are aiming, to achieve COD in 2021 instead of 2020. This may also have a significant impact on private investors' considerations on making new investments in solar farms."
MOIT must now also submit a report to the government on a list of solar projects eligible for the second FiT round, "ensuring fairness, openness and transparency", according to the order.
The document also said that rooftop solar should be prioritised as it has no effect on land and no investment requirements for power grid connection. It called for a single national FiT for rooftop PV, but there were ambiguities over the time period of adoption.
MOIT, the Ministry of Finance and national utility Vietnam Electricity (EVN) now have until 15 December to review and agree on a FiT for rooftop solar, as well as the FiT for PV projects with PPAs and that are under implementation.
Background
The move comes from clear disappointment at the top over the MOIT's handling of the solar programme so far. The government is still keen to deploy solar and other renewables but in a more strategic and restrained fashion.
"It is necessary to calculate the structure of power supplies in a logical and methodical manner; the public procurement system should be applied to end the input-based on-demand support," the order stated.
The document listed major shortcomings and limitations in the previous solar investments. These included MOIT's management over planning for solar power development and a lack of effective measures to avoid "massive follow-the-crowd investment into solar power development", especially causing challenges to power transmission and generation of power onto the grid in some areas.
The order stated: "The Ministry of Industry and Trade needs to learn from the above-mentioned lessons to improve the publicity, transparency and efficiency in management and development of solar power as well as other forms of renewable energy in the future."