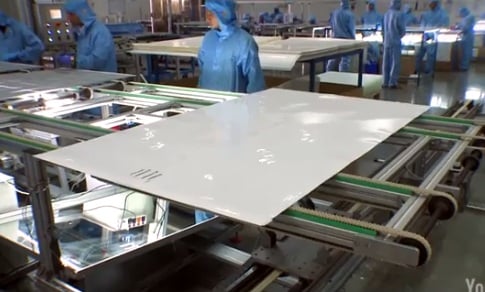 Indian PV manufacturer Waaree has started commercial production at a 1GW solar module assembly factory in the state of Gujarat, with several large tenders soon coming to fruition expected to counter the lull in activity brought about by a lack of tenders in H2 2017, according to a company official.
Speaking to PV Tech at Intersolar Europe 2018 in Munich, Sunil Rathi, Waaree's director of sales and marketing, said the company is maintaining its targets of supplying 60-65% of its modules to the domestic market and 35-40% for export. Waaree assembles multi-crystalline, monocrystalline, and mono PERC modules among other technologies. Via its partnership with US-based firm Merlin, it also has 20MW of flexi module capacity.
Waaree already has a 500MW facility in Surat in Gujarat, inside a special economic zone (SEZ). The new facility is located on the border of Maharashtra outside the SEZ.
When asked if there has been any clarification on whether solar manufacturing plants in SEZs will be subjected to anti-dumping or safeguard duties, should they be brought in, Rathi, said: "A lot of uncertainty is there. Nothing is clear so far. That is not the reason why we shifted [location], but that can be advantage to us. If duty comes then it will be easy for us."
Waaree will be watching the market closely and plans to ramp up the facility to 1.5GW "very soon" if the conditions are favourable. For example, Rathi suggested that if a duty on imports is brought in, the 1GW capacity simply won't be enough to meet demand.
The fully automated plant will help to increase productivity and the facility is expected to generate around 350 jobs, said Rathi.
When asked about the impact of China's recent major solar cuts, Rathi said ASPs have started to decline, but he expects this to be a short-term trend with prices to stabilise again in 3-6 months' time, but added: "Currently there is a lot of distress happening."
Finally, Rathi said that India has begun to see significant demand for monocrystalline modules as the technology has started to become competitive with multi in the last year.
Dr. Hitesh Doshi, chairman and managing director of Waaree Group, recently discussed Indian solar prices, domestic manufacturing and the International Solar Alliance in a guest blog on PV Tech.
Waaree Energies also recently launched a do-It-yourself rooftop solar kit, aiming to reduce the time and manpower needed for standard installations. The company has more than 200MW of EPC jobs in the pipeline for this year as well as many rooftop projects.