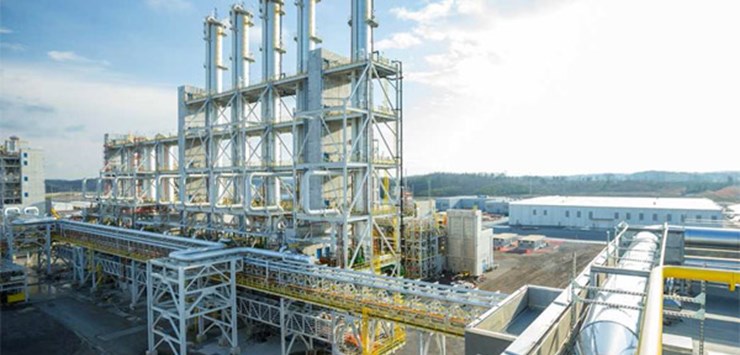 Major polysilicon producer Wacker Chemie has reported a significant decline in the fortunes of its polysilicon business segment in the third quarter of 2018.
Wacker reported third quarter 2018 polysilicon revenue of €173.5 million, a 28% decline from the previous quarter and a 49% decline from the prior year period.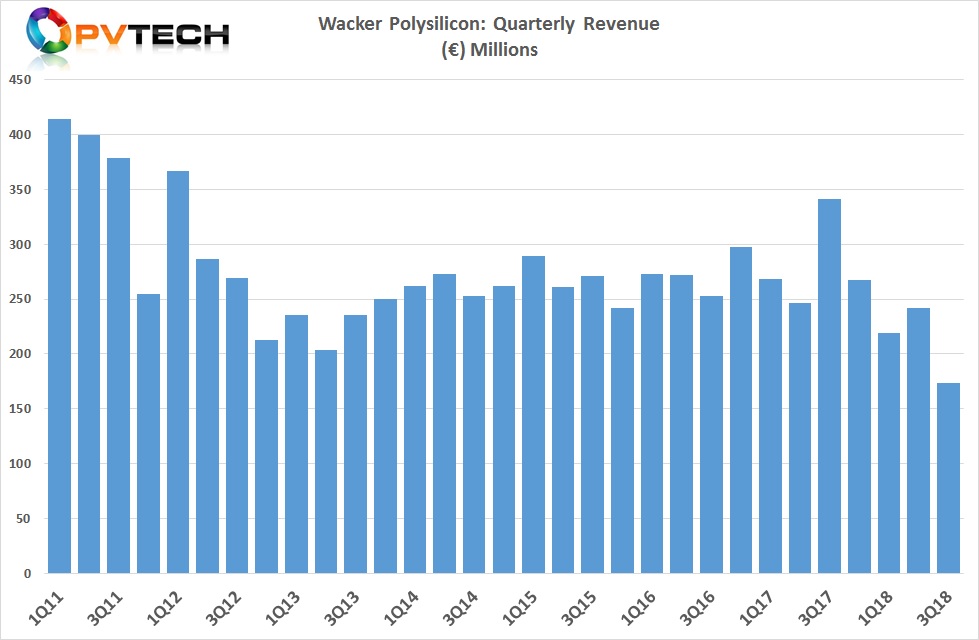 EBITDA slumped significantly to only €4.3 million in the third quarter, compared to €39.1million in the previous quarter and €85 million in the third quarter of 2017.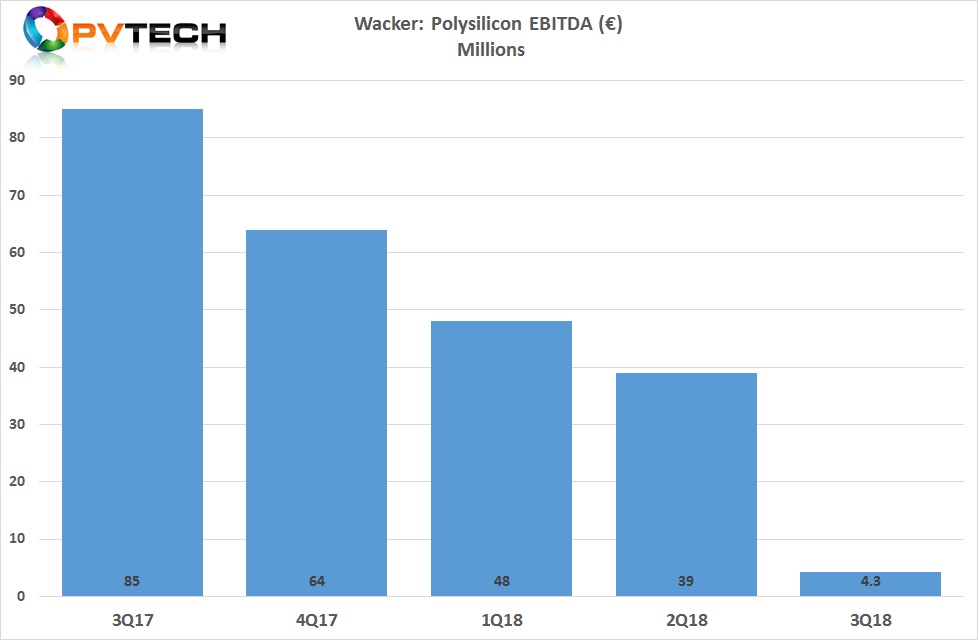 EBITDA margin plummeted to only 2.5%, compared to 16.2% in the previous quarter and 24.9% in the prior year period.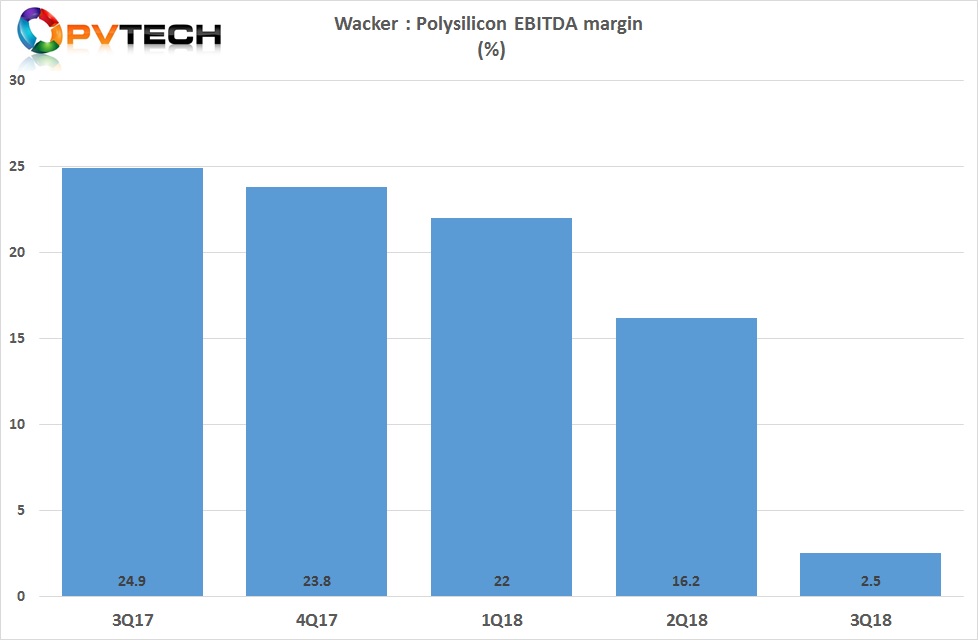 On all key business metrics, Wacker delivered its worst quarterly figures since going public in 2006.
A major shake-up is occurring in the PV industry, driven by major changes to China's support for downstream PV installations that have dampened polysilicon demand in the third quarter of 2018.
This situation has been exacerbated by a major wave of polysilicon production expansions in several regions, not least in China as it pursues a strategy to become self-sufficient in 2019 as well as the shift from mainstream multicrystalline wafers to high-efficiency monocrystalline, which requires higher purity polysilicon but at competitive production costs to solar grade silicon.
Wacker cited China's '531 New Deal' as a reason for the sharp decline in demand for its polysilicon and responsible for a significant decline in average selling prices (ASPs). PV Tech recently noted that solar grade FBR polysilicon producer REC Silicon had been forced to sell at prices below its production cash costs in the third quarter, due to weak demand and excess polysilicon capacity across the sector.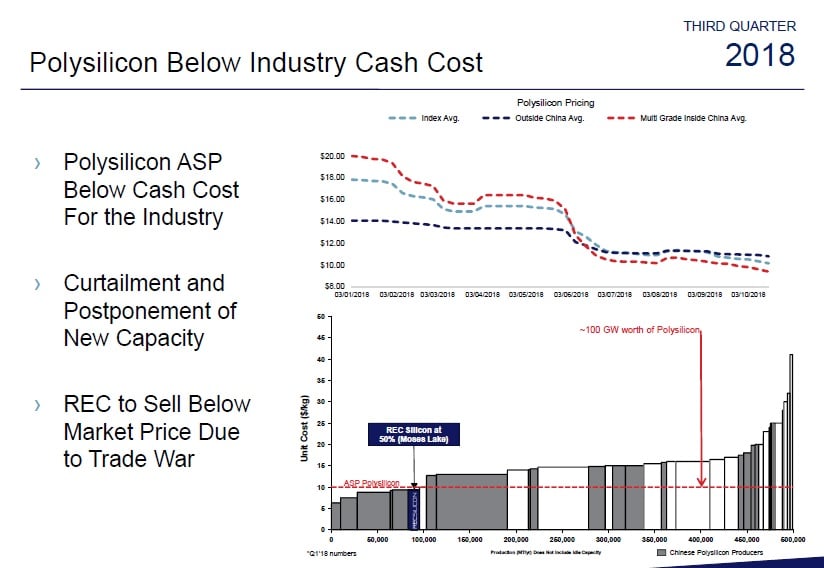 However, Wacker noted that it had kept its German-based polysilicon production plants at full capacity through the third quarter, despite the rapidly deteriorating market dynamics, not least with significant new capacity coming on stream through 2019 in China at new facilities using advanced processes to raise purity and lower production costs to new industry levels.
The company said that it had maintained full-production capacity to stockpile in advance of a demand recovery and improved ASPs.
However, maintaining high utilisation rates in the third quarter would have limited production cash costs rising, helping to avert losses, unlike the case with REC Silicon, which had lowered FBR polysilicon to only 25% utilisation rates in the quarter.
In a recent investor note, ROTH Capital financial analyst, Philip Shen noted that he expected polysilicon production to increase around 32% in 2019 to 520,000 MT, while global demand was expected to increase by only 5-10%, indicating that the industry may be oversupplied by as much as 120,000 MT.