Ghana went to the polls this month to elect a new government. The NPP (New Patriotic Party) claimed victory with 53.7% of the vote, but what does this mean for the clean power industry and will there be an acceleration of the early solar progress seen in the country?
The two main candidates were John Mahama, incumbent president and leader of the National Democratic Congress (NDC) and Nana Akufo-Addo, leader of the NPP. The parties have differing views on the importance and potential of clean energy. A look at the two parties' take on power and the prominence they afforded energy in their manifestoes offers a telling demonstration of the potential for change after the election.
Party perspectives on the power market
NPP perspective: Between 2001 and 2008, the NPP government, led by Kufuor built 1,440MW of power. Much of this, however, was thermal power with some hydro, rather than solar. Of course, since then, the cost of solar has dropped dramatically, making it much more economically viable now than in the period to 2008. In their manifesto, the NPP claims NDC inherited a power market in 2009 with no "DUMSOR" (a term referring to power cuts which means literally 'on-off'), which has been a common occurrence in daily life for Ghanaians and Ghanaian businesses. The NPP quotes a report by The Institute of Statistical Scientific and Economic Research, which estimates the cost of this at US$680 million in 2014 – around 2% of GDP. Moreover, the Volta River Authority, Ghana's utility, is in-debt to the tune of US$1.53 billion. This was a long discussion point at a recent investors round table hosted in London by Solar Media where project developers mentioned their cautious approach to the utility which often pays late or not at all.
NDC perspective: The average GDP growth rate over the seven-year period spanning 2009 to 2015 was 6.8% per annum compared to 5.8% per annum from 2001 to 2008 and 4.4% between 1993 and 1999. Ghana attracted US$9.7 billion in Foreign Direct Investment between 2013 and 2015 – much of that was investment into the oil sector which has suffered since the global oil downturn. There is little a Ghanaian government can do to protect oil prices so the economy will need to diversify. Otherwise growth, which has already stalled, will continue to do so. The government has established The Ghana Infrastructure Investment Fund (GIIF), designed to be a vehicle to improve investment into infrastructure. Since 2012, NDC have said they brought online 1,033MW of power. This includes 2MW of solar. What is not included is the 20MW BXC solar project which came online in 2016 but was not in the government's plan.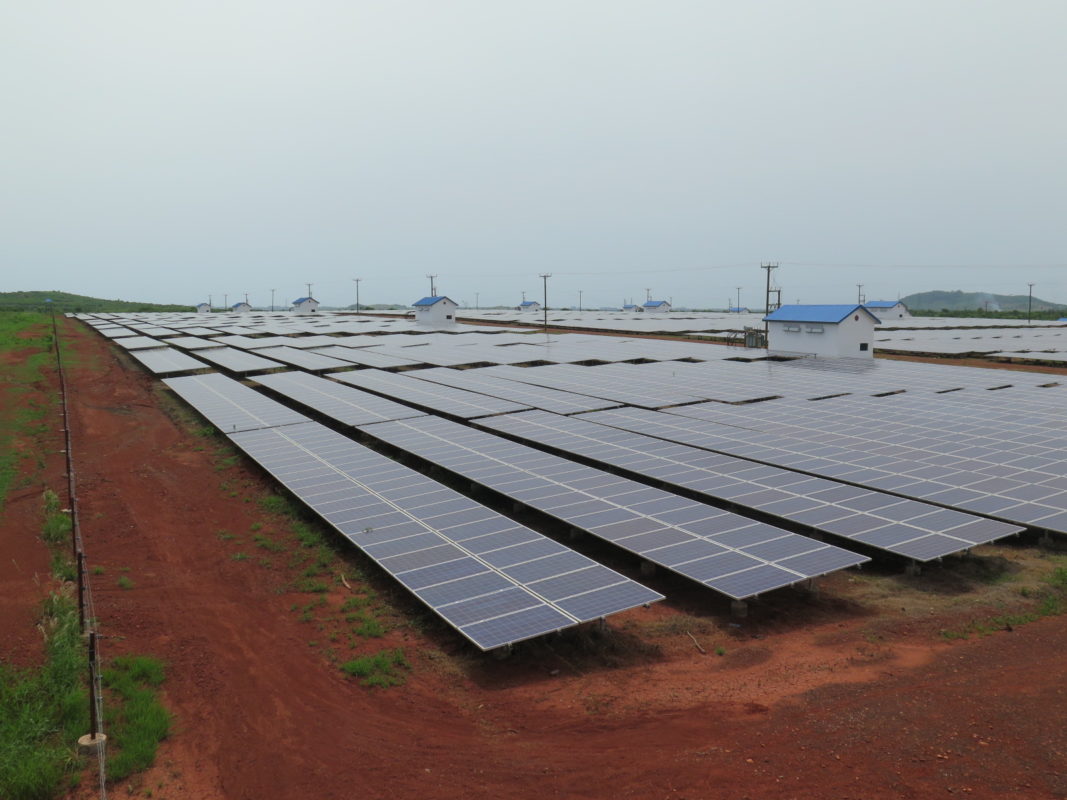 Manifestoes
NPP Manifesto: "The NPP's vision for the energy sector is to develop a modern, diversified, efficient, and financially sustainable "Energy Economy" that will ensure that all Ghanaian homes and industries have access to an adequate, reliable, affordable and environmentally-sustainable supply of energy to meet their needs and to support the accelerated growth and development agenda we envisage for the country."
Renewable commitments:
Solar on government buildings: Rapidly move to the adoption of distributed solar for all government and public buildings
Solar park tax incentives: Encourage the building of solar parks in the northern part of the country through investment tax credits to owners of commercial, industrial, and utility scale solar photovoltaic (PV) systems to take a one-time tax credit of qualified installed costs
Solar & Wind Mini-Grids and Water Supply: Develop solar and wind mini-grids for irrigation and community water supply around the country through Public Private Partnerships (PPPs)
Creation of a Renewable Energy Industrial Zone: The zone will enable local supply of solar panels to meet the requirement of policy proposals, where the private sector would be supported to build factories
Other power sector commitments:
Debt restructuring for the utilities
Tax relief for households on their energy bills
Power sector audit, leading to a 10-year "Master Plan"
Procurement of new projects will be via PPP or IPP agreements
A recovery plan for the government-owned entities: VRA, Electricity Company of Ghana (ECG), Northern Electricity Department (NED) and the BDCs
Development of a long-term LNG programme, with incentives for companies deploying indigenous natural gas
Shoring up reserve margin
Provide clarity of rules and regulations by improving the capacity of the regulatory bodies Public Utilities Regulatory Commission (PURC) and Energy Commission (EC)
Price incentives to attract investment
An energy efficiency plan which will see Minimum Energy Performance Standards for electric motors and
industrial equipment implemented
Retain the commitment to Ghana's obligations under the Clean Development Mechanism (CDM), UN Framework on Climate Change (UNFCCC) and Conference of Parties 2015 (COP21)
Split thermal and hydro power generation, bringing all hydro under the auspices of VRA
Explore feasibility of geothermal and tidal energy
NDC Manifesto: "Sustainable power is at the heart of our accelerated growth. Ghana faced successive periods (1983, 1998 and 2006/2007) of prolonged load shedding and the recent power supply shortfall underscored the deficit in power generation. To prevent recurrence, we have taken bold steps to fix the problem by improving generation, transmission and distribution of power in the last four years. In line with the 'Energy for All' programme, about 3,000 communities have been connected to the national grid, raising access from 54% in 2008 to over 81% in 2015."
Renewable commitments:
Solar target: Increase generation from solar PV to 200MW
Rooftop solar: Expand the 200,000 rooftop solar project
New wind projects: 75MW VRA wind park in the eastern corridor of the Greater Accra Region and a 150MW project in Ayitepa, in the Eastern Region
Commencement of 12MW PV: Commence a 12MW solar project in the Upper West Region
Biomass: Bring the first 100MW of a biomass project in line in collaboration with a "Norwegian investor"
Continue to develop more sustainable power
We will further ensure that our planning and building regulations incorporate sustainable energy conservation in buildings at the design and construction stages
Other power sector commitments:
Increase the number of power generation assets
Increase generation capacity to over 5,000MW by 2021 with universal access to electricity targeted by 2025. This will include the build of thermal assets and 700MW of clean coal.
Jo Wilkinson is the head of events at PV Tech's publisher, Solar Media. Solar & off Grid Renewables returns to Ghana on the 4-6 April 2017. Confirmed speakers represent major project developers with over 1GW pipeline in West Africa and off-grid solutions bringing power to communities through solar home systems, solar lighting, storage and microgrids.