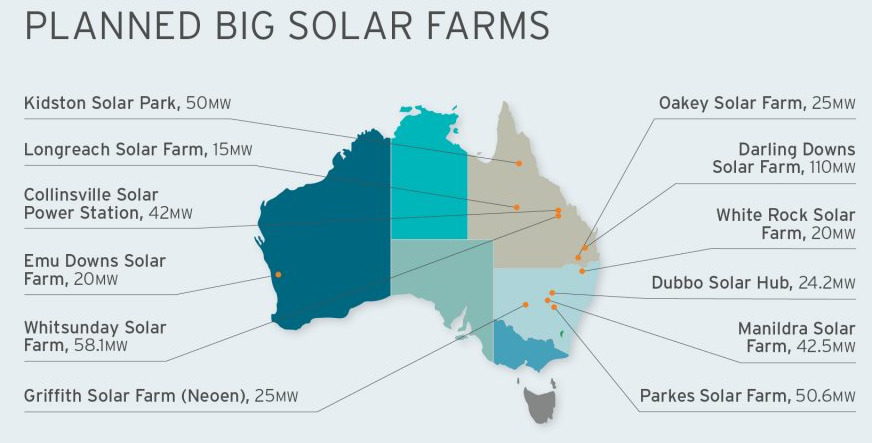 A total of 12 projects have been awarded funding in Australia's breakthrough utility-scale solar funding round, with the largest winner standing at 110MW (AC) from domestic power firm Origin Energy.
The winning projects of Australian Renewable Energy Agency's (ARENA) multi-million dollar large-scale solar round are expected to require more than AU$1 billion (US$772 million) investment. ARENA has provided funding of up to 10% of the total costs of each project.
ARENA awarded AU$91 million to 482MW of capacity across the following projects: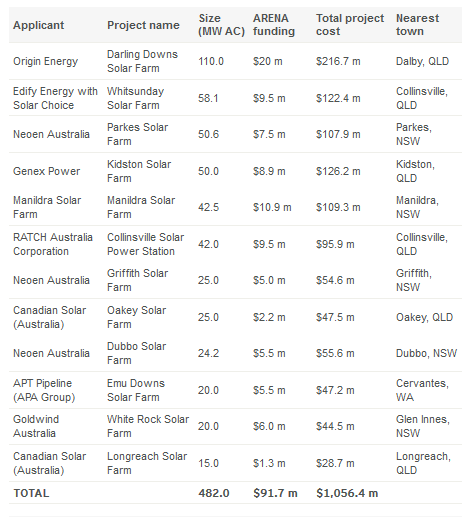 "Six plants in Queensland, five plants in New South Wales and one plant in Western Australia are slated for funding, in a major milestone that's expected to triple Australia's large-scale solar capacity from 240MW to 720MW," said ARENA chief executive Ivor Frischknecht. "They will provide enough energy to power 150,000 average Australian homes and deliver one tenth of the new capacity required to meet Australia's 2020 renewable energy target."
There is potential for all the plants to be built by the end of 2017, due to an "aggressive timetable" put in by ARENA. Some of the projects are seeking debt financing through the Clean Energy Finance Corporation's (CEFC) own large-scale solar program.
Frischknecht said that ARENA started by offering up to 50% of project costs, but the industry has progressed enough to only require roughly 10% of the costs, on average.
Frischknecht added: "This competitive tender approach could be adopted to speed up the commercialisation of other renewable energy technologies such as battery storage, concentrating solar thermal and bioenergy."
Clean Energy Council Chief Executive Kane Thornton said the dozen successful solar projects in the funding round would leverage 10 times the money allocated by the agency from private investors – adding: "Large-scale solar is coming down rapidly in cost, and much of the success of this exciting technology is due to the grant funding provided by ARENA.
"The genuinely ground-breaking projects in New South Wales developed by AGL and First Solar at Nyngan and Broken Hill have helped bring the cost down for all those that follow."
Threat to ARENA
In related news, a group of leaders in clean energy innovation has signed an open letter calling on the Australian Parliament to protect the funding of ARENA, becasue roughly AU$1.3 billion of the agency's grant funding is at risk if the Federal Government's omnibus budget savings bill is passed.
The letter, released by the Clean Energy Council, said: "Investment confidence would be again undermined if one of the first moves of the new parliament is to cut funding to Australia's key clean energy agency. This would damage Australia's reputation and unsettle investors, again."