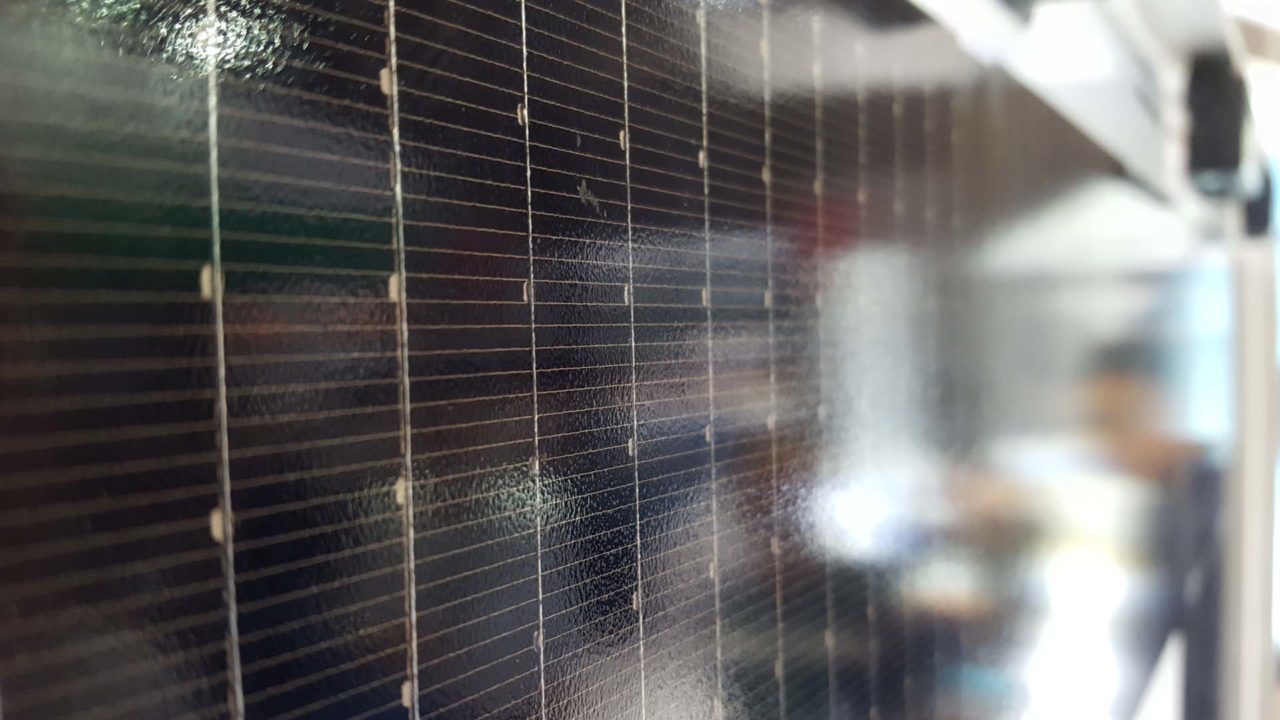 The global PV market witnessed a strong demand in 2017, with 102GW of newly added capacity, a 37% year on year increase. With its 53GW of new capacity, China topped the rankings for a fifth consecutive year.
"According to data from various organizations and feedback from our own markets and customers, demand in the global PV market will continue to be strong, and will, in general terms, not be less than that of the last year. This year might find itself at a crossroads with policy-led regional structural changes for demand and adjustments in technical roadmaps, which would affect demand to a certain extent" said Dr. Shi Weili, Chief Executive Officer, DK Electronic Materials, Inc. (DKEM).
As one of the metallization solution providers for high efficiency cells, DKEM has kept a close eye on trends in market supply and demand in both the upstream and downstream segments of the PV industry chain, especially in the manufacturing capacity for cells.
Dr. Shi said: "In recent years, global cell capacity has actually been in a situation of oversupply. From capacity data from last year till now, new capacity expansion is continuously increasing, and substantially. However, we have also seen another positive sign – the proportion of high efficiency capacity is rising, including through technical upgrades and new capacity investment; especially after this new year, the iterative rate of black silicon and PERC technologies is accelerating.
After one to two years' evolution, and with PERC technology as the spring board, low efficiency capacity could be largely wiped out, optimizing the scale and quality of the entire cell manufacturing capacity. As for high efficiency metallization paste suppliers, we have a positive attitude towards this transformation. Since 2016, the competition in conductive silver pastes has become white-hot, with many new players entering the industry segment.
The advancement towards higher efficiency technologies for cell capacities would certainly push the requirements for conductive silver pastes even higher, including quicker response, continuous R&D investment and stable product quality, which would be beneficial for conductive silver paste to return to tech-driven cost reducing roadmaps."
Multi remains mainstream with mono developing rapidly
Another emphasis for material suppliers is on the high efficiency cell technology road map where, among numerous others, black silicon and PERC have been deemed cell technology key words of the year. At the same time, Multi-busbar (MBB) and Shingled technologies are considered to be module technology key words, and which of these will stand head and shoulders above others is the focal point.
From the supply end, in the last two years domestic metallization paste companies, represented by DKEM, have grown rapidly, and due to the fact that they have been in a circle of high iterative rate for cell technologies, the proportion of products supplied by silver paste companies reflects to a certain extent the mitigation of cell technology road maps.
It is understood that DKEM currently has a similar ratio of supplied conductive silver paste products for both the mono- and multi- type markets, with diamond wire and black silicon pastes as main products and mono- / mono-PERC slurry at a slightly lower level but increasing rapidly.
"From the cell technology point of view, PERC is a major innovation, but it has gone through a long process from the original innovation to mass production. These cells have strict requirements on conductive silver pastes for low temperature firing and contact ability.
Black silicon is another of the ways to achieve mass production, by process or process innovation, using polycrystalline diamond wire for cutting. After the conductive silver paste overcomes such problems as printability on black silicon textured surfaces, contact and pulling force, mass production can been quickly reached. MBB and shingled products, on the module level, are also a process innovation, only the requirements for MBB are more from the pursuit of lower metallization costs, where yield rate for soldering is a huge challenge.
The requirements for shingled products are from the pursuit of higher module performance and power. The selection and utilization approaches of metallization interconnect materials for shingled modules are critical and the industry has not yet reached a conclusion. The good thing is that both of these two processes are highly compatible with different cell technologies, but MBB and shingled products themselves compete with each other to a certain extent, meaning that everyone is cautious on investment." Dr. Shi said.
Faced with the controversial "mono- or multi-" problem, Dr. Shi believes that it is not necessary to dispute on a technology level. In general, the effectiveness of advanced cell processes or technologies is greater on mono-type products than on polycrystalline, which may also be one of the reasons why the rapid developments in cell technology in these past two years have led to larger power differences. Polycrystalline itself also has advantages, and the key lies in the price / cost performance and market demand.
DKEM has solutions which support both mono- and multi- type products. At the recently concluded SNEC event, DKEM launched the 2018 version of its DK92A black silicon PERC conductive silver paste product, compatible with diamond wire/black silicon BSF cells, the 2018 version of the DK92B mono PERC conductive silver paste product, compatible with mono BSF cells, and also the DK92K double-sided AlOx passivated PERC conductive silver paste, upgraded to the second generation of the product first launched in October 2017, ahead of other silver paste suppliers in the industry. 'We hope to continue to help our customers enhance their competitiveness through continuously innovated products in the ever changing industry technology road map', said Dr Shi.
Costs considerations
In terms of cost reduction, conductive paste has made a great contribution in recent years. Taking the conventional BSF cell as an example, the contribution to the efficiency optimization of the front-side silver paste has exceeded 0.1% each year and, combined with the integrated optimization of texturing, diffusion, coating and metallization, it could reach even more than 0.2% per year, which does not include the leaping effect brought about by black silicon, PERC, bifacial cells and other new processes and technologies.
Dr. Shi noted: "DKEM is not only focusing on metallization at the cell level, but we also think more about an integrated collaborative innovation metallization solution. We are trying to break the boundaries between cell metallization and module interconnection, and we are actively exploring this integrated development concept with our customers.
At present, at the cell level, we have optimized both efficiency and cost for tier one customers by using dual printing technology. Our specially designed DK92B paste for fingers has better contact ability to match higher square resistance and can also be compatible with advanced screen technologies to realize fine-line with good aspect ratio, thereby achieving a higher cell conversion efficiency; meanwhile, our customized DK81 low solid content silver paste for busbars can maintain good reliability while saving on the cost of metallization. On further consideration, we also introduced this metallization concept to MBB and shingled modules, which greatly optimized the yield of soldering for MBB modules and largely reduced the metallization cost for shingled modules. All of these innovations have been applied to mass production in tier one cell/module makers.
On the other hand, regarding the much discussed question of silver consumption, DKEM's DK92 silver paste system has a lower silver consumption per wafer compared to any other pastes in the industry; this is due to the targeted design of our formulation, allowing us to achieve higher conversion efficiency with a lower wet silver consumption. In addition, we actively provide customers with recommendations and consulting services on screen parameters and metallization patterns, to help them improve efficiency while reducing the consumption of silver pastes. At the same time, for customers with more options, we will cooperate on the development of all-in-one metallization solutions, such as dual printing, on the interconnection of advanced modules to achieve even lower metallizaiton costs with synergy between advanced cell and module technologies.
DKEM has already forged stable business relationships with seven out of the industry's top ten mainstream PV cell and module manufacturers. The areas of cooperation cover from conventional diamond wire, black silicon, black silicon PERC, mono PERC, PERC+SE, N type cells, TOPCON and other cell metallization technologies, to multi busbar and shingled module interconnection technologies, and double printing, dual printing, advanced screen and other advanced printing technologies, as well as low temperature firing, PID and other cell related technologies."
Dr. Shi continued: "Recently, an important partner has achieved a world record of high efficiency in mono PERC shingled modules of 420W+, of which the DK92 high efficiency conductive silver paste, co-developed by us, has played an important role in metallization. The DK92 conductive silver paste broke the boundary between cell metallization and module interconnect on the technical level, to produce the synergistic enhancement of cell and module power and to facilitate the achievement of this world record. Our R&D team is made up of a number of Ph.D.s from the United States and Japan, and has both in-depth background of research and development and market experience in electronic materials and silver paste products. This has empowered us with a strong predominance in the development of raw materials, such as glass frits, organic vehicles, silver powders and formulation development, enabling us to quickly respond to market demands and make timely developments in a period of rapid change for cell technologies, thus allowing us to achieve a great deal in the past year."
"The competition in the current front-side silver paste market is very fierce. We call on those competing in this area to not forget about product/technology driven essence. We hope that the front-side silver paste industry is able to achieve a positive competitive environment; our domestic counterparts especially should jointly shape the quality and reputation of China's front-side silver pastes," Dr. Shi concluded.