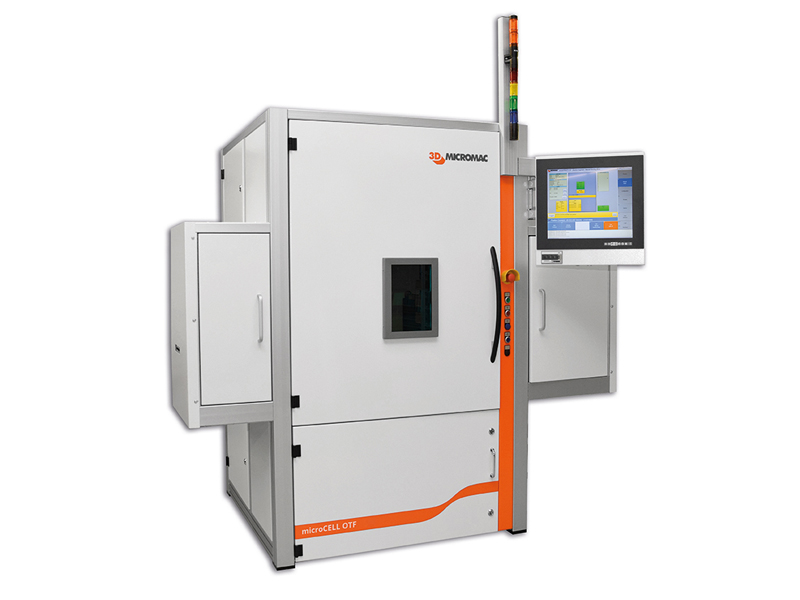 3D-Micromac launched the second generation of its high-performance microCELL OTF laser systems at SNEC 2017. The high-performance production solution for Laser Contact Opening (LCO) of PERC (Passivated Emitter Rear Cell) solar cells achieves a throughput of 8,000 wafers per hour (wph).
Problem
The constant cost pressure in the photovoltaic industry is a challenge to solar cell manufacturers, which can only be solved by increasing cell efficiency while simultaneous reducing manufacturing costs. In the LCO process the protection of the sensitive front side of the cell is especially important. Scratching and contaminants impair the solar cell, sometimes beyond the limits of what is considered a good part, or they increase the Light Induced Degradation (LID).
Solution
The industry-proven microCELL OTF systems produce a selective opening on backside-passivated multi- and monocrystalline solar cells to allow more light to be absorbed by the solar cell. The newly introduced second-generation system provides a throughput of more than 8,000wph, double the throughput of the previous-generation microCELL OTF system. This is facilitated by dual-lane wafer handling and on-the-fly laser processing. The new tool generation meets customers' requirements for inline integration into two or three-line metallization machinery since the throughput of the single laser process step now matches that of the other process steps in the production line, ensuring that the laser process is not the bottleneck in material flow.
Applications
Besides PERC, the tool can also be used for laser-doped selective emitter processes. Can process 156 x 156 mm2 – 162 x 162 mm2 wafers and ready for M4 wafer format.
Platform
The highly productive laser system microCELL OTF offers precise surface structuring, low operating costs, and highest availability, according to the company. Laser processing on-the-fly and an innovative handling concept enable maximum throughput and yield. The contactless cell handling enables processing without surface defects and microcracks.
Availability
microCELL OTF is available for both new production lines and upgrading of existing cell production lines from April, 2017 onwards.