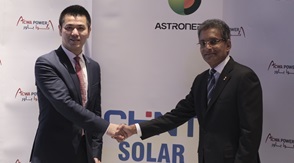 Acwa Power has contracted China's Chint Group to provide EPC services for three solar PV plants totalling 165.5MW at the Benban Solar Park in Aswan, Egypt.
The projects, whcih have capacities of 67.5MW, 70MW and 28MW, require a total investment of US$190 million. Construction is due to start in Q1 this year with the plants becoming operational in Q4. Acwa secured financing for the project earleir this month.
Paddy Padmanathan, president and CEO of ACWA Power said: "We are excited to have entered the Egyptian power market through what we look forward to as the first three of many more assets to be developed in future."
Acwa adopts SolarCoin
Acwa Power has also adopted the blockchain-based digital asset and currency SolarCoin, a global reward program for solar electricity generation. The Saudi firm claims it is the first utility-scale power generator to join the SolarCoin system, which will provide digital tokens of 1 SolarCoin (SLR) per 1MWh of solar energy produced.
See blog on blockchain-enabled decentralised energy trading by Florent Andrillon, vice president of Capgemini Consulting.
In a release, Acwa Power stated: "As the price of solar coins appreciate, through more users agreeing to accept SolarCoin for value representation and transactions, claiming SolarCoins can become an additional and relevant revenue stream for solar power producers, resulting in an incentive for solar energy investors to install more generation capacity."