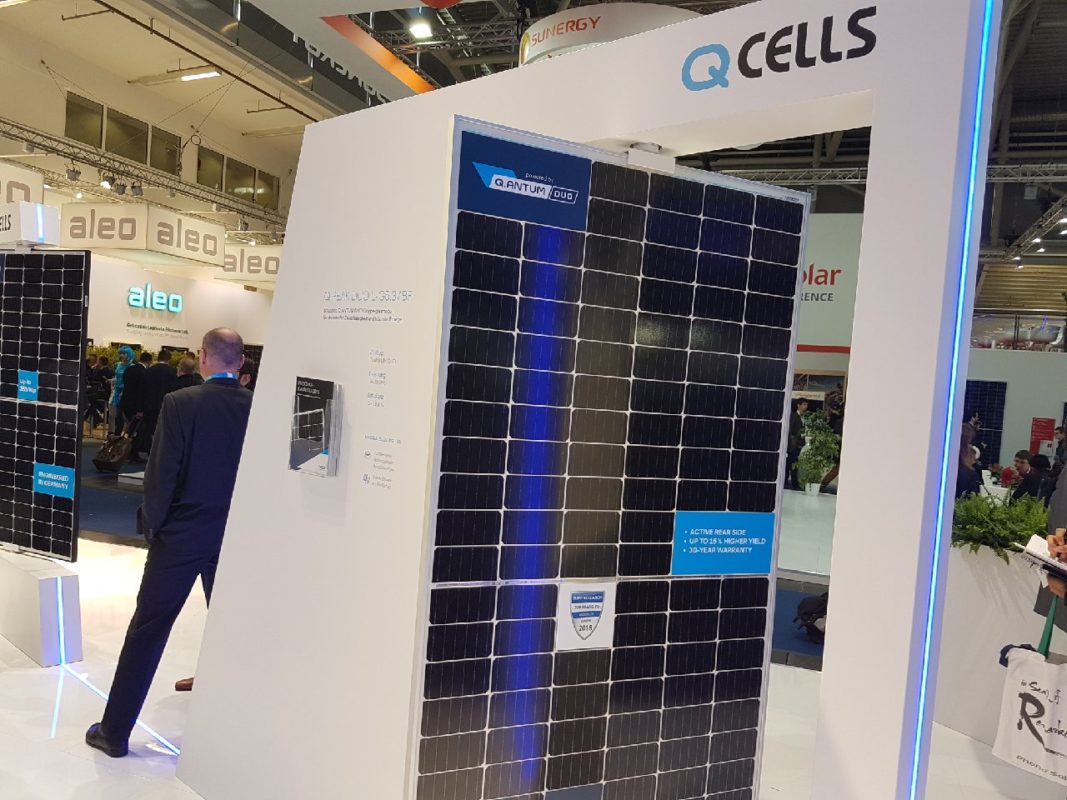 Updated live at Intersolar: As we previous years, a broad range of product offerings from advanced, high-performance solar panels to PV power plant software have been launched. This is not surprising, considering SolarPower Europe has just released its European and global demand forecast ahead of the exhibition, with the expectation of strong growth in its Medium Scenario.
The trade body expects a demand surge in Europe which could see PV installations reach 20.4GW in 2019, over an 80% increase from the 11.3 GW in 2018, a 21% increase over the 9.3GW installed the year before and an 18% growth to 24.1GW in 2020, which SolarPower Europe said would be a new installation record, surpassing the 22.5GW Europe added in 2011.
All market sectors (residential, commercial and utility-scale) are expected to have strong growth in Europe, which will be supported by a new wave of panel technology. Leading the innovative trail is next-generation half-cut bifacial modules pushing into the 400Wp territory.
LONGi Solar
'Solar Module Super League' (SMSL) member LONGi Solar has launched its Hi-MO4 series panel with advanced monocrystalline PERC cell technology and the encapsulation technology of half-cell and bifacial construction.
Compared to the Hi-MO3 half-cell bifacial module released in 2018, Hi-MO4 retains Hi-MO3 characteristics of bifacial power generation, achieving 8-20% gain in back power generation in various ground-surface environments with high reliability and low attenuation.

Hi-MO4 deploys upgraded PERC technology based on 6 busbars, with cell efficiency reaching 22.5%. While the front-side power Hi-MO3 is 380W (72 cells), Hi-MO4 increases this to more than 420W, peaking at 430W.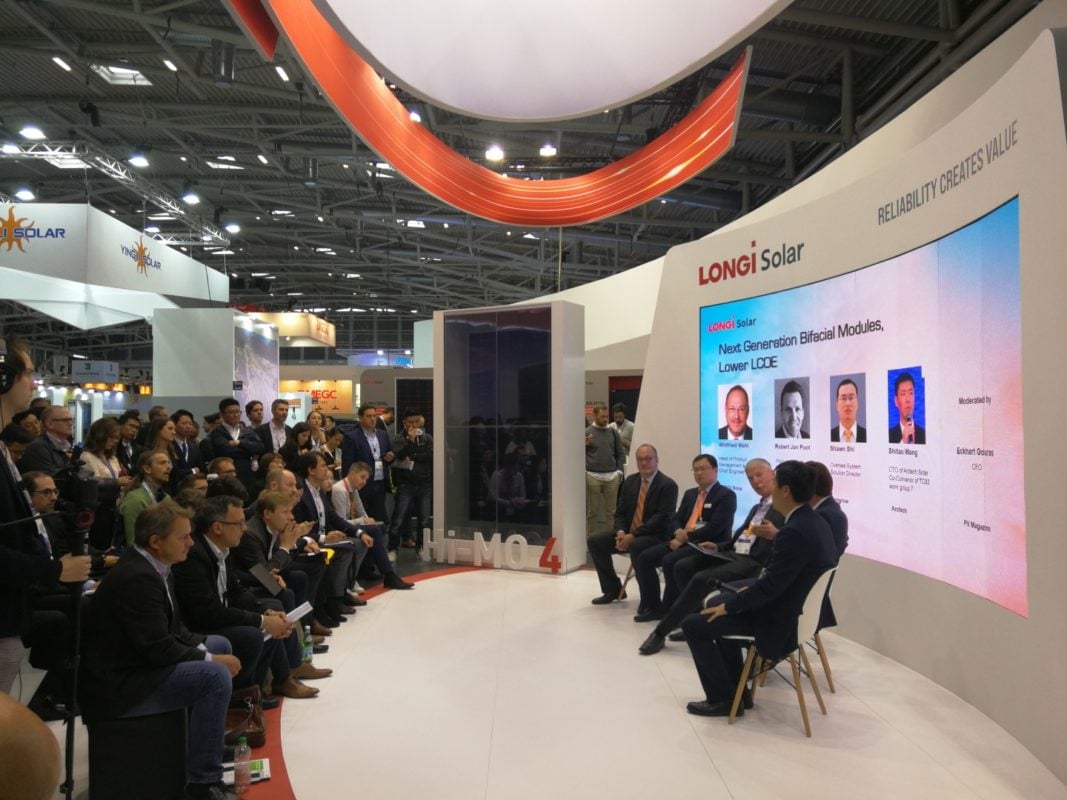 Hanwha Q CELLS
SMSL member, Hanwha Q CELLS has announced it would start volume production of its new bifacial solar module – the Q.PEAK DUO L-G5.3/BF – in the third quarter of this year.
The bifacial Q.PEAK DUO L-G5.3/BF panel uses monocrystalline half-cut cells manufactured utilizing Q CELLS' proprietary Q.ANTUM (PERC) technology. The glass-glass module will be manufactured with a white grid on the rear-glass for optimal energy harvest, due to a very high front-side power of close to 400Wp and a bifaciality factor of 70% means a rear-side power is up to 280Wp.
The power boost is augmented by the use of a special junction box that has been designed to reduce rear-side shading, and a 35 mm high-tech aluminum alloy frame.
"We believe that a glass-glass module offers the most reliable design choice for bifacial technology, evidenced by the fact that Q CELLS offers an improved 30-year performance warranty for the Q.PEAK DUO L-G5.3/BF module, with a maximum annual performance degradation of 0.5%," noted the company's CTO, Daniel Jeong.
Max Schurade, Director of Technical Marketing Support at Q CELLS, said: "The energy yield increases offered by bifacial technology are an exciting opportunity for the solar industry. Q CELLS' new bifacial module – the Q.PEAK DUO L-G5.3/BF – is manufactured with double-glass and a white grid on the rear glass to help boost energy output. The bifacial effect drives an energy yield gain of up to 20%, while efficiencies on the entire module are close to 20%"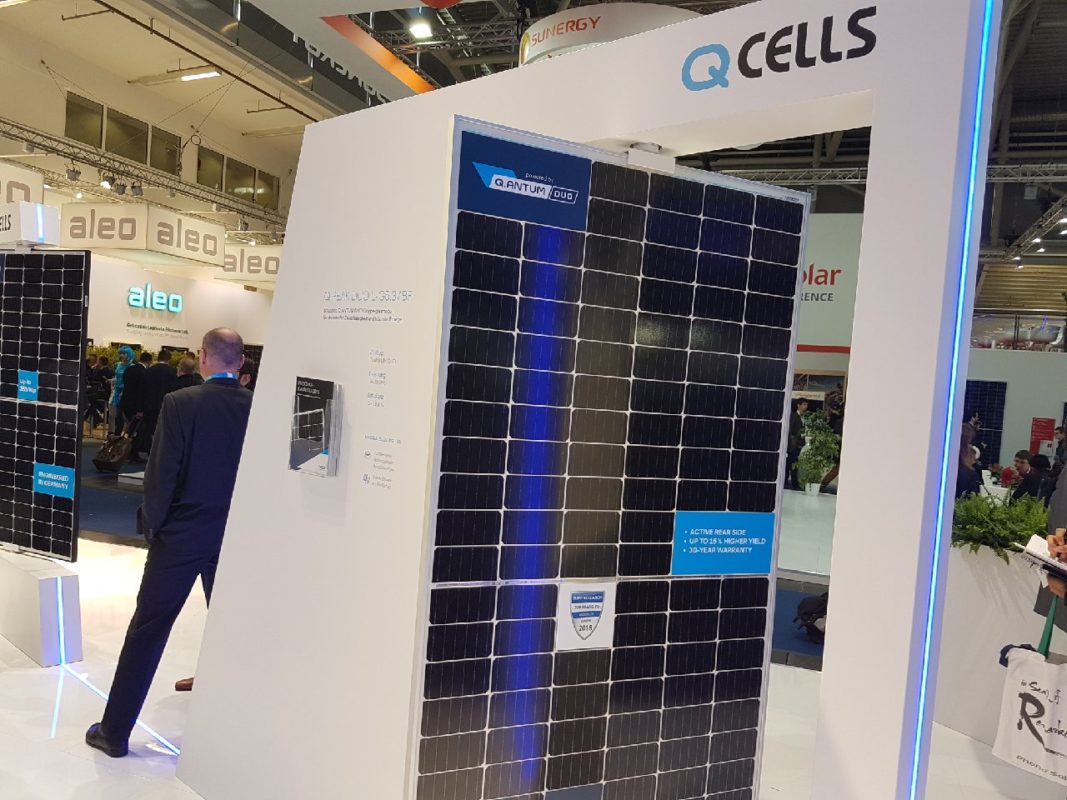 Jinneng Clean Energy Technology
China-based technology-driven PV manufacturer, Jinneng Clean Energy Technology has launched its 450Wp, 72-cell heterojunction panel (JNHM72-450) at Intersolar, driven by HJT cell average mass production efficiencies of 23.79%.
Adopting a larger n-Type wafer size and MBB technology, as well as hydrogen passivation after-treatment and three film coating process, Jinergy's high efficiency are claimed to offer higher power output and lower LID and PID degradation.
Seraphim Solar
PV module manufacturer Jiangsu Seraphim Solar System has showcased its new 'Blade' half-cell bifacial PERC panel at the show.
Seraphim noted that compared to traditional modules, half-cell modules have lower current and series resistance, which can minimize mismatch losses, internal power losses, and shadow effects. Power generation is increased by 10 to 30%, over mono-facial panels, making the new product more cost-effective.
Apart from the higher performance, the Seraphim Blade Bifacial module is much lighter as it uses the 2.0 mm double AR coating tempered glass, instead of the 2.5 mm glass.
"In view of its excellent stability, we have extended the product warranty of the monocrystal PERC half-cell modules to 15 years, 50 percent more than the 10-year warranty on the market," said Polaris Li, president of Seraphim.
REC Group
REC launched its first heterojunction panel. The 'Alpha' module is built around 120 half-cut heterojunction cells (HJT) and advanced connection technology, featuring high efficiency n-type mono wafers between thin layers of amorphous silicon.
There will be two versions initially available, one with a white backsheet (up to 380Wp), and as a full-black panel for aesthetics (up to 375 Wp).
REC's unique frame design is only 30 mm thick, which allows more panels per pallet, an easy installation and allows the Alpha to withstand snow loads of 7000Pa.
A product warranty of 25-years on installations by REC Solar Professionals (otherwise 20 years), and a 25-year power output warranty.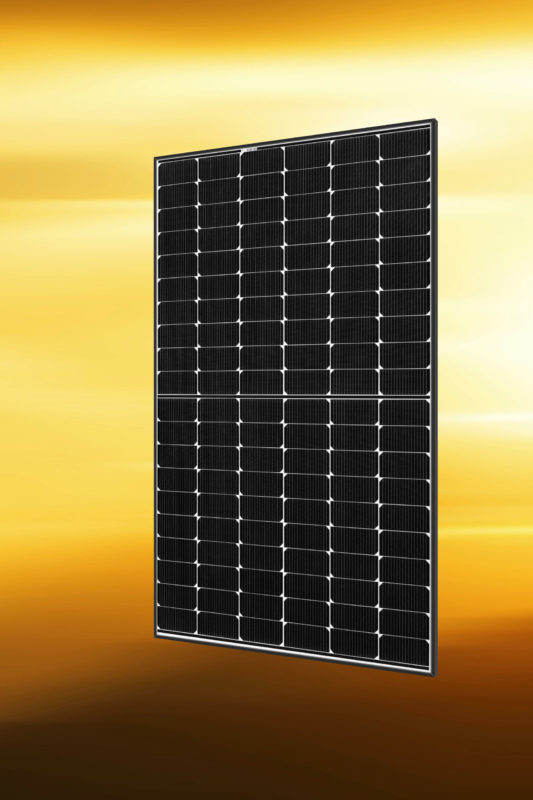 JinkoSolar
Leading 'Solar Module Super League' (SMSL) member, JinkoSolar officially launched the latest addition to high-performance Cheetah series of solar panels, the "Swan" bifacial panel with the new DuPont Clear 'DuPont Tedlar'-based clear backsheet, eliminating the need for the significantly heavier dual glass configuration.
The Swan panel was said to represent the next iterative development in bifacial power generation as it becomes a mainstream technology can achieve power output of up to 400W on the front side and up to 20% energy gain from the rear side.
Leveraging the transparent backsheet, Swan bifacial panels can produce the same power output levels and rear-side energy gain as dual-glass bifacial modules, weigh less, are easier to install and include a 30-year power warranty. In addition, they can generate more BOS cost savings due to their lower weight and decreased cost of installation and mounting which helps them generate higher IRR and lower LCOE for bifacial module PV projects.