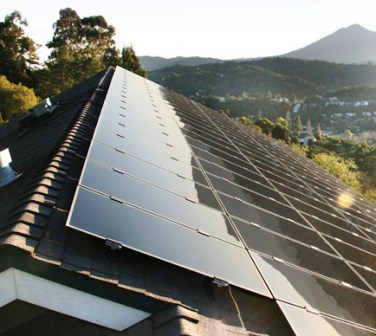 Community-driven hospitality company Airbnb has announced a new partnership with US solar power provider SolarCity that will connect Airbnb hosts and guests with a new way to power their homes with PV energy.
As part of the partnership, SolarCity will offer members of the Airbnb community a rebate — up to US$1,000 cash back — on all solar panel systems. This rebate is available to Airbnb members in every market where SolarCity currently operates, while homeowners can choose whatever solar options works best for their home. In addition, new and current SolarCity customers who become Airbnb hosts will also receive a US$100 Airbnb travel card.
Chris Lehane, Airbnb's head of global public policy & communications, said: "Since 1998 we have had 15 of the 16 hottest years recorded and climate change is changing the way we make decisions – everyone is thinking about making better use of what we have. Travelers, especially millennials, want a more sustainable choice and homeowners want to make better use of the 13 million empty houses and 36 million empty bedrooms in the United States alone.
"Cleantech Group estimated that the average Airbnb guest night results in 61% less CO2 emissions as compared to a night in a hotel. At the same time, Airbnb is an economic empowerment tool for hosts who can use their homes – typically their greatest expense – to share space and generate a little extra money to pay the bills. We're excited to work with SolarCity to make renewable energy more affordable and accessible to everyone in the Airbnb community."
Toby Corey, president of global sales and customer experience, SolarCity, added: "Our partnership with Airbnb demonstrates the important role energy plays in our everyday lives – including travel – and how clean energy can reduce everyone's carbon impact on the world. Homeowners that make the simple switch to solar energy can save money on utility bills and fix their energy costs for years to come. This partnership will create the first opportunity for many Airbnb guests to stay in a solar-powered home, and allow them to experience first-hand how easy it is to use clean energy to contribute to a cleaner, healthier society."