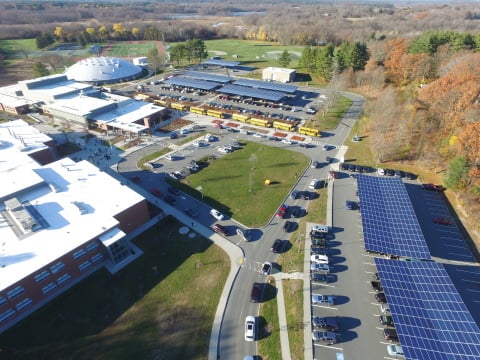 Renewable energy service provider Ameresco is playing a large part in bringing community solar to two towns in Massachusetts.
The company announced Monday that it has completed a four-project pipeline of community solar installations in Wayland, while also unveiling plans to develop a 2.4MW facility in Sturbridge.
Wayland's solar arrays are made up of 4,214 PV panels totaling 1.2MW, and are expected to generate over 1.5 million kWh of renewable electricity per year.
Collectively, three solar canopies developed at Wayland's high school, middle school and town building — as well as a rooftop project at the Department of Public Works building — are projected to generate enough electricity to offset 25% of the town's municipal electric needs and net an annual financial savings of over US$100,000.
Dan Knapik, director of the green communities division at the Department of Energy Resources, said: "With the passage of the Green Communities Act of 2008, the Commonwealth established an opportunity for municipalities to blaze a new path in the clean energy field. Wayland was one of our earliest designations as a Green Community and I am pleased to see the town utilize the powerful opportunity provided by an energy management services program."
Ameresco's solar project in Sturbridge is slated to be completed and operational by early 2017. The 2.4MW installation will help provide renewable energy to Sturbridge and cut down on energy costs.
The 20-year power purchase agreement tied into the site is expected to generate millions of dollars in savings. Under the PPA, 50% of the annual electricity generated from the project will be used by the town as net metering credits, while the other half will be used by the Community Solar Program to deliver green energy to residents in the area.
Michael T. Bakas, senior vice president, Ameresco, said: "It's a pleasure for Ameresco to partner with the town of Sturbridge and the greater community to build and manage this new renewable energy project. We commend town leadership for being fiscally prudent in selecting a project that will generate long-term savings and admire the community's commitment to sustainability."