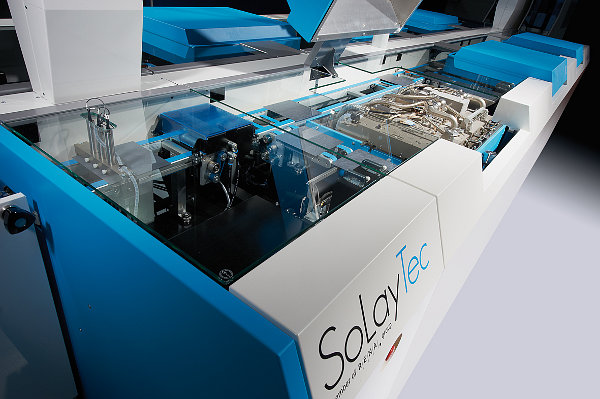 Specialist PV manufacturing equipment supplier Amtech Systems highlighted the confidence it had in a series of major new orders for high-efficiency n-type PERC and n-type bi-facial cell equipment including the first of a multi-phase 1GW turnkey project order during the reporting of its first 2017 fiscal quarter.
Amtech Systems had previously said in January, after the last fiscal quarter ended that new solar orders since the end of September, 2016 had surpassed US$60 million, driven by PV manufacturers in China, Malaysia and Taiwan.
The company had said at the time that its advanced n-type bi-facial cell technology led to securing a major turnkey order from a new customer in China, which would be the first part of a multi-phase 1GW cell and module expansion.
Management noted in the call that this specific turnkey project had been secured with bank letters of credit and a substantial deposit in January.
Robert Hass, CFO at Amtech Systems noted in the earnings call that, "In line with our normal revenue recognition policy, we expect to be able to recognize a good part of the revenue upon shipment. This phase is made up of 2 lines. There is some hope that we may deliver one line in the June quarter."
The technology buy-cycle also included PERC upgrade orders, which were inline with its product and technology roadmap that included ALD (Atomic Layer Deposition) tools, according to the company.
"As a norm, our first quarter is relatively soft quarter, but this year's first quarter shipment also included the first shipment of our complete PERC solution that combines SoLayTec spatial atomic layer deposition tool for the deposition of aluminum oxide and Tempress' high throughput PECVD tool for the silicon nitride layer, where the stack of both layers produce a higher efficiency PERC cell, added added Fokko Pentinga, CEO of Amtech System. "The quarter revenue outperformance results in a higher-than-expected gross margin, which was close to the 30%.
Financial results
Amtech reported total revenue of US$29.1 million in the fiscal first quarter of 2017, with dedicated solar segment revenue of US$11.4 million, down from a bumper US$22.6 million in the previous quarter.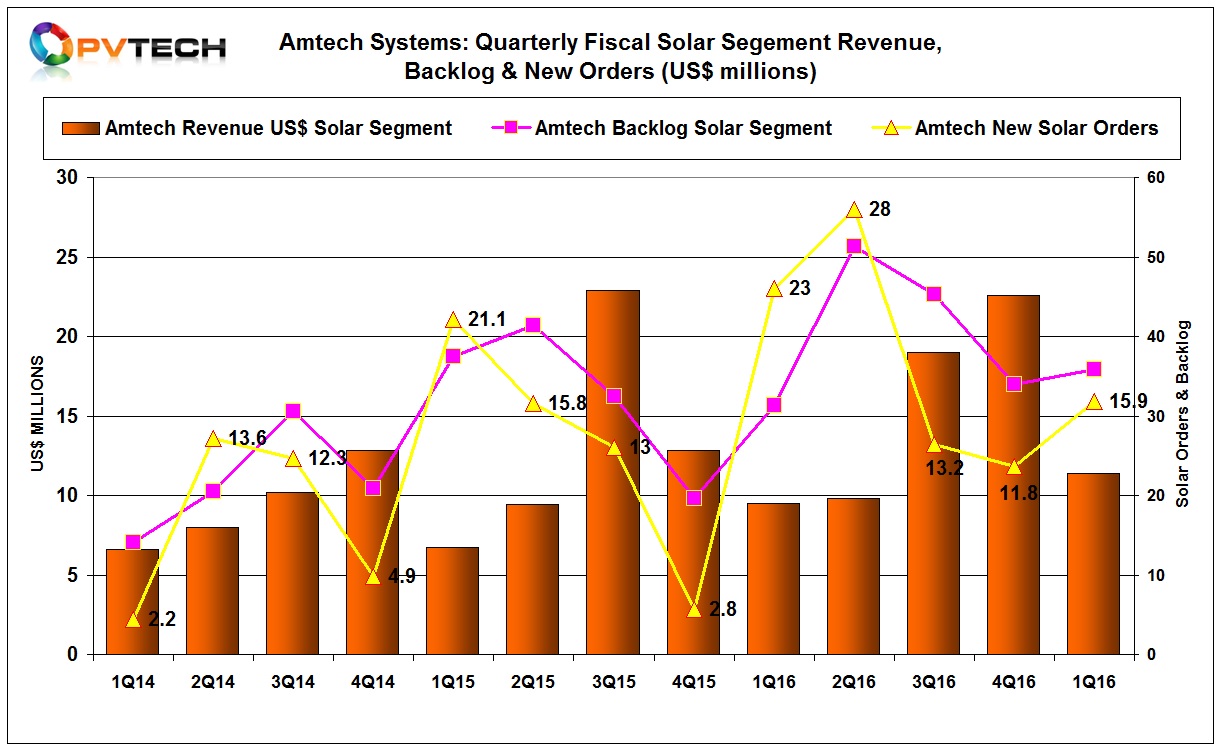 Solar orders in the quarter were US$15.9 million, compared to US$11.8 million in the previous quarter, indicating the large orders were placed after the end of reporting period. The quarter-end solar order backlog stood at US$35.8 million.
Gross margin in the first quarter of fiscal 2017 was 29%, the same as the previous quarter.
RD&E expense in the quarter was US$1.6 million, compared to us$2.0 million in the preceding quarter. This was due to ALD tools being shipped via subsidiary SoLayTec and being recognised outside R&D.
The company made a nominal net loss in the quarter of US$53,000, compared to a net loss of US$0.3 million in the previous quarter.
Management noted that it expect its current order backlog, including the major orders placed in January, 2017 and the ongoing technology buy-cycle to push revenue higher and a return to profitability in the second half of its fiscal year.