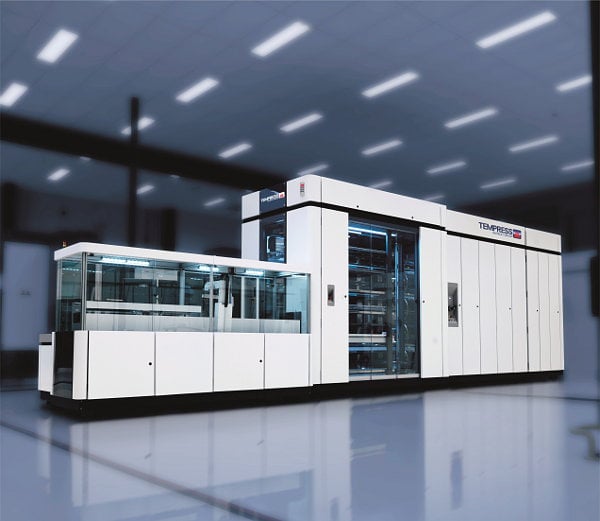 Specialist PV manufacturing equipment supplier Amtech Systems has continued to benefit from a major solar orders placed with the company in 2017 that are continuing conversion to revenue in its fiscal first quarter of 2018.
Amtech reported fiscal first quarter 2018 revenue of US$49.2 million, up from US$30.1 million in the previous quarter, a new record high. The company reported total group revenue of US$73.6 million, compared to $54.7 million in the preceding quarter.
Management noted that the sequential increase in revenue was due primarily to the shipment of all of the equipment for Phase II of its major solar turnkey order placed with the company in March 2017.
Net income for the reporting quarter was US$6.5 million, compared to US$7.3 million in the previous quarter.
However, Amtech reported a second sequential quarterly decline in new solar equipment orders. The company booked a total of US$7.3 million in solar orders in the reporting quarter, down from US$9.6 million in the previous quarter. New order intake peaked at US$54.2 million in its fiscal third quarter of 2017.
Amtech reported its solar order backlog was US$39.3 million at the end of the reporting period, down from US$81.4 million in the previous quarter. A major drop in new orders, coupled to higher revenue recognition on shipments were behind the 50% decline, quarter-on-quarter. Backlog includes deferred revenue and customer orders that are expected to ship within the next 12 months.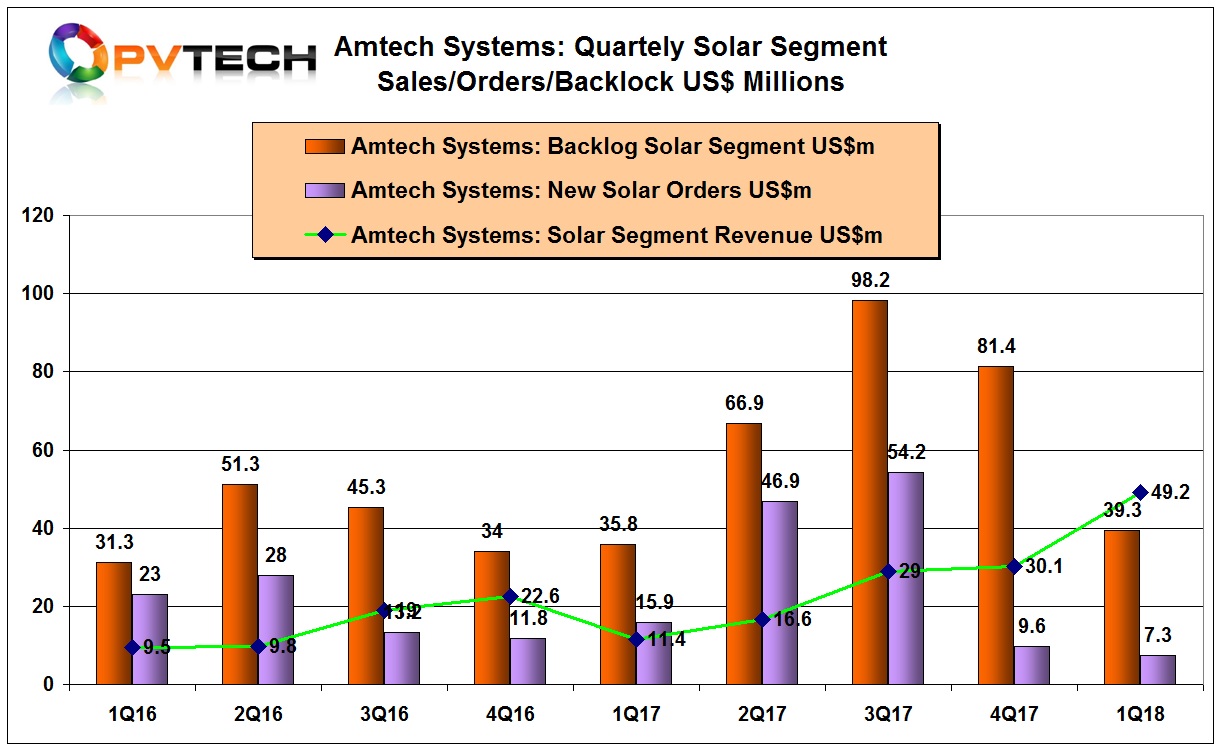 Gross margin in the first quarter of fiscal 2018 was 28%, compared to 36% in the preceding quarter and 29% in the first quarter of fiscal 2017.
Fokko Pentinga, Chief Executive Officer of Amtech, commented, "As anticipated, we had a very good start to our fiscal 2018. In the December quarter we had record revenues with an even higher record level of shipments, along with solid profitability. All three of our reporting segments, solar, semiconductor, and polishing, performed well, with our semiconductor and polishing segments outperforming our expectations. Our financial position is strong and we continue to make strategic investments in our businesses and to focus on operational excellence."
Guidance
Amtech noted that revenue in the second half of fiscal 2018 would be conditional on the timing of the Phase III order of the 1GW solar turnkey project as well as possible revenue deferral on shipments, and recognition of revenue based on customer acceptances, and progress on the start-up of the solar turnkey production lines in China, all of which could have a significant effect on its operating results.
The company said that it expect revenue in the fiscal second quarter of 2018 to be in the range of US$26 to US$29 million and operating margin 'slightly negative'.