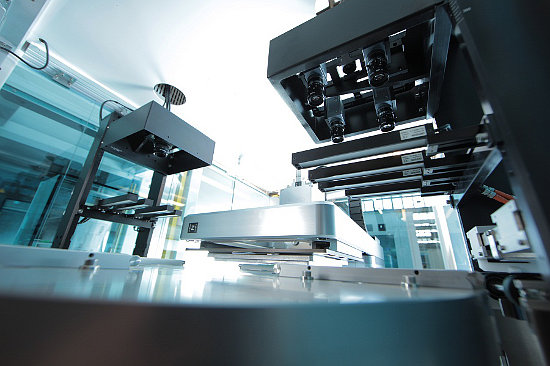 Major semiconductor equipment manufacturer Applied Materials is continuing to disengage from the solar equipment market after previously announcing its exit from Precision Wafering Systems (PWS) wire saw business, headquartered in Switzerland and stop development on its 'Solion' ion implant product, based in the US.
Applied Materials has a corporate plan to exit any business/technology sector that does not provide positive operating margins in 20% range. The company's EES Division (Energy and Environmental Solutions), which had housed PWS but not its ion implant business has been loss making for several years due to long-term slump in capital expenditures in the solar industry, due to chronic overcapacity.
The EES division had reported volatile long-term single digit operating margins and includes non-solar web coating machines for the packaging industry and its screen printing operations under Baccini, the leading technology in the solar industry.
In Applied Materials fiscal fourth quarter financial report, EES has sales of US$46 million in the quarter, up from US$39 million in the previous quarter and a total revenue for fiscal 2015 of US$213 million, down from US$279 million in the previous year.
Operating margin was breakeven, compared to a negative operating margin of 133% in its fiscal third quarter, primarily due to impairment charges related to the closure of its PWS operations. Fiscal 2014, EES produced an operating margin of 5.3% and negative operating margin of 28.6% for fiscal 2015.
New orders in EES have declined sequentially in fiscal 2015 to US$153 million, down from US$238 million in fiscal 2014.
In Applied Materials earnings call for fiscal fourth quarter, CFO, Robert J. Halliday said: "EES orders and revenues remained weak, and we continue to reduce our exposure to solar."
In response to a question on this point in its earnings call, Halliday added: "We consistently screen all the businesses. The one that consistently we're ramping down is the solar business, frankly, because the market is bad. Right? But other than that we don't have much we would talk about right now."
Over the past few years, Applied Materials has only made fleeting reference to its solar related business in earnings calls and only provided a written response over the closure of PWS and exit from ion implant.
The fate of its Baccini screen printing operations remains unclear.