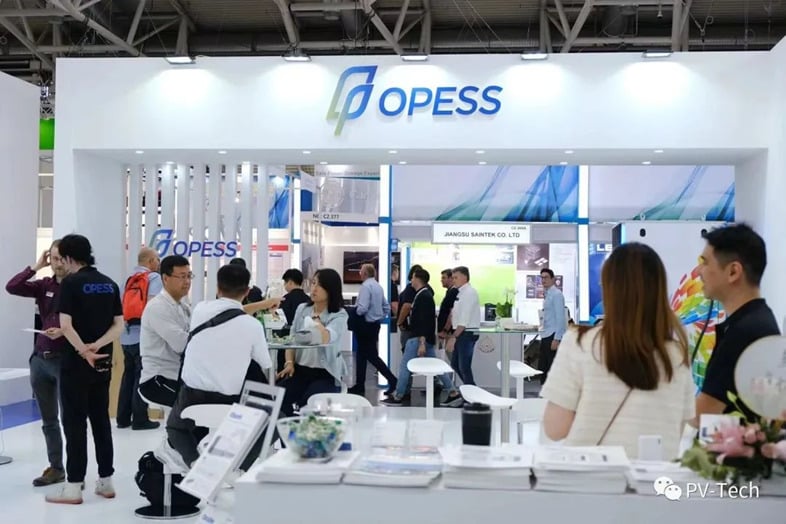 Among renewable energy segments, solar power, wind power and the energy storage field each has its own logic. Energy storage is relatively specialised since its business model has not yet reached the maturity of wind and solar. However, with the large-scale integration of the latter, energy storage has become a "must-have".
PV Tech met with the CEO of storage company OPESS Energy, Jiang Wenjie, during last month's Smarter E Europe exhibition in Munich to learn more about the company, its products and future objectives.
This article requires
Premium Subscription
Basic (FREE) Subscription
Unlock unlimited access for 12 whole months of distinctive global analysis
Photovoltaics International is now included.
Regular insight and analysis of the industry's biggest developments

In-depth interviews with the industry's leading figures

Unlimited digital access to the PV Tech Power journal catalogue

Unlimited digital access to the Photovoltaics International journal catalogue

Access to more than 1,000 technical papers

Discounts on Solar Media's portfolio of events, in-person and virtual
Or continue reading this article for free
"The OPESS product portfolio is comprehensive, ranging from household to small-scale commercial and industrial, right up to large-scale utility energy storage and integrated storage-charging systems. Our solutions can meet almost all energy storage scenarios, but we are especially focused on the commercial sector, with our major R&D and sales efforts revolving around C&I," he began by way of introduction.
At Smarter E Europe the company launched its Ocube C&I and Obox household energy storage systems, which are both secure, intelligent and easy to install.
As a new business division of the Unisun Energy Group, OPESS benefits from the support of a strong parent company, which brings with it a number of obvious advantages. "Unisun is a leading provider of smart green electricity services for the commercial and industrial sectors, meaning that we have excellent resources to develop C&I storage solutions. Coupled with energy optimization algorithms and extensive O&M experience, we are ideally positioned for future energy asset operations, thus enabling companies to achieve their carbon neutrality goals," Jiang continued.
In his view, global market demand for energy storage is both clearly defined and substantial.
"There is a clear demand in the European and American markets, and we have established strategies and allocated resources for product development in these regions. Despite each having its own unique characteristics, international markets have one thing in common: they can all facilitate the rapid development of companies like OPESS. Gaining experience in mature and open markets allows us to better anticipate future developments and requirements."
Clear market demand and focus on C&I energy storage
PV Tech: Today we will mainly concentrate on energy storage. First of all, could you tell us which storage products and solutions you are promoting in overseas markets, especially in Europe, this year?  What are their stand out features and for which applications are they most suitable?
Jiang Wenjie: As you can see from our booth, the OPESS product line is comprehensive, covering almost all storage scenarios. We are facing different requirements and scenarios from countries around the world, so we need to be agile in developing a range of solutions.
However, in terms of overall focus, we pay great attention to the C&I storage sector. Our goal is to help global C&I customers address their energy-saving and emission-reduction challenges on the path to future carbon neutrality.
What do you see as the main differences in this year's Smarter E Europe exhibition compared to previous years? What are the major differences between Chinese and international markets?
The common point between this year's Smarter E in Germany and the recently concluded SNEC is the significantly higher attendance levels, indicating a sharp increase in attention to new energy.
There are also more companies joining the industry, of course.
In terms of differences between China and international markets, the major difference lies in the fact that in China there is a greater emphasis on technical capabilities, since most of the companies are manufacturers and more inclined to showcase emerging technologies and independently developed products. In contrast, Europe is a relatively mature market where we see more emphasis on innovative products centred around application scenarios, that is, a focus on the application field.
As far as the time dimension is concerned, it is obvious that there is much more attention focused on energy storage in this year's exhibition than in previous years. Moreover, in Europe, household energy storage has always been a popular field, and there has tended to be a significant homogeneity among the products of many brands. However, this year we have seen an increasing number of products based on varying degrees of innovation in terms of application. Finally, we have seen a gradual increase in focus on C&I energy storage, and related products are starting to emerge, indicating people's growing attention to the commercial sector.
Which overseas market segments is OPESS targeting and which countries do you see as key for the company's international expansion?
Currently, the demand for energy storage in the market is relatively clear and substantial. We have established clear strategies and allocated resources for both the European and American markets, whereas for other regions such as South America, South Africa and the Middle East,  market volatility is relatively high. While we will explore some sales channels in these regions, our deployment may not be as systematic as in Europe and the United States.
Europe and the United States are relatively mature markets with lower risks compared to other regions. Although there are certain differences between individual states in the U.S., overall, the policies are stable and consistent. In the last year, of course, Europe has been impacted by the Russia-Ukraine conflict, and energy shortage has become a significant topic, resulting in substantial fluctuations in policies, economy and regional situations. Europe and the U.S. have one thing in common, however: they both started early in deploying new energy and supporting the entire system, including applications in energy storage – peak shaving, virtual power plants and electricity trading. Despite certain differences, however, these pilot cases offer valuable insights for us. For example, we see that Germany is home to the world's largest virtual power plant providers, and the United States has a very open electricity trading market.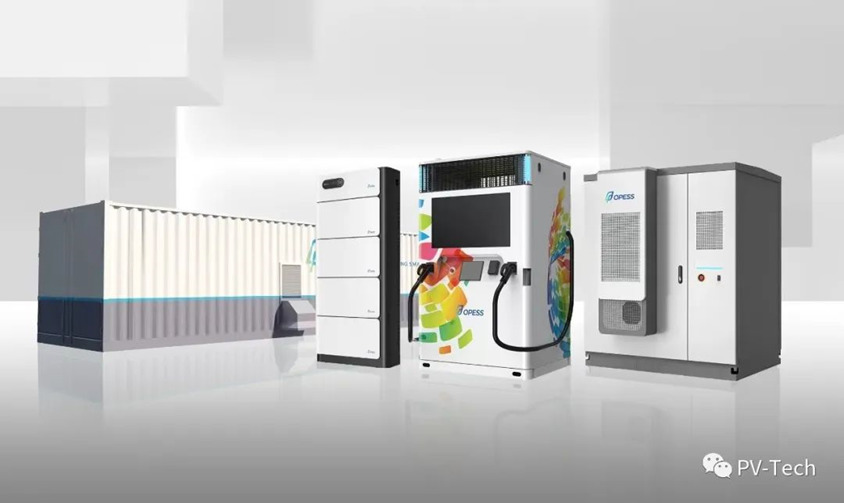 Business model and technology options
You mentioned electricity market trading earlier, and we can see that, with the increasing frequency of electricity market transactions and the widening gap between peak and off-peak prices, the economic viability of commercial and industrial energy storage is becoming more evident. Analysts predict that C&I storage will witness a period of rapid growth, but how do you see the market outlook for the sector this year?
Compared to traditional renewable energy generation, I believe energy storage is still very young, both in terms of technology and products. It will need to be constantly redefined over the next ten years or even longer. The technology roadmaps for the solar and wind energy industries are relatively clear, and we have a clear idea of what each will look like in 3 to 5 years. However, the diverse current technologies for power storage batteries are still evolving, such as PCS, EMS and BESS. With the ongoing development of renewable energy, storage definitely has a promising future, which is why so many companies are entering the field. However, on the flip side, its business models, whether it's peak/off-peak arbitrage, demand response or virtual power plants, are still being defined. These business or profit models are subject to change, based on the openness of the electricity grid, the costs of transmission and distribution and the proportion of renewable energy in different countries.
Furthermore, if we look at the front end of the industry chain, different battery technologies may also affect the development of the industry. For example, a product that enables fast charging and discharging but has a shorter life cycle would be suitable for certain applications, and if we can find a product with a shorter life cycle which is very cheap, even if it's not as good as a lithium-ion battery, that could serve as another option. Therefore, the development of energy storage technologies is a dynamic process that requires both ends to coordinate and evolve.
Looking at OPESS specifically, what do you see as the company's competitive advantages and what would you identify as its major achievements to date?
I think the importance of digitalisation in the entire energy sector will continue to grow in the future. Currently, the overall focus is still on hardware. Whether it's solar or wind energy, investors tend to favour PV modules and inverters. Going forward, however, competition will be about product and scenario applications. Under the premise of applications, the importance of software will increase. How to operate assets is also a significant advantage for our parent company, Unisun Energy Group, as we are a leading Chinese C&I intelligent green energy service provider and have excellent resources for developing energy storage solutions for the sector. Combined with energy optimisation algorithms and extensive experience in O&M, we are well placed for future asset operations, ultimately helping companies to achieve their carbon neutrality goals.
We also aim to enable customers to resolve energy cost related issues. Until quite recently, industry has had a simple relationship with the electricity market, where power grid companies were the sellers, and companies the buyers. However, as we go forward, the positions of buyers and sellers will constantly change, and there will be multiple parties involved. It's not just about power generation companies selling to industry customers anymore; these hitherto customers, as power generators in their own right, can also sell electricity. Companies can sell to other companies. This is why we need to develop concepts like the energy internet.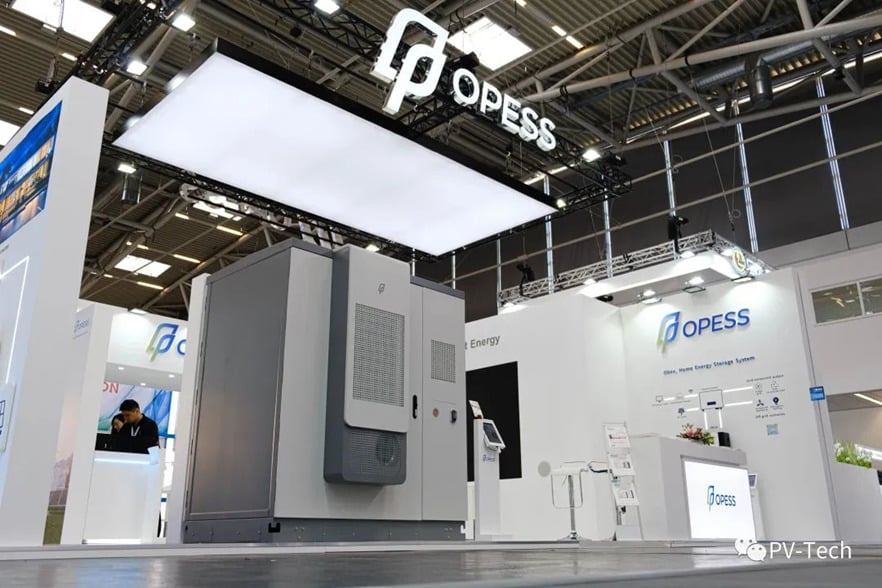 Company prospects and vision
While experiencing such rapid development, what are the current challenges being faced by the commercial and industrial storage sector?
Opportunities and challenges are actually no different. The technological development of commercial and industrial energy storage is moving very rapidly, with fast product iterations. There are significant variables, not only in terms of business models and the openness of the power grid, but also in terms of the proportion of renewable energy deployment and the future direction of energy development. We primarily predict and follow overall market trends, aiming to face and overcome uncertainties to become a technology-driven developer and integrator of C&I storage projects.
Compared to other equipment manufacturers, we are closer to the market and can respond more quickly to market changes. Of course, this also brings different challenges compared to pairing energy storage with solar or wind, as we directly face a market-oriented customer base. Therefore, the reliability of our equipment has a direct impact on consumer perception of our brand. Under this pressure, we are committed to responding well and we view the challenge as an opportunity.
Validation from the market actually has a two-way effect on your products and the overall development of the company. What are your goals for 2023 and beyond?
Different objectives for domestic and international markets. Firstly, we aim to make significant progress in customer-side energy storage in China, undertaking major projects and increasing equipment sales. At the same time, we will look to expand our global presence, focusing on energy storage business in Europe and the United States.
What progress has the company made so far?
We have already completed some significant projects, of the scale of several hundred megawatt hours, and signed substantial contracts in China.
We are also planning to establish a company in Germany and the same in the United States. Introducing products into the European and American markets requires certain certifications, of course, but the majority of our exhibited products have already secured these and we are looking forward to providing services to overseas customers.