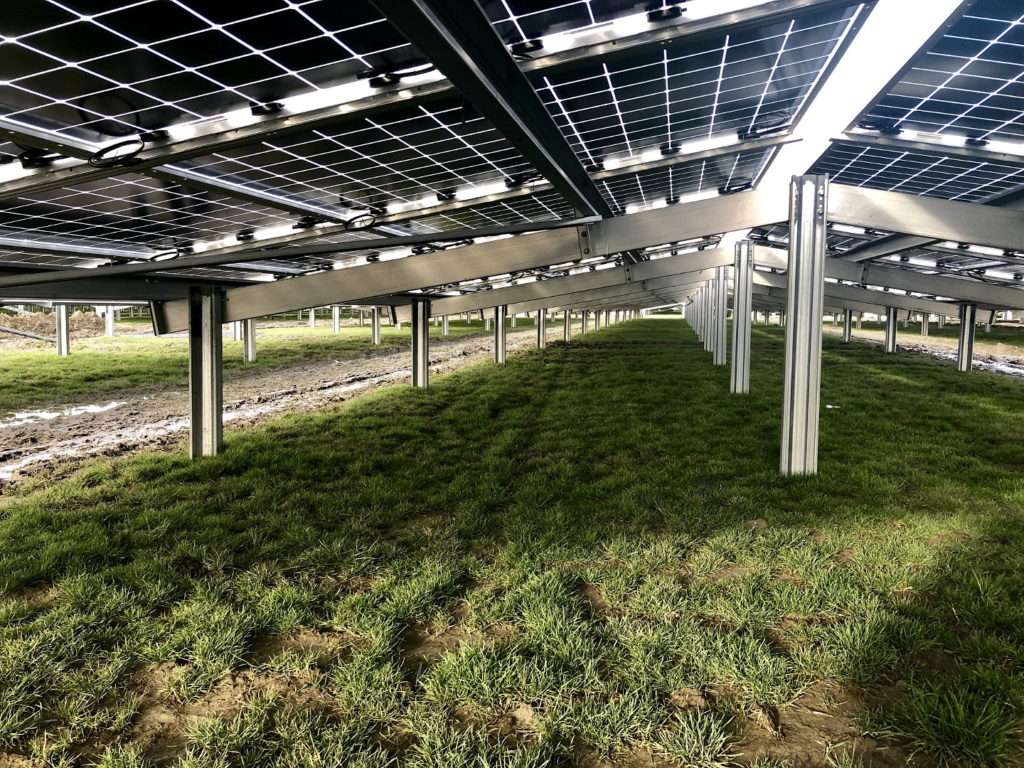 Europe's solar financing market is evolving at rapid speed, driven by changing dynamics and aided by technological advancements at the asset level. Here PV Tech re-caps the five most significant takeaways from the conference's opening days.
Standardised O&M contracts may not be suitable in the bifacial era
Projects using bifacial panels continue to grow in prominence, and now most developers will at least run projections on adding bifaciality to projects. Both Dupont and module manufacturer JinkoSolar, speaking during the conference, referenced significant growth in this area.
But given the complicated nature of bifacial performance and expected gains from the underside of the panel, a standard out-the-box operations and maintenance contract may not be in the best interests of developers. As we heard, modelling bifacial gains is an intensive process with a number of moving parts, not least of all tilt angles, tracker selection and modification and indeed, the expected albedo from the surface underneath.
Lightsource BP's Chris Buckland noted that his company had preferred grasses to use underneath but, if these are to be used, the last thing you need is for an O&M subcontractor to come on site and alter the surface underneath, disrupting the site's overall performance.
Instead, more tailored O&M contracts will be needed which reflect careful understanding and consideration for when bifacial modules are used.
This session can be streamed on-demand by attendees. For more information on how to register and watch sessions from Solar Finance & Investment Europe 2021, click here.
Green hydrogen's potential will be too lucrative to ignore
As solar deployment projections escalate, developers that aren't already involved in green hydrogen, or at the very least in discussions surrounding it, are few and far between. The potential for H2 to bolster revenue streams and drive deeper decarbonisation is now too good to ignore, SFIE21 heard last week.
"The market will come to a point where all players in renewables cannot walk away from this new opportunity," Smart Energy's Joao Cunha said, discussing how falling power prices in Europe would lead asset owners to require additional revenue streams.
Hydrogen would seem the perfect fit, and the potential to divert any surplus power generation to an electrolyser isn't particularly a new idea. What has changed is a shifting of political desire to remove barriers and support the asset class in its infancy, helping bridge that all important cost effectiveness gap.
Question marks still exist, however. X-Elio chief financial officer David Diaz said it remains uncertain as to what level of subsidy will be required and where to make solar-hydrogen projects affordable, and Foresight's Federico Gianndrea spoke of his belief that it would be another five to seven years before green hydrogen projects are playing a significant role in Europe's energy mix.
What is becoming undeniable however is that momentum behind the sector is building, and doing so quicker than anticipated. More on this story can be read here.
As well as Solar Finance and Investment Europe, green hydrogen's potential will also be the subject of discussion at Solar Media's second annual Green Hydrogen Virtual Summit, which takes place on 11 May 2021. More information on the event can be found here.
Power price volatility is changing PPAs for good…
After the onset of the COVID-19 pandemic last year and associated national lockdowns, power pricing endured a particularly volatile 2020. This volatility has triggered a change in the behaviour of not just asset owners, but corporations seeking renewable power.
One of the biggest repercussions is a desire for shorter, more flexible power purchase agreements, as asset owners reflected on at the conference. Greencoat Capital's Lee Moscovitch said that his company was starting to see shorter PPA lengths – down from the typical 15 years to seven or 10 years – while other measures such as monthly price reviews were also being requested.
This has cemented the view that European PPAs are becoming "more financial", as Enel Green Power's Olivier Bardet said.
For more on this takeaway, read Edith Hancock's story on the subject here.
…and European solar players will have to upskill or face new risks
That changing nature of Europe's PPA market will inevitably have an impact on the players within it, and asset holders must ensure they have the right skills and knowledge in order to navigate its complexities.
Failure to do so will, as Encavis CEO Dierk Paskert said, lead to many players – many of them smaller companies – being excluded altogether. 
"I don't think that actually everybody in the market who holds an asset today or is developing an asset is also then qualified to take PPA risk, because what you finally need is a balance sheet to take counterparty risk."
"I don't think that actually everybody in the market who holds an asset today or is developing an asset is also then qualified to take PPA risk, because what you finally need is a balance sheet to take counterparty risk," he said.
The problem arises from an inherent risk of a power purchase agreement, something which Allianz Global Investor's Armin Sandhoevel also alluded to when he said that the "risk schedule" is what is separating the former feed-in tariff or subsidy reality from today's PPA reality.
"We are exchanging regulatory risk with counterparty risk, and I fully agree that you should be well prepared for that and that of course you need very specific skills also in your teams to address counterparty risks," he said.
More on this can be read within Jules Scully's story, published here.
Weather matters, and so too does predicting it accurately
It's obvious to say that the weather will have an enormous impact on the performance of your solar asset, but as arrays change shape and adopt novel technologies, this is becoming more of a multifaceted consideration for asset owners and operators.
The implementation of trackers and the ability to change an array's orientation whenever necessary can not only boost a site's performance, but also protect it from severe weather events. In the event of strong winds, panels can be tilted to prevent them from being ripped away or facing enormous stress, while the brunt of hail storms can also be avoided by again tinkering with the tilt.
What this requires however is accurate weather predictions and the ability to act swiftly, whenever an intervention is required. Lightsource BP is utilising artificial intelligence in order to educate and inform their actions, with consideration going as far as to model the time it takes to move panels into a safer location and move them back, against any loss of performance that may have.
While the opening two days of content from Solar Finance and Investment Europe 2021 have passed, all content from those days can be viewed on-demand by accessing the SFIE 2021 portal. More information on how to access that content can be found by registering here. In addition, content from SFIE 2021 is continuing throughout the month with a raft of country-specific workshops taking place on select days in February. More detail on those workshops can be found here.