PV module nameplate capacity by around 26% in 2019, despite the high-end of new shipment guidance increasing by 18%.

Canadian Solar has updated its manufacturing capacity levels reached in 2018, as well as revising upwards expansion plans for 2019.

The company exited 2018 with 1,650MW of multicrystalline ingot capacity, down slightly from 1,700MW in 2017. Multicrystalline wafer capacity stood at 5,000MW, up from 4,000MW in 2017.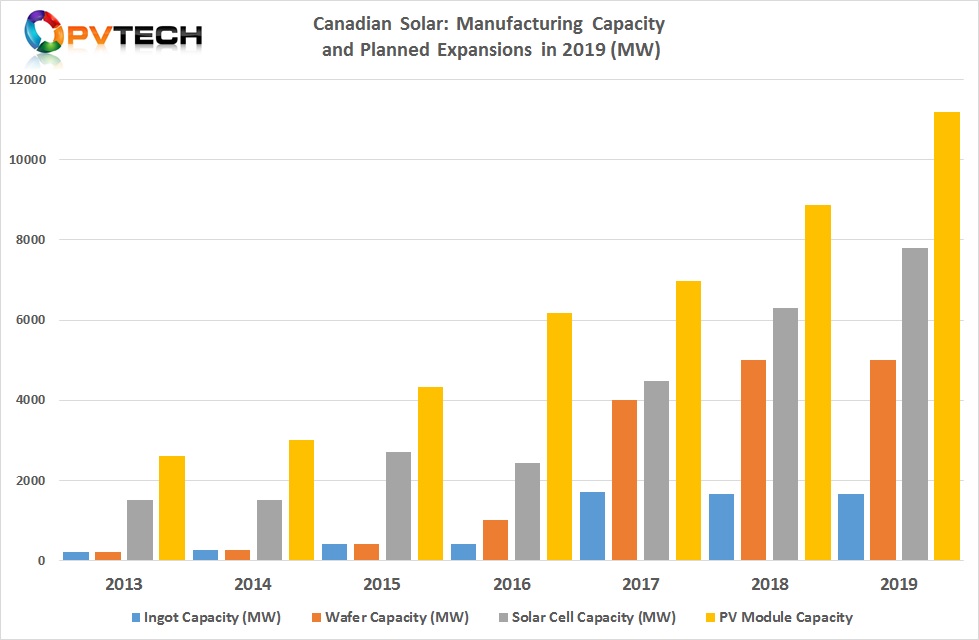 The major changes continued to be focused on both cell and module expansions. Canadian Solar increased cell capacity from 4,490MW in 2017 to 6,300MW at the end of 2018. The last updated guidance from Canadian Solar was for cell capacity to reach 6,250MW.
Module capacity was increased from 6,970MW in 2017 to 8,880MW by the end of 2018. The company had previously guided module capacity to reach 8,700MW in 2018.
Both ingot and wafer nameplate capacity was guided to remain unchanged in 2019. With overcapacity rife for multicrystalline ingot/wafers as the likes of LONGi Green Energy continues to expand high-efficiency monocrystalline capacity to a targeted 45GW in 2019, Canadian Solar is benefiting from lower multicrystalline wafer prices from long-term supply partner, GCL-Poly, negating any need to add capacity themselves.
The company has made upward revisions to cell capacity expansions. Cell capacity is planned to reach 7,800MW in 2019, compared to the last update when the target was a minimal increase from 6,250MW in 2018 to 7,100MW in 2019.
However, the biggest change is for module assembly capacity to increase to 11,200MW in 2019, compared to previous guidance of an expansion to 9,640MW in 2019.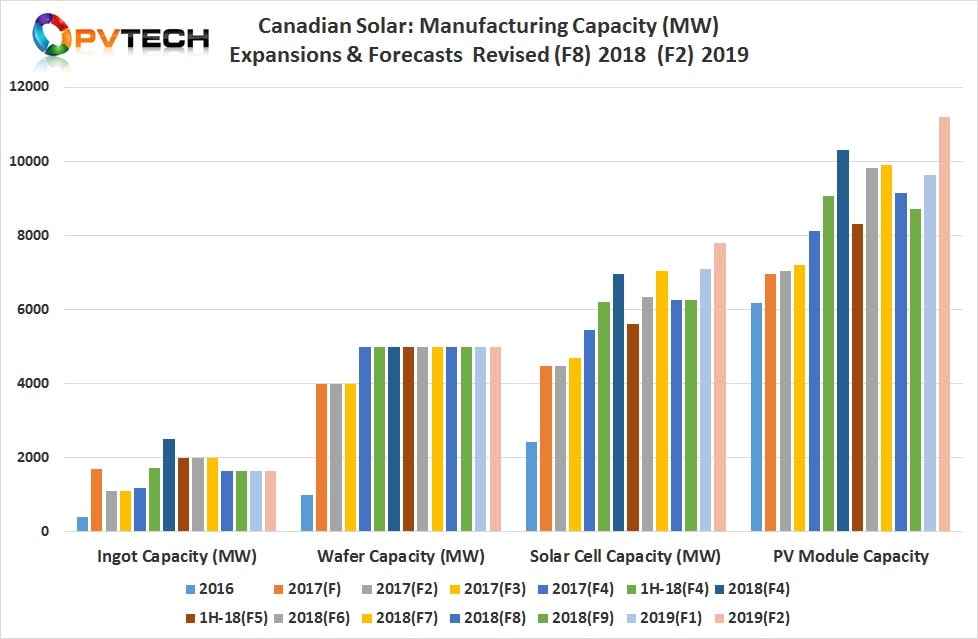 Utilisation rates
Canadian Solar reported total module shipments of 6,615MW in 2018, compared to 6,828MW in 2017. Therefore, average module assembly utilisation rates in 2018 were around 74%.
However, Canadian Solar has guided total module shipments to be in the range of approximately 7,400MW to 7,800MW in 2019. This means that utilisation rates could decline to around 70% at the high-end of guidance or decline to around 66% at the low-end of the 2019 shipment guidance.
Although crystalline silicon module assembly utilisation rates are less critical to profitable operations than thin-film manufacturing, Canadian Solar said that it expected continued ASP (Average Selling Price) pressure in 2019, resulting in lower profitability than in 2018.
Manufacturing milestone
Despite the expected lower average module assembly utilisation rates, Canadian Solar is only the third PV manufacturer to announce plans to take annual nameplate capacity beyond the 10GW milestone.
JinkoSolar is expected to shortly confirm its module assembly annual nameplate capacity had reached around 10.8GW at the end of 2018, while further expansion announcements are expected when it also reports its 2018 financial results.
The third company is LONGi Solar, which PV Tech recently reported that its commissioning of the first phase (2.5GW) of a 5GW module assembly expansion would result in the company having at least 13GW of nameplate capacity in 2019, and had become the largest module manufacturer, from a capacity perspective.