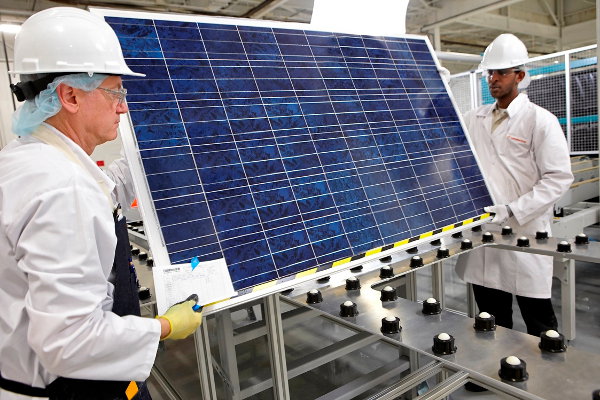 Updated: 'Silicon Module Super League' member Canadian Solar is to allocate around US$401 million in capital expenditures through the end of 2016 to significantly increase in-house wafer, cell and module production capacity and locate new plants in multiple countries.
Canadian Solar said in an earnings call today that to meet "expected strong growth in global demand for solar modules in the quarters ahead", it would increase in-house wafer production from 400MW to 1GW by mid-2016, while solar cell capacity would be expanded from 2.5GW currently to 3.4GW by the end of 2016, a 900MW increase.
However, the biggest capacity increase is PV module production which will be expanded from 4.33GW, which the company expects to achieved by the end of 2015, to 5.63GW by the end of 2016, a 1GW increase.
Canadian Solar specifically noted that its wafer manufacturing capacity at its plant in Luoyang, Henan Province, is expected to reach 1.0GW by June of 2016, while its cell manufacturing capacity at its plant in Suzhou, Jiangsu Province, is expected to reach 2.0GW by the end of 2015. Cell manufacturing capacity at its Funning plant in Jiangsu Province is expected to reach 1.0GW by July of 2016.
New manufacturing plants in multiple countries
Planned module manufacturing capacity by the end of 2016 includes 3.0GW in Changshu, Jiangsu Province, and 1.1GW in Luoyang, Henan Province, while approximately 1.53GW will be at existing and new locations outside China, including 500MW in Canada, 300MW in Vietnam, 30MW in Indonesia, 300MW in Brazil and 400MW in Southeast Asia.
Canadian Solar also said that a new 400MW cell manufacturing plant, to be located in Southeast Asia, was expected to be commissioned in the second half of 2016.
The capital expenditure budget for all of the capacity expansions planned included an estimated US$104.0 million to be spent in the second half of 2015 and a further US$297.0 million allocated to the expansions in 2016, according to the company.
Canadian Solar said that it would fund the expansions by capital leases and borrowing from local financial institutions in China.
Significantly, the capacity increases across wafer and cell production were said to be driven by the need to reduce cost structures and more consistently deliver target gross margin for its solar module business in the 15-20% range.
The company had been purchasing an increasingly higher percentage of wafers and cells from merchant suppliers in the last few years to keep capex costs low while still expanding its third-party module sales and downstream project business.
Finlay Colville, head of Solar Intelligence, part of PV Tech's parent company, Solar Media said: "The requirement for Canadian Solar to expand cell capacity became clear at the end of 2014, and over the past 12 months, nameplate annualised capacity has grown by approximately 1GW. However, 2015 is likely still to see outsourcing and start-up costs having a negative effect on overall module gross margins. And this is also going to be an issue in 2016, owing to the speed at which Canadian Solar seems to be operating today."
"During 2015, the imbalance between cell and module can be best understood when considering that Canadian Solar is almost certain to be a top-3 module producer and supplier by shipments, while the company is likely to be only the tenth largest cell producer this year," added Colville.
According to Colville, there are two factors in play during 2016, not just the capex figures that would be more than an order of magnitude higher compared to a just a couple of years ago.
"Even with the extra 2GW of cell capacity being added during 2015 and 2016, there will still be a shortfall of more than 1GW of cells that will need to be bought in," noted Colville. "In part this is due to Canadian Solar continuing to be aggressive with module shipment and production guidance next year, but also the overall global market growth that supports these ambitions."
This means that Colville expects Canadian Solar to still be reliant on OEM cell and module suppliers that would continue to offer a lifeline for Taiwanese cell producers and smaller Chinese c-Si makers that lack the end-market presence of Canadian Solar.
"Wafer supply is likely to be less of an issue due to domestic supply and relationships in place within China, with wafer availability during 2016 not being considered a problem in terms of existing market supply and the current expansion plans known across the leading global producers," said Colville.