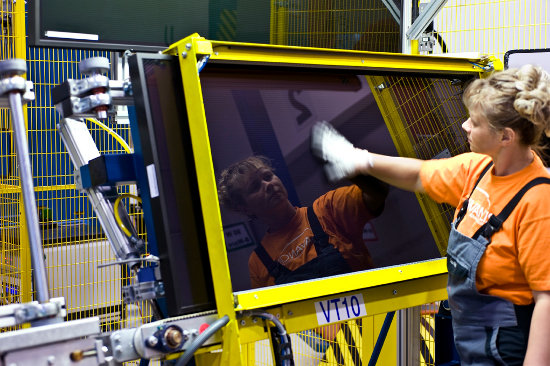 A major €110 million (US$123 million) tool order for Singulus Technologies CIGS thin-film production equipment with China National Building Materials (CNBM), owner of module manufacturer AVANCIS, could finally proceed, as the equipment supplier expects an unspecified 'pre-payment' was due in the next few day(s).
AVANCIS had originally announced ambitious capacity expansion plans of 300MW to 1,500MW in October, 2015 with multiple new production plants to be built in China, as state-owned parent company, CNBM targeted downstream solar markets in the country.
However, Singulus suffered delays in signing contracts for a suite of tools for the first 300MW phase at two new plants in China, forcing the company in early June, 2016 to withdraw revenue forecasts for the business years 2016 and 2017.
Singulus had previously signed a €15 million CIGS equipment deal with struggling Hanergy Thin Film and secured pre-payment deals, although it remains unclear if Singulus had ever shipped and installed the equipment.
Due to its weak financial condition, pre-payment deals are crucial for Singulus' liquidity position on long lead time equipment orders and de-risk of order push-outs or cancellations.
Singulus noted that CNBM's bank had confirmed the expected payment receipt and expected transfer to the equipment supplier.
Update
On September 13, Singulus confirmed the pre-payment.
Dr. Ing. Stefan Rinck, CEO of Singulus said in a statement: "Our company will now promptly start with the manufacturing of the ordered process equipment for the first of the two CIGS-factories. It is an outstanding success that we can now begin with the implementation phase of this large-scale order."