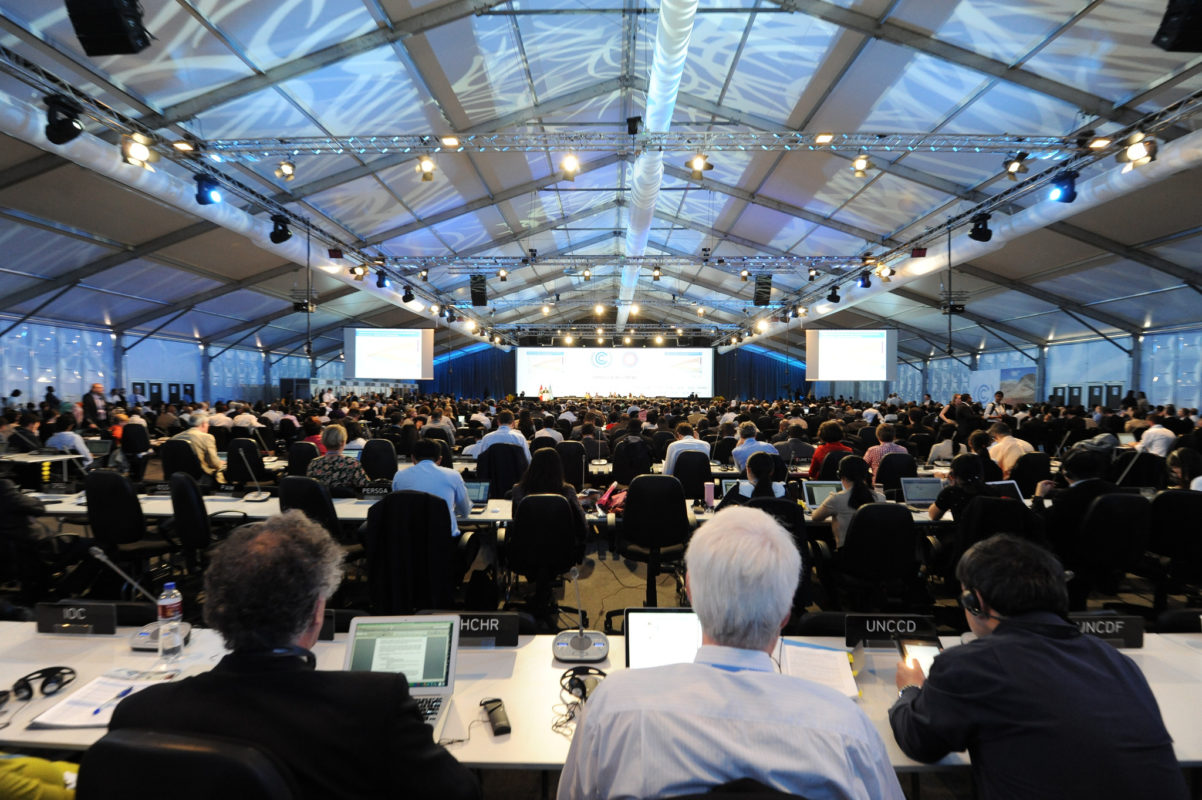 Forget the obscure language of international climate diplomacy and disregard the failures of Copenhagen. The result of a successful conclusion to the Paris climate talks as far as the solar industry is concerned is cheaper finance, and more of it.
Don't take my word for it however. In London on Tuesday morning, representatives of the investment and finance sector working at the coal face of low carbon investment spelled it out plainly. The event was organised by the We Mean Business coalition, included Lord Stern, author of the eponymous 2007 report that assessed the economic impacts of climate change, Michael Liebreich, founder of Bloomberg New Energy Finance, as well as representatives of Bank of America Merrill Lynch, IKEA, the Climate Group and the Prince of Wales Corporate Leaders Group.
Also present was Donald MacDonald, chairman of the Institutional Investors Group on Climate Change (IIGCC). Many of its members have this week been pressing for an adequate conclusion in Paris next month. In total, the call was backed by 400 investors responsible for US$24 trillion.
"There is already more capital available than there are projects to invest in," MacDonald said at Tuesday's event, stressing that a failure to consider climate risk could be considered a breach of pension funds' fiduciary duty. MacDonald sits on the board of trustees of the pension fund of the UK's formerly state-owned British Telecom. He knows what those duties entail.
And this is where solar comes in, meeting this huge demand for projects as investment patterns shift.
Investing in renewables 10 years ago might have been considered a niche effort, an ethical investment designed to make a statement as much as anything else. This week Allianz became the latest investor to step away from coal power. The UK, Germany and the US are all putting the squeeze on coal. Even traditional utility firms are realigning their business to focus on the development of renewable generation sources.
The formalisation of national climate commitments will sprinkle additional certainty on the clean energy sector that will trickle down to the project level.
Lord Stern puts high hopes on reduced costs of capital. He told Tuesday's briefing that a reduction from 6% to 3% "would be huge". Some solar project in India would find even 6% highly attractive. Any signal that permeates through the entire global investment community and chips off a few percent, will open up even more markets to solar power where costs are currently marginal. It would soften the impact of tax credit cuts in the US, accelerate growth in South America and bring finance to huge emerging economies like Turkey, the Philippines and Indonesia were the thirst for power is still growing.
Lord Nick Stern of @GRI_LSE gets things kicked off at the @WMBtweets @IIGCCnews business briefing on #COP21 #Paris. pic.twitter.com/dxG66PMgwe

— Michael Liebreich (@MLiebreich) November 24, 2015
In short, any political agreement that hold governments to account, will give a foot up to the investment climate globally, regardless of the current state of the domestic market. In addition, huge swathes of private finance looking for a home that meets climate risk requirements, will come on stream.
Uncertainty around the result of the talks, the climax of negotiations ongoing since Copenhagen's 2009 effort fizzled out, will be put to bed.
IKEA's chief sustainability officer, Steve Howard, summed up the differences between Paris and Copenhagen.
"We need an overall sense that governments are serious and I think we're really close to this, I think Paris is going to be a watershed," he said adding that in Copenhagen "failure was seen as an option by many of the key players, now failure is seen as failure".
"In three weeks' time we are all going to be getting on with building a clean economy and putting the maybes behind us," he added.
When that process begins, the solar industry needs to know who is doing what and when. The clues will be in the commitments, and the opportunities may well be unprecedented.
To browse PV Tech's coverage of the run-up to COP21 and the impact of the talks on the global solar industry, click here.