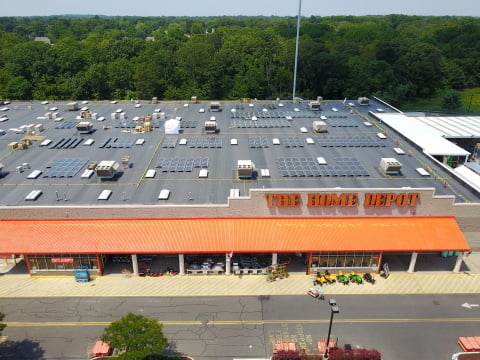 The Home Depot announced Thursday that it has selected Current, powered by GE, to build up its renewable-energy expansion.
As part of this selection, Current will assist the Home Deopt on site selection, project implementation plans, financing and incentive capture for 20 rooftop PV installations in New Jersey, along with 10 additional stores in Connecticut, Maryland and Washington, DC.
The 11.9MW rooftop PV portfolio will be comprised of 30,000 rooftop solar panels and cut electricity demand by an estimated 30-35% annually at each Home Depot store.
David Hawkins, vice president of labor and operations for The Home Depot, said: "Our alternative energy projects are important elements of our sustainability and operations efforts as they reduce carbon emissions while also lowering our energy costs."
These rooftop PV installations are part of Home Depot's renewable energy initiative which also includes wind farms, solar farms and fuel cells that will bring the company's renewable energy portfolio to more than 130MW.
Erik Schiemann, general manager of solar at Current, said: "Home Depot is a great partner to demonstrate the value of onsite solar energy as a practical, affordable and important business strategy, and drive further market adoption. We are now beginning to leverage digital technology to collect data that will help our customers become even more efficient."