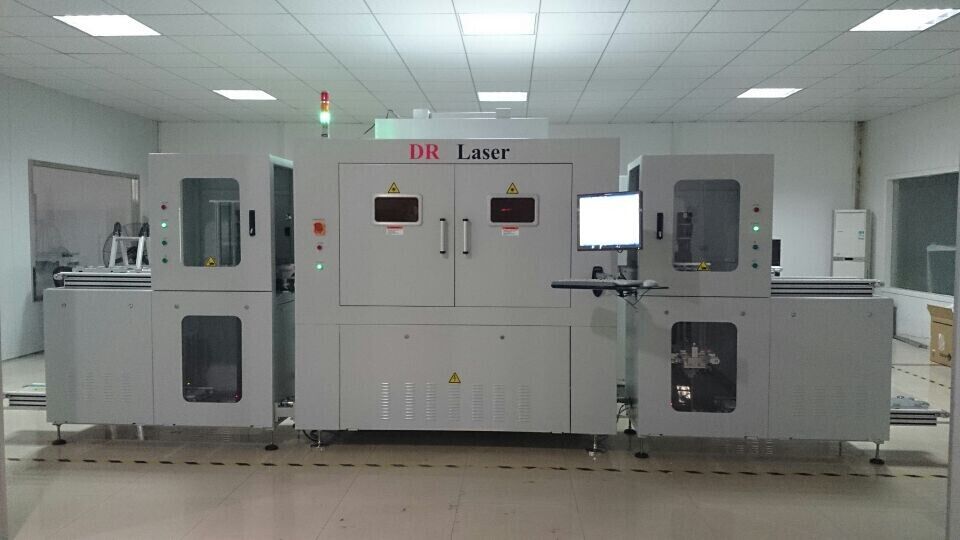 The forthcoming PV CellTech 2019 event in Penang, Malaysia on 12-13 March 2019 will see the participation of its first laser-based tool partner: (Wuhan) DR Laser Technology.
The inclusion of a laser-based tool supplier supporting PV CellTech should not come as any major surprise, given the rapid uptick in laser-based processing within c-Si cell processing today, but it is interesting indeed that the first company to back the PV CellTech event brand is not one of the established western laser tool suppliers, but one from China: DR Laser.
This article provides a brief overview of laser-based tools' historical bumpy ride in getting traction within the solar industry, before looking at the strong market-share gains held by DR Laser within this space today, aided significantly by the adoption of PERC as a mainstream process flow in manufacturing.
The formative years of hope for lasers in solar
Having spent my pre-solar life embedded within the laser industry working for one of the major global laser suppliers today (Coherent Inc.), it was a rather fortuitous career sidestep about 15 years ago that brought me into the solar industry, mainly to understand what the market opportunity was for laser sources and tools in the manufacturing of cells and panels.
At this point in time, lasers were in fact seeing their first major growth surge in solar, coming from two avenues: (front-side) edge (junction) isolation at the front-end of c-Si cell production; and for scribing interconnects on thin-film panels (the infamous P1, P2, and P3 patterning stages).
The first of these two (edge isolation) had a rather brief and disappointing flurry of activity, as the European wet-etch tool suppliers successfully shifted junction isolation to a chemical-based rear side process step.
However, the thin-film sector back then was going through its rather ill-fated venture-capital funded fab expansion phase, with more than 100 companies setting up thin-film fabs, and many of them based on a-Si/uc-Si layers deposited on large (display industry motivated) glass panels. Thin-film patterning was a de-facto laser application, and this drove spending on laser-based tooling for thin-film fabs to exceed $1billion over a relatively short time period.
Today, the only meaningful spending on laser-based tools for thin-film fabs is a First-Solar Series 6 roll-out exclusivity-show, with all the business here residing with one laser-tool integrator that has been within the preferred supply-chain club of First Solar now for many years.
This specific opportunity for laser tools with First Solar alone in the thin-film space is far from insignificant. The Series 6 expansions by First Solar represent the addition of 44 new production lines over a four year period, with a capex outlay of about $2.5B in total of which about 40% had been allocated by the end of 2018. Spending on the laser tooling component here is comfortably over $100M, making this great business for the laser tool supplier of choice!
With the demise of thin-film competitiveness for all the a-Si based entrants, and the collapse of virtually everything-CIS/CIGS less Solar Frontier in Japan – and coupled with the aforementioned shift form lasers to chemical etching for front/rear junction isolation – lasers seemed to vanish somewhat from the solar industry as a major toolset, returning to the R&D labs where they had originally been championed before within almost all advanced cell concepts.
(It has to be pointed out that my fortuitous laser-to-solar career move seemed to overlap very nicely with this point where lasers went out of fashion in the solar industry, but this narrative is for another day.)
The period following the March 2012 crash in the solar stocks, mirrored by ASP collapses (the first China-driven cell/module overcapacity effect) then saw a 12-18 month effort to eliminate manufacturing costs.
Advanced cell concepts fell off the radar, with the exception of one thing: the introduction of rear-side passivation layers using PECVD equipment, now referred simply as PERC.
PERC single-handedly opened up the door for lasers into solar, at the GW-level, and thrust laser contact opening to mainstream process status. What had started as a necessary consequence of moving to thinner wafers (that would not cope with screen-printed contacting), the efficiency benefits purely from reducing losses through having an optimized layer-stack deposited at the rear side, became justification alone for PERC existing on wafer thicknesses stuck at the 180-200 micron range.
Euro-seeded, then China-dominated
While initially conceived in the research labs at UNSW in the 1980's, PERC lines came into the PV industry on the back of European research projects involving the technology's first champions: Q-CELLS, REC Solar and SolarWorld. At this time, c-Si production equipment was dominated by European tool suppliers, in particular from Germany.
It is therefore not too surprising that laser-tooling for PERC lines by the above-mentioned cell producers used laser tools produced by German-based companies, in particular Innolas and 3D-Micromac. Indeed, the first company in the China/Taiwan region to move into PERC (Sunrise Global Solar) also adopted European laser tool supplier know-how and expertise.
When PERC took off in China however, it was somewhat of an inevitability that a Chinese laser integrator would emerge as one of the PERC spending beneficiaries, and indeed, this is exactly how things panned out in practice.
The company in question was (Wuhan) DR Laser, and the graphic below illustrates the rapid growth in market-share for laser-based tools for PERC since the company started shipping laser/PERC tools (originally to one of the key SMSL players) back in 2012, with shipments really taking off from 2014 when PERC spread into China. By the end of 2018, laser tools from DR Laser can be seen to dominate laser activity in PERC today.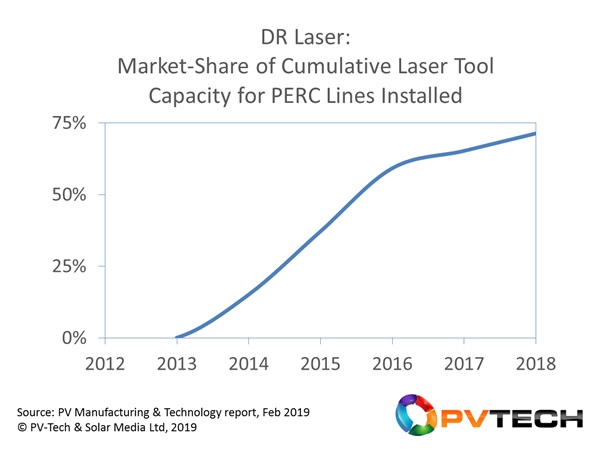 Other laser-based processing seeing renewed focus, especially selective emitters
While PERC will always be remembered by the laser industry as the first real mainstream application for lasers in the c-Si solar segment, it is not the only application for lasers back on the table for advanced cell manufacturing.
There is currently a mini revival for MWT cell production. MWT is perhaps the ultimate laser process for solar cells: essentially the PV industry equivalent of via drilling. GW-levels of new cell capacity for MWT has been installed in China during the past 12 months, and plans exist to scale this based on market-demand.
The other key laser application to track is laser doping for selective emitter formation. Once seen as a strong candidate for high-efficiency solar cell formation, phosphorous doping by lasers was tried briefly, but deemed much harder and of greater risk than using the improved pastes that were introduced to the industry back in 2008/2009. However, there are strong signs that investments are being made in China to suggest this could provide upside to laser PERC bookings in the near-term.
We will be covering laser doping for selective emitter formation more on PV-Tech after the PV CellTech conference is concluded.
Laser company participation at PV CellTech events remains key to roadmap discussions
Since PV CellTech was established back in 2016, laser producers and tool integrators have been avid participants at the events, but with DR Laser coming on board formally as the first laser tool partner of the 2019 event, it would seem that we have almost succeeded in gaining the support of all tool makers within the c-Si space.
The addition of laser tool suppliers comes after the early involvement of equipment suppliers offering chemical etching, deposition tooling (PECVD, PVD, ALD), furnaces (diffusion, firing), screen-printers, copper-plating equipment, ion implanters and various inspection tool types.
The more solar cells move to higher precision processing, the more lasers find justification within production lines. And when wafer thicknesses decrease to levels that necessitate greater care in handling surfaces, again laser steps have more applicability.
PV CellTech 2019 takes place in Penang, Malaysia on 12-13 March, 2019. In addition to hearing most of the industry's CTO's and heads-of-R&D outline technology roadmap projections for the next 2-3 years, the ability to meet and engage with the full range of cell equipment suppliers partnering with PV-Tech at the event provides a huge incentive for those seeking to understand and benefit from the industry's insatiable drive to constantly increase cell efficiencies and performance.
To access one of the few remaining places at the event, please follow the tabs on the event website here. The full range of companies partnering with PV CellTech 2019 can be found on the homepage of the event site also by scrolling down the page.