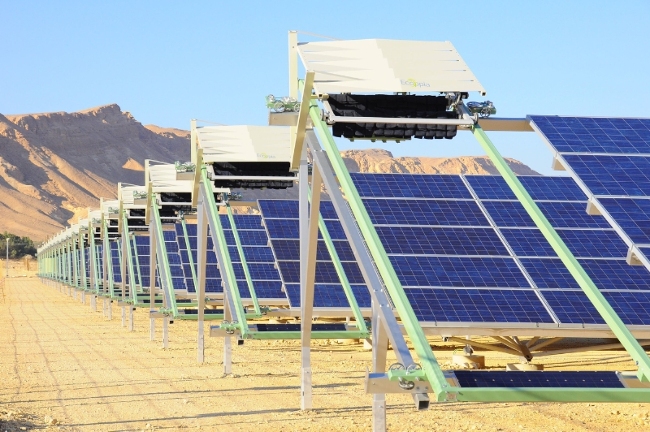 Ecoppia, PV panel cleaning solutions developer, announced Wednesday that it has reached an agreement with Solairedirect India, subsidiary of energy multinational ENGIE Group, to provide its automated systems within the Bhadla Solar Park in India.
Ecoppia's solution will be deployed in 168MW of a 190MW section of the solar park. The entire Bhadla Solar Park will be developed on 10,000 hectares of land and will have a total generation capacity of 2.3GW.
Located in Jodhpur, Rajasthan — a vast desert area — Bhadla Solar Park is prone to numerous dust storms, which can cut energy generation by as much as 40%.
To cut down on the production loss associated with soiling and maintain panels at peak performance, the solar park will be cleaned nightly by Ecoppia robots.
With the deployment of Ecoppia across its site, ENGIE is expected to save over 1.5 billion of liters of water, and reduce its operating expenses drastically.
Gaurav Sood, managing director of Solairedirect India, said: "We expect to harness Ecoppia's revolutionary cleaning system to dramatically raise output and lower costs. This type of technological breakthrough not only benefits our own business interests, but the solar energy sector as a whole. We are proud to be one of the world's first solar energy providers to adopt Ecoppia's cutting-edge, autonomous robotic panel cleaning paradigm."
Eran Meller, CEO of Ecoppia, said: "We're proud to cooperate with forward-thinking companies like ENGIE in what is truly a true revolution in renewable energy. By ensuring cost-effective panel cleanliness on a day-to-day basis, we've created a new standard of plant output that is changing the way operators, investors and governments view the benefits of solar power."