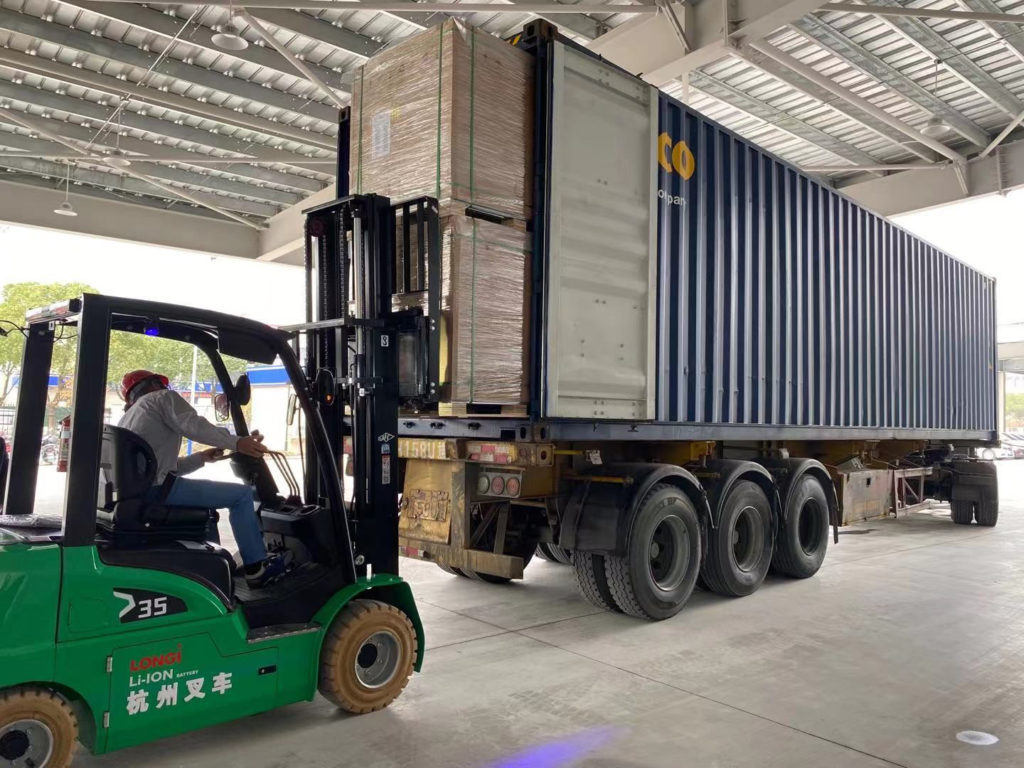 Yesterday's letter from five of the industry's largest module manufacturers imploring customers to delay orders should perhaps not come as that much of a surprise, given the volatility of the past nine months. But what it does highlight is a growing sense of exasperation over a now deepening crisis that many expected to be resolving itself by now, but shows no sign of abating.
Polysilicon pricing in particular has been a thorn in the side of the solar industry for months. The graph below shows the average spot market price for poly this year and its more-than-doubling between February and May in particular. That spike was precipitated by strong demand in anticipation of a typical Q4 burst in installations, with upstream operators said to be bulk buying and securing forward orders. As a result, many market analysts expected pricing to peak towards the end of summer.
But save for a few months of consistent pricing above the RMB200/kg mark, any normalisation has failed to materialise. And now, owing to a power crisis in China prompting orders for silicon metal refineries to shutter, pricing has worsened still, as illustrated by the sharp 9% increase in prices in the last week alone. Indeed, yesterday's letter from manufacturers indicates some strike prices have been worse still, noting prices upwards of RMB260/kg have been witnessed.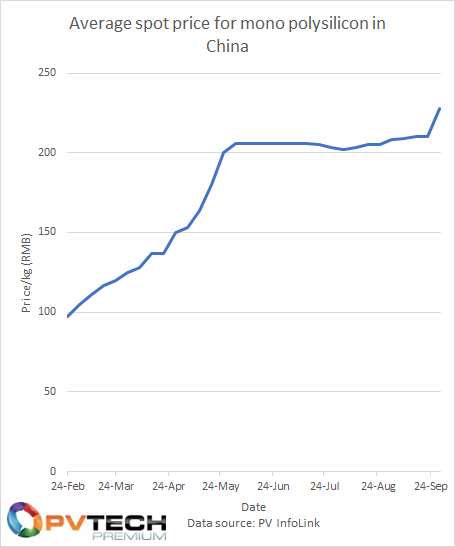 Poly pricing has, the manufacturers say, been further exacerbated by increases in the cost of glass and adhesive films, which rose by 18.2% and 35% year-on-year in August respectively. Evidently, it never rains but pours on module makers in 2021.
Recent weeks have seen module manufacturing lurch from 'difficult trading conditions', as JinkoSolar termed it within the Solar Module Super League (SMSL) manufacturer's Q2 results last month, to a full-on crisis, as it was described yesterday. Ever-increasing prices set against pre-signed module orders will lead to inevitable losses – module manufacturers are already contending with tighter margins – and capacity utilisation rates are already at a maximum of around 70% across the board.
The desire to address the issue head on and to do so urgently comes just as the pivotal fourth quarter kicks off, three months of usually frenetic deployment, especially in China, as national connection deadlines loom large.
Utility-scale solar deployment in China has been fairly lacklustre this year so far, with many developers said to be hoping to wait out module price increases. Stronger than expected deployment in the residential sector buoyed China installs in Q2 and Q3, but a burst of activity was anticipated for Q4. This much is evident from module manufacturer forecasts issued during Q2 results, in particular JinkoSolar which said it expected to ship as much as 9GW of modules in the three months ended 31 December 2021.
As the below figures show, JinkoSolar in particular is heavily weighted towards the final quarter of the year, with LONGi Solar also having forecast to shift a great majority of modules in the second half of the year. LONGi, for the record, shipped around 17GW of modules in the first half against full-year guidance of around 40GW, including modules for use by LONGi subsidiaries. Canadian Solar is an outlier in this regard, having reduced its full-year module shipment guidance at its Q2 annual results disclosure.
| Manufacturer | Q1 Module Shipments | Q2 Module Shipments | H1 Module Shipments | Q3 Shipment Forecast | FY2021 Shipment Forecast |
| --- | --- | --- | --- | --- | --- |
| JinkoSolar | 4.56GW | 3.97GW | 8.53GW | 4.5 – 5GW | 25 – 30GW* |
| LONGi Solar | | | 17GW | | 40GW** |
| Canadian Solar | 3.1GW | 3.7GW | 6.8GW | 3.8 – 4GW | 16 – 17GW |
* Includes shipments of cells and wafers ** Includes shipments for self-use
With some manufacturers so highly leveraged against shipments in Q4, and with component, material and logistics prices showing no signs of normalising just yet, it is therefore completely understandable that SMSL members would implore customers to delay projects and for policymakers to ease connection deadlines.
Whether or not authorities, especially those in China, will relent remains to be seen, however there is precedent for similar policy shifts to happen in support of solar supply chain constraints. The last time such a warning was issued – last November, when glass prices soared – module makers called on authorities to lift the shackles off glass manufacturers. Restrictions were eased and glass prices normalised by Q2 2021.
Developers could, however, be under altogether different restrictions. Those spoken to by PV Tech in recent weeks have suggested that only a small minority of projects had been pushed back to date, but warnings over further supply headwinds – most notably the ongoing policy situation in the US market – could result in further delays. One developer in particular said that it had experienced longer lead times for products across the board, and not just with solar modules, but disruption had been mitigated by a broader supplier portfolio. Should these issues affect module makers which supply the majority of the market, delays could become more commonplace.
Furthermore, developers spoken to by PV Tech have raised concerns that projects can only be pushed back so far, especially if there are power purchase agreements or other legal requirements at play. Should modules be delayed to such an extent PPAs are terminated, then swathes of projects could be cancelled altogether.
The industry would appear caught between a rock and a hard place, at least for the immediate future. Stuck between catering for an industry that is determined to grow aggressively and navigating complex supply chain issues that seem to worsen frequently.
It will require all of the solar sector's collaborative efforts to navigate the next six months.