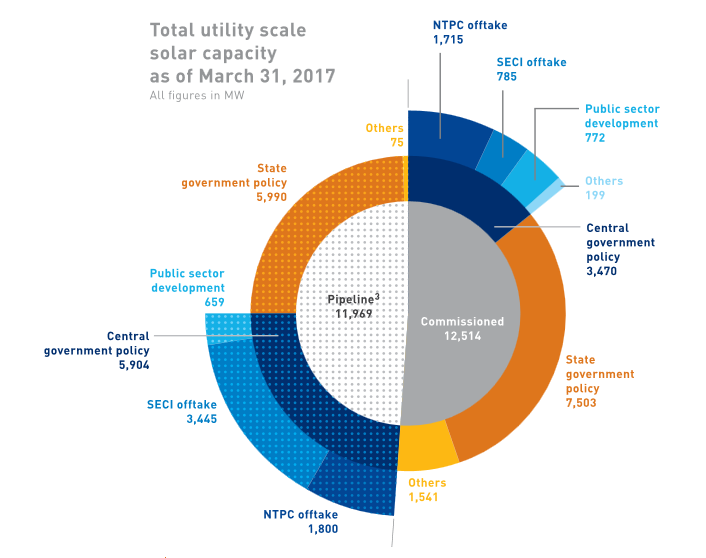 India installed 5.5GW of utility-scale solar capacity in the last fiscal year and the country is expected to add another 8GW in the coming year, according to consultancy firm Bridge to India's 'India Solar Map'.
As of March, the total installed capacity stood at 12.5GW. Meanwhile, there is another 12GW of allocated capacity in various stages of development.
Andhra Pradesh has replaced Tamil Nadu as the top solar state with a commissioned capacity of 1,962MW. Southern states are expected to continue to dominate for the next 12-18 months, with more than half the pipeline located in Andhra Pradesh, Karnataka and Telangana.
Adani remains the largest developer with a total portfolio exceeding 2GW, having just announced commissioning of a 50MW project in Uttar Pradesh today. While a host of companies are inching towards 2GW portfolios, Bridge to India said this year it "does not expect any new entrant to gain a meaningful foothold" in this highly competitive market. Already six companies have more than 1GW installed or in the pipeline in India.
Greenko, NTPC and ReNew Power had the most capacity commissioned during the last year.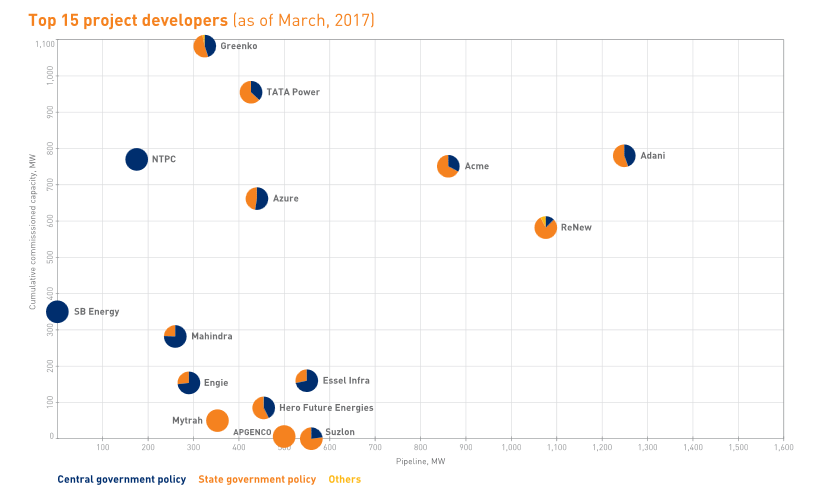 The top three module suppliers all strengthened their market share this year, with leaders Trina Solar (25.7%), Hanwha (10.5%) and Risen (7.6%). However, Canadian Solar (7.4%) has dropped from top spot to fourth position.
Domestic manufacturers now have just 10.6% of the market share and Bridge to India described their circumstances as "very bleak". Two solar manufacturers recently filed an anti-dumping petition against imports from China, Taiwan and Malaysia.
ABB has retained top spot for inverters with 28.6% market share for the year, followed by TMEIC, Hitachi and SMA with around 16% each.
In-house EPC teams accounted for more than half of commissioned capacity for the first time, with a reduction in outsourcing.
Vinay Rustagi, managing director, Bridge to India, said: "Indian solar sector is evolving rapidly. Annual capacity addition has been growing at over 50% every year. More importantly, rapid fall in costs has made it the most attractive and promising energy source of the future for our country. The sector is attracting huge interest from Indian and international investors but weakness in manufacturing is becoming a major concern."