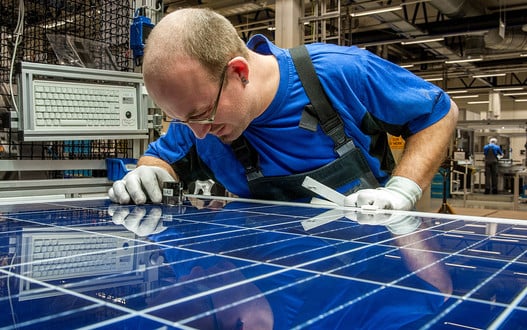 The significant decline in the solar PV manufacturing supply chain in Europe in recent years has reached a critical condition, according to a string of R&D and trade groups in the region.
The European Technology and Innovation Platform for Photovoltaics (ETIP PV), EUREC – The Association of European Renewable Energy Research Centers and Solar United – The Global Solar PV Technology & Industry Association, as well as equipment manufacturers, materials providers and PV manufacturing companies have published an 'Open Letter from the European PV Community' to European policymakers to take urgent action to support the industry.
Although not a new claim, the recent bankruptcy of Europe's largest integrated manufacturer, SolarWorld AG and the failure of anti-dumping duties on Chinese producers to maintain a minimum import price (MIP), due to circumvention by establishing production outside China and even in Europe, was a major concern to energy independence in the region, according to industry groups.
Marko Topič, ETIP PV Chairman stated: "Photovoltaics is transforming Europe's and the World's energy system. It is strategically important for Europe to maintain strong involvement in this technology and contribute to the energy union and sustainable energy independence in Europe."
The letter went on to highlight that the solar sector was of 'strategic importance for the EU economy, providing energy independence, industrial jobs and economic growth.'
The letter to European policy makers also claimed that for more than two decades, Europe had lead in technology innovation and state-of-the-art manufacturing (industry 4.0) the sustainability of production and quality as well as conversion efficiency of solar products.
The solution being put forward is to support R&D activities at manufacturers and R&D institutions while supporting large-scale manufacturing operations to compete with China.
This could only be achieved with cheap finance, accelerated R&D and smart regulations to provide a sustainable PV manufacturing hub in Europe that would be of the scale required to effectively complete.
Such calls have been increasing in recent years but European policy makers have yet to provide any tangible plans or meaningful support outside existing R&D funding structures and anti-dumping duties.